8 Best Backlink Checker Tools For 2023
Do you want to know the actual status of your backlinks?
Analyzing your links is an integral part of any SEO strategy. And a backlink checker tool can help you assess your link profile and monitor competitors' backlinks for new link opportunities.
In this roundup, we'll look at the best backlink checker tools you can use.
The best tools for backlink checking compared
#1 – SE Ranking
SE Ranking is our top pick for backlink checkers because it offers a substantial index of backlinks, link monitoring functionality, and is surprisingly affordable.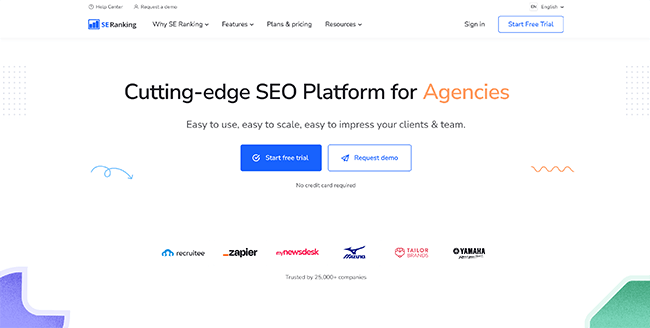 Based on its record, the platform currently has 3 trillion backlinks, 262 million domains, and 7 billion crawled pages. These numbers are impressive, even if it's less than Semrush.
The backlink checker tool of SE Ranking lets you create solid link building strategies by analyzing your rivals' inbound links.
It provides detailed backlink analysis results for the following key parameters: anchor text, link type, domain authority, page trust, link attribute, and link status. These help you understand the quality of the referring domains.
In addition, the backlink gap analyzer of SE Ranking allows you to see the best backlink opportunities. You can do that by selecting and comparing your link profile to five competitors.
This tool will then show what you're missing among the backlinks pointing to your competitors. It will reveal powerful new opportunities for your website as you can see all the external links and their domain authority.
You can also filter the choices and link profiles to uncover the backlinks that can have the highest impact on your organic search rankings.
If the backlink checker is for your competitors, the backlink tracking tool is for your website. This allows you to monitor backlinks that you acquire for your own site. It's especially useful for businesses running blogger outreach campaigns.
With this feature, you can add and monitor the links you've collected on the backlink checker tool. You can also manually type or upload the ones from your Google Search Console.
Once you've added the backlinks, SE Ranking will analyze it based on the parameters I mentioned above and regularly track their changes.
That way, you can get insights into your link building progress and make sure that the backlinks pointing to your site are high-quality and can help you improve your spot on search engines.
If there are any changes, SE Ranking will send you an email so you can be sure that you're on top of any new opportunities or threats without needing to log in.
I like all of these features, but one thing I appreciate about this tool is it makes it very easy to identify spammy links on your site and create a report about it.
It wouldn't directly remove the unwanted links from your website because you need to do that on your own, but you can download the list and upload it to the search console platform. This can save you time and effort.
As mentioned, SE Ranking is not just about the backlink checker and tracking tool. You can also use it for other SEO-related activities like keyword research, competitor analysis, rank monitoring, site audit, content optimization, and more.
Key features
Backlink checker
Backlink tracking tool
Backlink gap analyzer
On-page SEO checker
Keyword research
Keyword grouper
Competitor analysis tools
Content optimization tools
Rank tracking
Site audit
SEO planner
White label SEO tools
SEO reports
API access
Pricing
SE Ranking is one of the most affordable backlink checker tools. You can subscribe to it for as low as $23.40/month. The tool also provides a 14-day free trial.
---
#2 – Semrush
Semrush is one of the best backlink checkers on the market. It has a huge index of backlinks, a wealth of other SEO tools, and generous usage limits.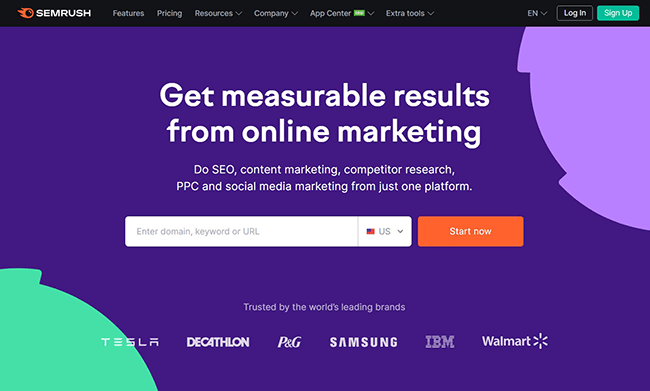 It has the largest backlink database, with 43 trillion quality links. So it can give us extensive details about a website's backlink profile.
Plus, Semrush is one of the fastest tools on the market for discovering new backlinks. You can use it to keep an eye on your rivals' link building activities and other opportunities online.
But that's not all. Semrush's Authority Score metric also evaluates backlink quality based on the most reliable sources.
You can sleep well at night knowing that you'll get the most accurate and valuable inbound links available.
All of these are possible thanks to the massive update and improved data collection that happened a few years back.
Besides backlink analysis, you can also use Semrush on other aspects of search engine optimization and digital marketing. It offers various tools for keyword research, competitor analysis, site audit, content marketing insights, and more.
While entry-level plans may appear more expensive than some other tools, it offers generous usage limits that make it more affordable than it may initially appear. And considering how many tools are included (besides just backlink analysis), you get a lot for your money.
It's worth considering if you want a complete solution for your brand. And you can check it out for yourself by signing up for the free trial below.
Key features
Backlink analysis
Backlink audit
Link building tool
Backlink gap
Bulk analysis
Domain overview
Traffic analysis
SEO and PPC keyword research
Site audit
Rank tracking
Local SEO
Social media ads
Influencer analysis
Content marketing tools
SEO reports
Pricing
Paid plans start at $129/month. You can claim a 7-day free trial or use the free version.
---
#3 – Serpstat
Serpstat is an SEO platform that helps you identify and improve your website's visibility on search engines.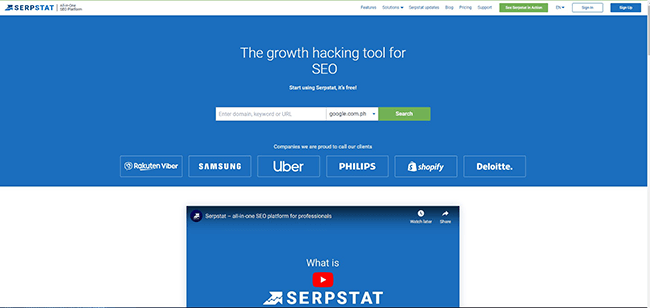 It has been around for quite some time. And what started as a keyword research tool has evolved and now offers various SEO tools.
Like the first two, Serpstat's backlink checker tool allows you to do a deep analysis of any domain. Meaning you can use it to monitor your own and also do a competitor backlink audit.
With this tool, you can find both low-quality and high-quality links so you can choose which ones are the best for your website.
In addition, you can see the list of the top pages with the highest number of backlinks and use that to understand its content strategy.
What I like about Serpstat is the batch analysis feature. With it, we can compare the backlinking data of several competing sites simultaneously and identify the common and unique links among them.
It's similar to the backlink gap tool of Semrush, and it allows us to save time in finding valuable backlinks.
And even if Serpstat's link index isn't as vast as Semrush, it offers better data presentation.
If you go and try the tool, you'll notice that besides numbers, it also provides graphs, tables, and other visuals to show a clearer and more concise explanation of the data you collected.
Besides backlink analysis, Serpstat also offers keyword research, rank tracking, competitor analysis, content optimization tools, and more – making it a great all-around SEO software.
Key features
Backlink analysis
Backlink monitoring
Batch analysis
Rank tracking
Keyword research
Keyword clustering
Competitor analysis
Site audit
Content analysis
Local SEO
Team collaboration
White label
API
Third-party integration
Pricing
Serpstat's Lite plan costs $69/month, which makes it a little more affordable than some other platforms. You can use its limited free plan or choose the 7-day free trial.
---
#4 – Moz Pro
Moz Pro is a product of Moz – a pioneer in the SEO industry.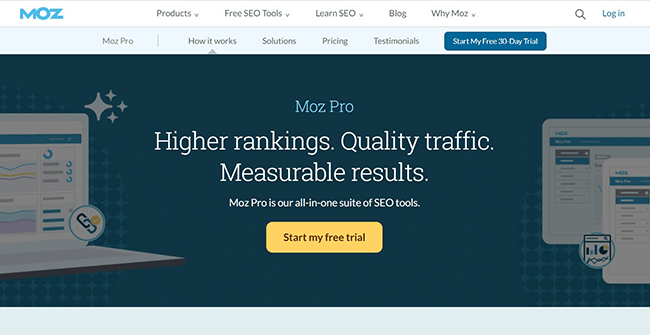 It was first introduced as a blog and an online community in 2004 but was transformed into a consulting firm and later became one of the most popular SEO platforms.
Next to Semrush, Moz Pro has one of the largest live link indexes. You can access the data inside the Link Explorer feature.
It currently has 40.7 trillion links and 718 million domains. This kind of database opens a whole new world of link building opportunities.
The Link Intersect is one of our favorite tools inside this backlink checker tool. It lets us view gaps between our incoming links and our competitors.
Additionally, Moz Pro's backlink analysis tool allows you to check critical metrics like Domain Authority, Page Authority, and Spam Score. You can also view the top-performing content of other domains.
But besides that, Moz also has a tool that can help you track and analyze your link-building efforts.
This tool is quite good as it lets you create lists containing target URLs you want to get external backlinks.
You can also leave some custom notes for important information or reminders.
You can find all these inside the Link Explorer. The good news is that Moz offers a free backlink checker version! And once you sign up, you can get ten link queries and 50 rows of data monthly.
Link building isn't the only thing you can do with Moz Pro. You can also use its site auditing, page optimization, and keyword research tools to boost your spot on the search engines.
Key features
Backlink analysis
Link research
Backlink monitoring
Site crawler
On-page optimization
Position tracking
Keyword research
Custom reports
Pricing
Moz Pro's paid plans start at $99/month. You can get a 30-day free trial for the premium features, but the platform also has some free tools that offer limited data.
---
#5 – Majestic
Majestic is one of the oldest and most reliable backlink analysis and link building tools.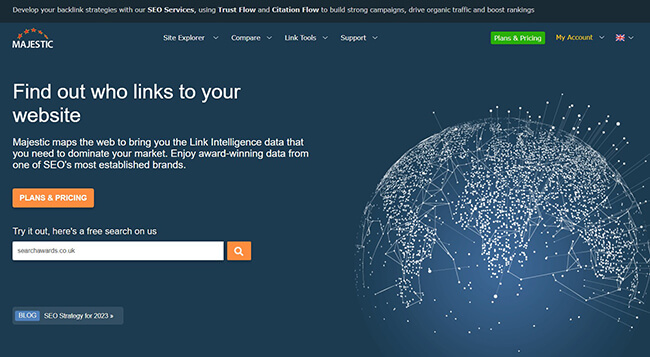 It's been around since 2004. But unlike most platforms, it didn't try to offer new SEO tools.
Majestic only added a keyword generator tool in 2020 but still remained focused on strengthening its backlink analytics tool.
As a result, it could build not one but two massive databases. These are the Fresh and Historic Index. Both indexes offer a unique and valuable perspective on websites' inbound links.
The Fresh Index shows the most recent and up-to-date list of backlinks found by Majestic. It captures links created in the past 120 days, including lost and deleted ones.
Meanwhile, the Historic Index includes all the backlinks recorded by the tool since 2006.
Besides having the largest and most comprehensive index, Majestic also has some other features that you might find helpful.
Site Explorer is a link intelligence tool that lets you see the site's detailed backlink data.
That includes a list of similar sites, the quality score of the backlinks (Trust Flow and Citation Flow), and detailed information about the incoming links.
This lets you analyze websites and strategies from a closer angle.
Another great tool is the Majestic Campaigns. It lets you add and track the progress of your favorite sites.
This is a great way to keep an eye on how your competitors are doing or to monitor and measure the success of your own site.
Key features
In-depth backlink analysis
Link building
Backlink monitoring
Competitor link profiling
Keyword research
API
Pricing
Majestic's lowest pricing plan costs $49.99/month. It doesn't offer a free trial, but it does have a free version.
---
#6 – Ahrefs
Ahrefs is another comprehensive SEO software that offers one of the largest link indexes on the web.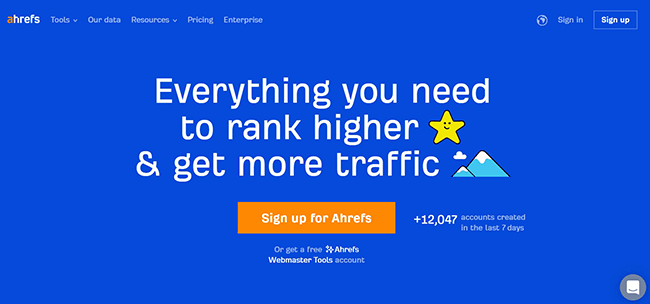 It enables you to track backlinks pointing to your competitors, discover potential opportunities and optimize your own link profile.
Ahrefs has one of the quickest crawlers and largest backlink databases worldwide. It gives its users access to over 14 trillion links from different search engines.
It also offers a range of useful SEO features, such as keyword research, rank tracking, content suggestions, and competitor analysis.
However, Ahrefs has some drawbacks that are worth noting (which is why we've featured it lower down on this list).
First, their billing practices can be confusing and expensive. On new plans, they reduced usage limits and reconfigured their plans so that more expensive plans do not benefit from additional usage allowances. So, those on the lowest plan get the same usage allowance as those on the highest plan.
They also charge for going over your usage allowance automatically and without any sort of warning in the app. This can lead to large unexpected bills.
Don't get me wrong, the tool is great for the most part and their support team is fantastic. But you'll pay a premium for it and other tools offer better value (e.g. SE Ranking and Semrush).
Key features
Backlink checker
Link prospecting
Competitor research
SEO and PPC keyword research
Rank tracking
Content explorer
Site audit
Traffic analysis
Pricing
Ahref's Lite plan costs $99/month, but you can pay less with annual billing. It doesn't have a free trial, but Ahrefs offer a free version of its best SEO tools, including a free backlink checker tool.
The free plan is limited to data for your own site so it's not too useful. Also, there have been concerns over whether Ahrefs may use data from users that connect their site via Google Search Console.
---
#7 – SEO SpyGlass
SEO SpyGlass is a backlink tool that falls under the SEO PowerSuite umbrella.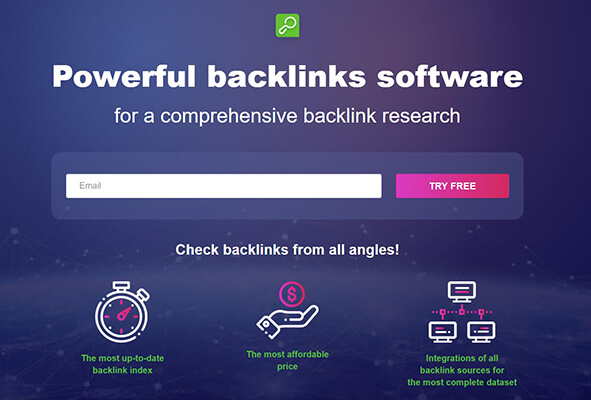 It's an affordable, desktop-based platform providing comprehensive data for backlink research. But it also uses a web-based crawler.
What's great about this tool is that it provides links from different sources. It gives you access to three trillion valuable links through an in-house database. And also leverages data from local and international platforms like WebMeUp, Google, Yahoo, and Baidu.
You can choose and customize where you want to get your data. That allows you to save time and be more specific with your research.
Even if it's cheaper than its cloud-based competitors, SEO SpyGlass doesn't compromise on features.
The tool is fast and crawls billions of pages daily, which makes it an excellent choice for link building and backlink profiling of websites.
In addition, you can immediately check your website authority. It will show you your link history, backlink and referring domains, top locations, linked page summary, and more.
One thing that we like is the keyword feature of SEO SpyGlass. It gives you a great view of your competitors' top-ranking anchor texts. You'll be able to check the keywords and phrases you can apply to your website for better traffic.
You can use SEO SpyGlass' free backlink checker, but the Pro version will give you extra features and more results.
For example, you can compare up to five of your competitors side by side, access your backlink history at any time, create reports, and see all the backlinks available.
It's worth noting that SEO SpyGlass, and the other SEO PowerSuite tools are desktop software only. While they do have some web-based components, you'll need to install the software on your computer. Is this a deal breaker? That'll depend on your opinion.
Key features
Detailed backlink analysis
Site authority checker
Link discovery
Alexa ranking
Toxic link finder
Keyword suggestions
API
Pricing
SEO SpyGlass base plan costs $99/year. It doesn't offer a free trial and monthly plans, but you can use its free plan forever.
---
#8 – RankWatch
RankWatch is another fantastic SEO platform that has over 25,000 active users.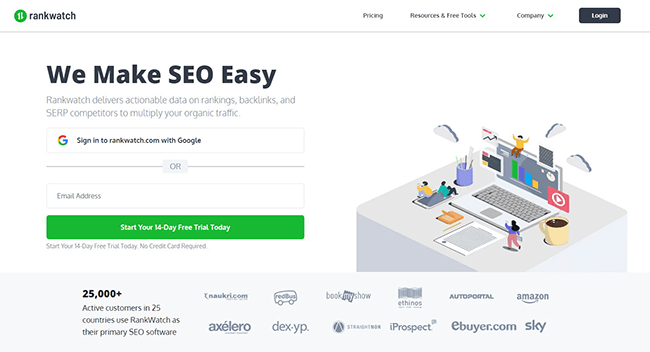 It has its own database, but most data comes from Majestic. That makes RankWatch an excellent tool for backlink profiling.
Its backlink tool offers 14 features, but most are available on other platforms. For example, you can monitor your follow and nofollow links, analyze active and lost backlinks, view external links pointing to your domain, and check anchor texts.
One unique feature we like is the Author's details. It's perfect for marketers and website owners who want to reach out to the owners of external links pointing to their websites.
With this feature, you can see the author's social media profiles, where you can connect for potential collaborations.
In addition to the backlink tool, RankWatch provides a range of other SEO features, such as keyword research, position tracking, site audit, competitor analysis, and SEO reports.
Key features
Backlink profiling
Backlink monitoring
Competitor analysis
Rank tracking
Site audit
White label feature
Pricing
RankWatch's plans start at $29/month. You can get a 14-day free trial, but it also offers a free version of the backlink analyzer tool.
---
Conclusion
So that's our list of the best backlink checker tools available.
They all provide quality data and great features, but each tool has its own strengths and weaknesses.
If you want to know our top three recommendations, they would be SE Ranking, Semrush, and Serpstat. Here's a short recap of why:
SE Ranking offers so much value for money compared to other tools. I'm amazed they've kept the price so affordable for so long, while continuing to add new features. It has one of the largest link indexes we've tested, backlink monitoring, and a full-suite of SEO tools.
Semrush is the best backlink checker overall. It has everything you need – a vast database, detailed results, and great features. It's more expensive than SE Ranking, however.
Serpstat is another great option. While its link database isn't as substantial as some other tools, it offers excellent value for money when you consider all of its other functionality. It also has one of the largest keyword indexes we've found.
Most tools offer a free version or free trial. Use this opportunity to test and find the right tool for you.
Related comparisons: