Guest Post Links: How To Increase Their Impact On Your Rankings
Guest posting is an evergreen link building strategy that is not going away anytime soon.
No matter what Google say, no matter what Google do, guest blogging is thriving and it's thriving because it's working.
No sane webmaster is going to pass on the opportunity to build a link, especially when they can see their more courageous competitor is ranking because of the guest post links they built a while back.
So, how can you enhance your guest blogging strategy, so you get a higher bang for your buck, or higher ROT (return on time) if you're writing them yourself?
Let's find out!
What are guest post links exactly? And do they really work?
Guest post links are hyperlinks that the guest author places in their guest post so as to gain SEO value.
They're usually one or two in-content, contextual links, followed by an author bio link.
To answer your second questions, yes, guest blogging links do work.
In this 2021 case study, Matt Diggity published 100 guest posts on 100 sites that accept them, pointing 100 links to 100 different websites.
That's a lot of 100's, right?
Then he tracked rankings in a rank tracker for the next couple of months.
The results?
87% of sites had experienced massive keyword ranking growth across the board.
8% of sites experienced neither positive nor negative ranking changes.
4% of sites got inconclusive results because the rank tracker slipped up and stopped tracking their keywords.
1% of sites had a negative net effect on rankings.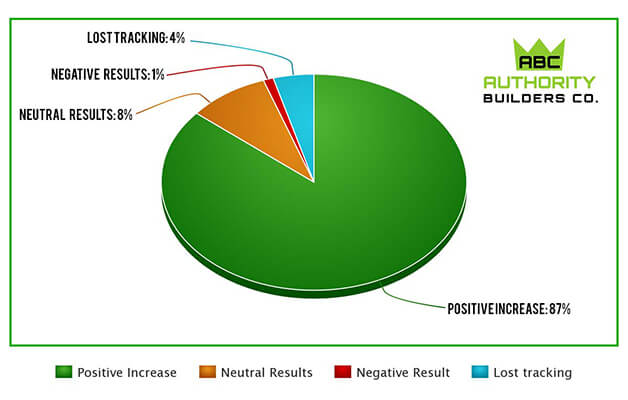 What does this tell you?
For me, it's an indisputable sign that guest post links still work well.
So let's learn how to squeeze them for 100% of their SEO worth.
9 strategies to use to boost the effectiveness of your guest post links
#1 – Focus on stronger sites
I define stronger websites as anything that's above DR70.
Note: DR stands for Domain Rating and is an Ahrefs metric that aims to measure how powerful a website is based on its backlink profile.
Guest post links from these sites pack a punch and their effect is easily noticeable in the SERPS, as opposed to links from DR ~30 blogs where even if the link is working, it's so slow and weak you're strongly tempted to say guest blogging does not work.
It does, but the key is to target stronger sites so that more value passes to your site.
Pro tip: If you're just starting out with a brand new blog, it doesn't make sense to target DR70+ sites. You won't be taken seriously.
Instead, for starters get your work published on a couple of DR 50 sites to get the ball rolling and so that you can use those posts as samples of your awesome work.
Of course, this tip doesn't apply if you are known.
For example, Adam Connell is an internet marketing veteran and his main blog is Blogging Wizard. It receives millions of visitors each year.
But since he's well known and respected in the industry, he could easily pitch Moz (DR93) and Hubspot (DR95) for guest posts and he'd be taken seriously by their editors.
Because he already has serious clout in this industry.
#2 – Put the guest post link higher up in the HTML
Google divides your web pages in 3 sections:
Main content
Supplementary content
Ads
And links within the content body are the strongest from an SEO perspective, and links higher up in the HTML pass more value than those closer to the footer.
Proper guest posting etiquette demands that the first link on a guest post be an internal link pointing to some other page on the host's domain.
And you should follow that unspoken rule.
But feel free to claim the second link as your own.
#3 – Limit the number of links on the page
John Muller says that the number of links on a page doesn't matter and that you can link out as much as you want.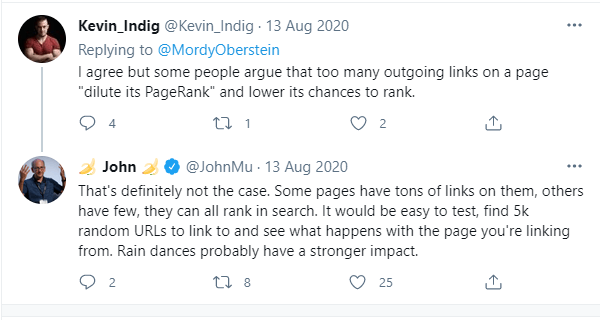 While it's true that Google can crawl even a million links on a page, it doesn't mean you should have a million links on a page.
Basic logic and what we know of the PageRank algorithm (which is very much alive and kicking) suggest that PageRank is divided among all outgoing links from the page, whether they be internal or external.
So, strategically lowering the number of links on the page, without hurting the quality of your article will help make your guest post links stronger.
#4 – Create page level relevance to match with your link
Page-level relevance is when the topic of your guest post closely matches the topic of the target page you're linking to as a guest author.
The truth is that you only need sentence level relevance to make your links relevant to Google-bot (more on that in a moment).
But establishing page level relevance is like putting icing on the cake.
How does it work?
Google crawls the page your link is on. Let's call it page A.
They see your page mentions phrases X Y and Z.
Then they follow your guest post link and land on page B on your domain. They crawl it and see your page also mentions phrases X Y and Z…
Your page is deemed to be relevant; the link is relevant, and you get an SEO boost.
This strategy is based on a Google patent called Phrase-Based Indexing.
Another important way to boost the relevance of your link is to have a target keyword in the Meta Title, URL and Headline.
For example, I have my Link Whisper review on my blog. If I wanted to create a super powerful guest post link to it, I'd write a post entitled:
"How to automate internal linking with Link Whisper".
Target keyword would be "automate internal linking", but the phrase Link Whisper would find its place in all strategic positions.
#5 – Create sentence level relevance
Sometimes, it's not possible to create page level relevance.
Because the webmaster simply doesn't want to cover that topic on their blog.
In that case you need to take your link and surround it with relevant words and phrases.
For example, I recently contributed to this roundup on the best SEO strategy. Within it I linked to my Link Whisper coupon code article by cleverly using it as an example of my SEO strategy in action, and the results I've gotten with it.

But, given that the topic of the roundup has nothing to do with Link Whisper, or even internal links as a topic, I made sure to create sentence level relevance which communicates to Google that my link is natural and that they should honor it.

#6 – Use keyword rich anchor text (but be careful)
Google explicitly say they don't like to see guest post links with keyword-rich anchors.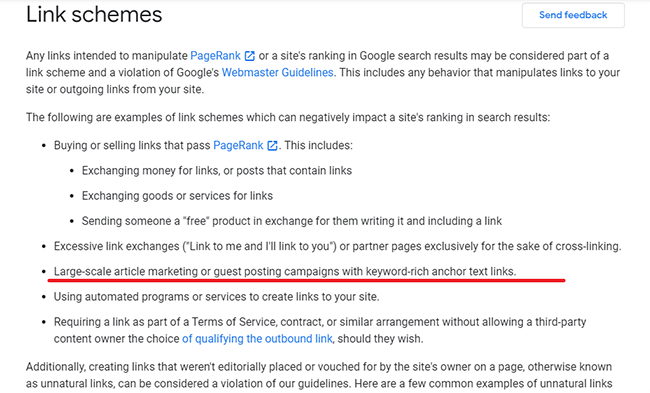 Does that mean you should never link out with such anchor text?
No it does not, but here are some anchor text guidelines to follow:
Don't use exact match anchor text – it looks too spammy and as if you're trying too hard to influence the algorithm.
Use partial match anchor text to pass relevance signals – partial match is your target keyword + some generic text.
Use generic anchor text – this is likely totally safe. Pro tip: Another benefit to targeting high DR sites is that even with generic anchor text you can expect to see movement as your guest post link will live on a powerful domain.
The final rule is that you probably shouldn't use guest posting as the only link building strategy to rank a money page.
It looks a bit weird if your money page A has 20 backlinks pointing to it, and all of them are incoming from your guest posts.
But having 5 links out of 20, which is 25% of the page's link profile, is totally fine.
Here's a guide on building links specifically to commercial content.
#7 – Tailor your guest post topic for internal linking opportunities (advanced)
What do I mean by tailoring the guest post topic for internal linking opportunities?
Take a look at my recent article for Serpstat.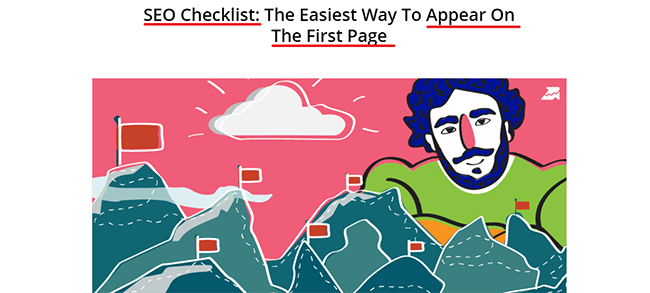 Do you see the topic?
The topics are "SEO checklist" and "appearing on the first page of Google" AKA "how to rank highly in Google".
Do you realize that ranking higher on Google is one of the most talked about topic in the industry?
Every marketing site mentions it on pretty much any article they publish, and they all have a master guide on ranking highly in Google. So, most of the articles on those websites internally link to said master guide.
In Serpstat's case, it's my article that covers that crucial topic and I own it now on that authoritative blog.
What does that mean for my guest post links going forward?
It means that as new content gets published, more and more internal links are going to hit my post transferring PageRank to it and then through my guest blogging links to my site.
And because Serpstat is a DR78 site, and they obviously know how to build links, and they actually have a legit chance of ranking for the monster-difficulty keyword that is "SEO checklist".
I can expect them to build a few links to that post which will make my guest post links that much stronger.
The point is that my guest post links on the Serpstat blog are going to significantly grow in value over time.
Bottom line: Put some thought into it and come up with a guest post idea they haven't covered on their blog, and that is naturally very linkable.
And just watch internal and external backlinks roll in over time.
#8 – Send social signals to your blog post
A few months back Craig Campbell published a SEMrush tutorial on his blog. His post got indexed and his initial ranking was somewhere mid-page 3 of Google.
Then he pinged SEMrush and his friends to share the article on social media (Twitter, Facebook and LinkedIn).
They kindly did, (including SEMrush with hundreds of thousands of followers across their combined accounts) and 3 days later when he checked his rankings, his post was on position #3, page one of Google.
Craig credits that massive jump to those genuine social signals that repeatedly hit his page and showed Google his post is some hot stuff.
Bottom line: Even though the case study from the above doesn't show the effect of social signals on links, it does show a clear, positive effect on Google rankings.
So, it might be worthwhile to send social singles to your blog post so as to boost the value of your guest blogging links.
If you decide to pepper your guest post links with social signals, I recommend either SEOButtler or Signal Boy.
I've used both and they deliver real signals from real accounts dripped over the 7-10 time period.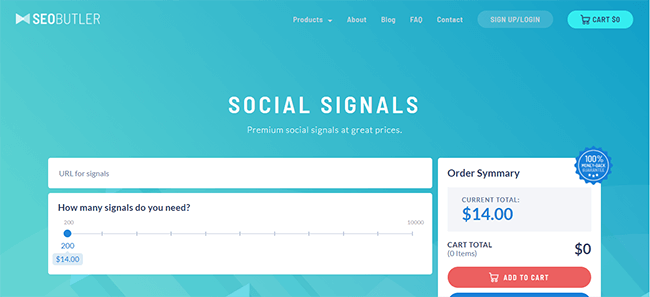 Editorial note: We haven't tested these platforms at ProfitBlitz. And it is worth mentioning that there is no way to get your social handles tagged with these platforms. If you'd like to explore other options to help drive social media shares, be sure to check out this article on content promotion tools from Blogging Wizard.
#9 – If you can, avoid the author box
Author boxes are a dead giveaway you're a guest on someone's blog, and they might be a large footprint for Google to devalue your guest posting links.
If you can, avoid guest posting on sites with author boxes, or at least de-prioritize them in favor of sites that still give you an author bio, but attached to the end of the post in the paragraph format, and not visually separated in some kind of box.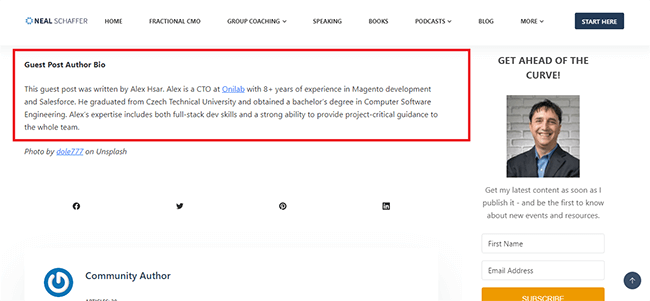 Concluding my guest post links guide
Guest posting is an evergreen link building strategy that is here to stay forever.
That's why I said it's evergreen:)
As a webmaster looking to rank higher in Google, you need to employ the power of guest posting, but you also need to use it to its full capacity.
Employ these 9 hacks I showed you above and get more value out of every guest post you publish; out of every guest post link you point to your site.
It's as simple as that.
Finally, if you found this post useful, be sure to check out our posts on WordPress SEO plugins and keyword research tools.