11 Best WordPress SEO Plugins & Tools (2023)
Are you looking for ways to improve your WordPress website's SEO?
Well, you've come to the right place!
In this post, we'll share 11 of the best WordPress SEO plugins and tools to help you rank higher in Google, be more discoverable, and get more traffic.
Ready to know what they are? Let's get started!
The top WordPress SEO plugins & tools compared
Short on time? Here's our top 3 recommendations.
Rank Math – A WordPress plugin that is ideal for beginners, packed with features and best of all, it's affordable.
SE Ranking – An all-in-one SEO tool packed with exceptional features. Includes rank tracking, backlink analysis, content optimization, site auditing, KW research, and more.
SEOPress – A lightweight and easy to use WordPress plugin with a lot of powerful integrations.
---
#1 – Rank Math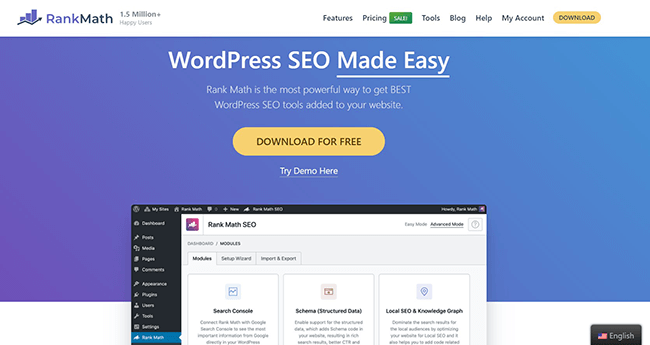 Rank Math is one of the SEO WordPress plugins that is considered the best when it comes to features.
It's only been around since 2018, but it has managed to amass over 1.5 million users in that short time.
With Rank Math, you can do content optimization in real time.
This WordPress plugin will provide actionable suggestions you can apply to increase your on-page SEO score.
That includes using keywords in your title, meta description, or headings, adding alt attributes to your images, shortening your URL, and more.
It also offers content AI, a new feature that helps you write SEO-optimized content. No more writer's block to you.
Besides the content optimization feature, Rank Math also has a built-in SEO Analytics Module that allows you to track your overall SEO score.
It also shows how your WordPress site and keywords perform in the SERPs.
Even if Rank Math is a feature-rich SEO plugin, it's beginner-friendly and affordable.
It's an excellent option for eCommerce stores, bloggers, small businesses, and anyone looking for a great tool that offers multiple SEO tools.
Key features
Rank tracker
Keyword tracker
Index status
Position history
Schema markup generator
Pricing
From $129/year. Free plan available.
---
#2 – SEOPress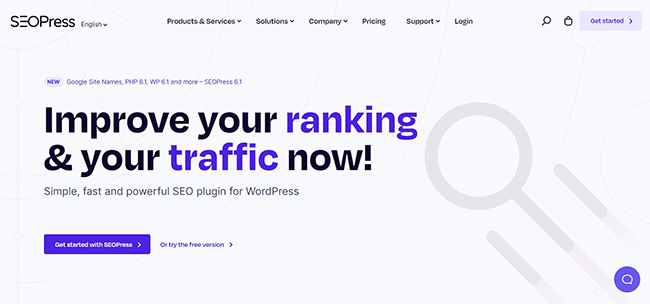 SEOPress is another WordPress plugin you'll love. It's a great lightweight option that's intuitive and easy to use.
This plugin isn't resource-heavy, so your WordPress website will be responsive. But that doesn't mean that it lacks features.
SEOPress offers all the essential features you need to optimize your website's SEO on SEOPress Free.
With this SEO plugin, you can easily add and manage meta tags for your website, including title tags and meta descriptions.
This is important for SEO as it helps engines comprehend what your website is about and index it accordingly.
Generating XML sitemaps is another helpful feature of SEOPress. XML sitemaps help search engines index your website and its pages more efficiently.
On top of that, you can gain more control by managing your robots inside this WordPress plugin. This tool allows you to choose which pages to index and which you don't.
But what made SEOPress shine was the integrations. With social media integration like the Open Graph meta tag, you can manage how your content appears when shared on social media sites.
On the other hand, Google Analytics integration gives you the ability to track your website's traffic and performance.
Both are useful for SEO as they help you understand how people engage with your website and how to improve it.
Key features
Google and Bing indexing
Rank tracking
Content analysis
Themes and page builder integration
Local and WooCommerce SEO
Redirection management
Google Analytics integration
Pricing
From $49/year. Free plan available.
---
#3 – SE Ranking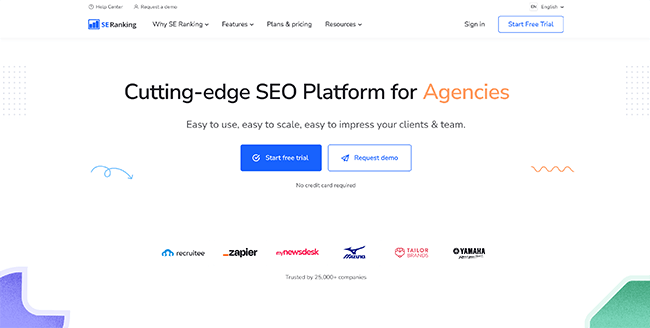 SE Ranking isn't a WordPress plugin. It's a cost-effective SEO tool that can power your entire strategy.
Its key features include keyword research, competitor analysis, rank tracking, and link-building.
They are essential for any website owner who wants to improve their organic traffic and search engine rankings.
But besides these remarkable tools, it also provides in-depth data and analysis.
This platform takes data from popular search engines like Google, Yahoo, and Bing.
Then, it compiles all this information into easy-to-understand reports. With SE Ranking, you can quickly see what's working and what's not.
Additionally, its newly-introduced Content Marketing Tool can help you create and optimize your content for better search engine visibility.
It will guide you in every step, from creating content briefs to writing and quality checking. So you can publish an SEO-friendly article in no time.
I can say that you don't need any other SEO tool if you have SE Ranking.
Key features
Website audit
Lead generation
API access
On-page SEO analyzer
Backlink checker
Website and page audit
Keyword suggestions
Content optimization
Pricing
From $23.52/month. Free trial available.
---
#4 – Surfer SEO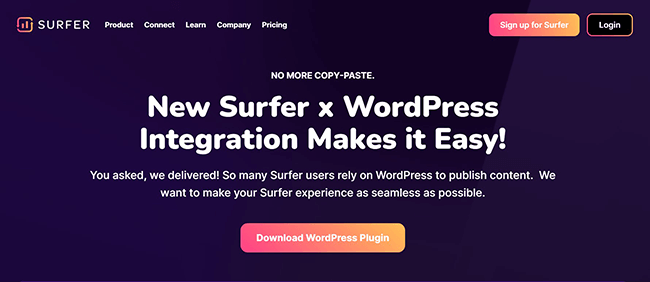 Surfer SEO is also a full-blown content optimization tool but comes with a WordPress plugin version.
Originally, Surfer SEO's primary goal was to help you outrank your competitors on the first page of Google through content creation.
Whether you want an existing content piece to rank better or write an optimized one from scratch, this tool provides the data you need.
For example, the SEO Audit Tool analyzes the top-ranking pages for a given keyword.
It will then show valuable insights like word count, backlinks, meta tag structure, and keyword density. You can use this data as a guide in rewriting your existing article.
Surfer SEO also has a Content Editor where you can see real-time analysis and recommendations as you write or edit your post.
It shows your content score so you can view whether your article meets the standards of the top-ranking pages. And also the keywords you need to include.
Content Editor is the most popular tool of Surfer SEO because it's effective and easy to use.
Key features
Content planner
SEO audit
Backlink checker
Integrations with Google Docs, WordPress, Jasper
API access
Keyword tool extension
NLP-ready keywords
Pricing
Plans start at $89/month. Annual discounts available. No free trial or free plan.
---
#5 – Semrush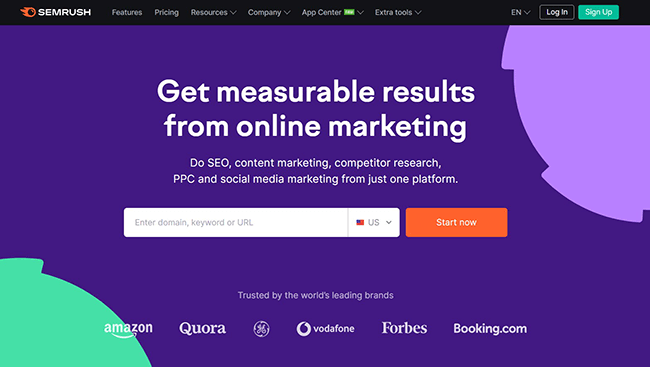 Semrush is unbeatable when it comes to powerful features. Until now, it's still an industry-leading SEO tool.
This software is built for advanced users who want to take their marketing efforts to the next level.
Semrush has everything you need for a successful SEO campaign, from keyword research to on-page SEO and link-building.
It also has a comprehensive site audit tool that analyzes your website's SEO health, show you where you need to improve, and provides recommendations on how to fix them.
For example, it will give you an overview of the total pages that have been crawled, and the number of errors found.
Semrush will then organize these errors by priority. So you can start fixing the ones that have the most significant impact on your website's ranking.
Isn't that impressive?
Additionally, if you want to spy on your competitors, you can do that too.
Just enter the domain name of up to five websites, and you'll get an in-depth analysis of their traffic, keywords, backlinks, and more.
So if you have the budget and you want something more than WordPress SEO plugins, Semrush is one of the best investments you can make for your business.
Key features
Content marketing
Position tracking
Organic traffic analysis
Domain overview
Advertising
Social media management
Location and device tracking
API access
Report scheduling
Historical data
Google Data Studio integration
Pricing
From $129.95/month (annual discounts available). Free trial available.
---
#6 – Link Whisper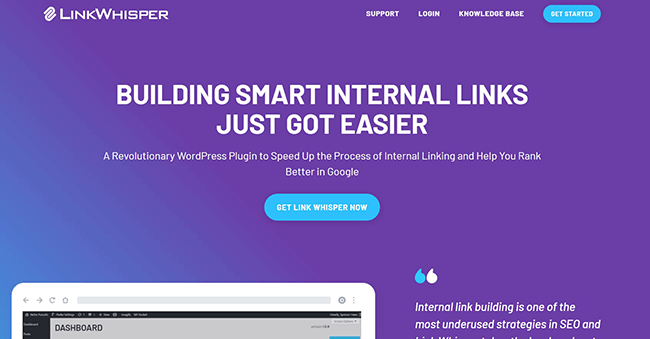 Link Whisper is a little different from the previous tools above. It's an AI-powered WordPress plugin designed for link-building.
We all know that SEO is not just about optimizing your website and ranking for keywords. You also need to focus on building links.
Link Whisper helps you do that by finding link opportunities within your website. It will then show you a list of suggested articles you can link to.
If you want to avoid the hassle of picking which articles to link, you can also let this WordPress plugin do it for you. The Auto-Linking feature of Link Whisper works well by specifying the keyword you want to target and the URL you want the links to go to.
What's more, is that broken links are easily detectable with this tool. So you can fix them before they cause any damage to your website's ranking.
The common problem with websites with hundreds or thousands of pages is that monitoring can be pretty challenging. Because of this, you might unintentionally create "orphan" content or those not linked to any other page on your website.
Link Whisper can help you find these pages and suggest articles to which you can link them. This way, you can keep your website's architecture healthy, which is good for SEO.
Key features
Internal and external link monitoring
Broken link checker
Auto-linking
Internal link reporting
Google Search Console integration
Internal linking suggestions
Pricing
From $77/year. Free plugin available.
---
#7 – Schema Pro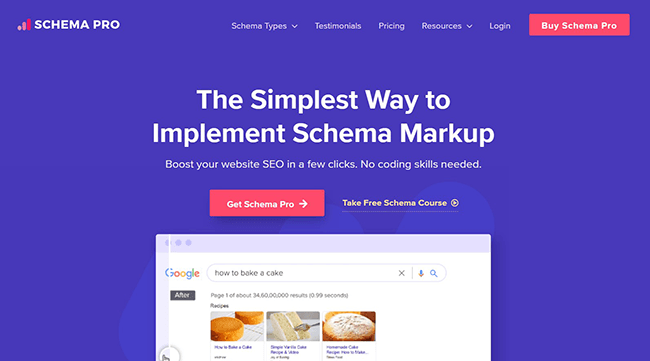 Schema Pro is the best WordPress plugin to add schema code to your site and pages. It's very simple and only takes a few minutes to set up.
Schema markup is a code to help browsers understand your content better. It allows rich snippets, such as recipes, product reviews, and events, to appear on the search engine result pages.
It's crucial for SEO because it can help improve your click-through rate and traffic by putting you ahead of your competitors.
With Schema Pro, you can quickly implement the schema code with just a few clicks. You don't need to be tech-savvy to do this. The plugin takes care of everything for you.
You only need to choose from a list of available schema types, such as book, course, article, etc., then select which page to implement it.
Schema Pro can also help you save time by automating the process. Your pages will be marked up with the proper schema code in just a few clicks.
This tool is much better because you can get feedback and suggestions once your schema code is in place. This way, you can determine if there are any errors and fix them quickly.
For an affordable SEO tool, Schema Pro is a must-have for any WordPress site.
Key features
Yoast integration
Customized field mapping
Automated schema markup
Easy to set up
Advanced schema types
Themes and builder add-ons
Pricing
From $79/year, or $249 lifetime. Free plugin available.
---
#8 – The SEO Framework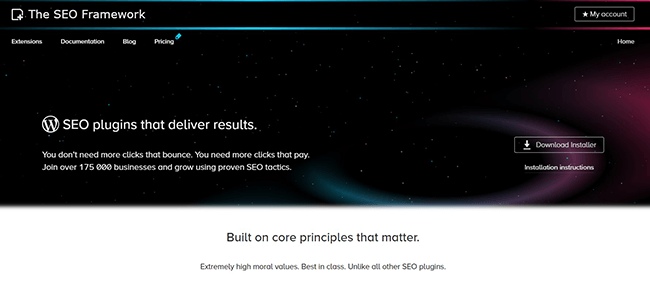 The SEO Framework values simplicity and only provides the necessary tools to rank higher on search engines.
It has no bells and whistles or extra features that will only complicate your strategy. This makes it very lightweight and fast, which is good for search engine optimization.
The WordPress plugin commits to providing white-hat SEO techniques, so you won't have to worry about getting penalized by Google.
It provides general on-page SEO elements, like adding meta titles and descriptions and setting up tools related to social media like Open Graph and Twitter Cards.
These features are what you need to optimize your pages, particularly your homepage. The plugin also has a built-in sitemap to help Google index your WordPress website quickly.
Among the WordPress plugins I've mentioned, The SEO Framework is the simplest. The terms might feel technical, but the user interface is straightforward.
You can easily find the tools; most of the time, you just need to mark or unmark a checkbox.
One of the best things about this tool is that it works behind the scenes to keep your website's SEO healthy without you even noticing it.
For example, it protects your site from duplicate content and protects you from spam or any SEO attacks. If you're not an experienced user, these might not be familiar terms, but they're essential for ranking higher on search engines.
Key features
SEO data migration
Social media management
RSS management
Automation and integrations
Site auditing and monitoring
Comment spam protection
Structured data tools
Sitemap creation
Pricing
From $336/year. Free plan available.
---
#9 – Squirrly SEO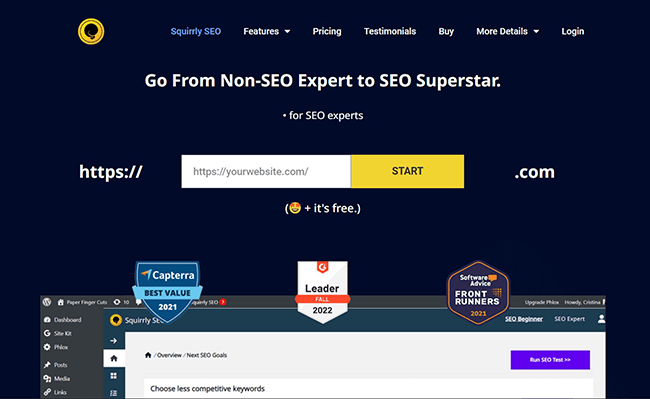 Squirrly SEO is another superb WordPress SEO plugin you should check out. It offers some unique features that can scale your SEO efforts.
Let's start with the standard SEO tools first.
Like some other SEO plugins, Squirrly SEO provides keyword research, a Google SERP checker, and a rank-tracking tool for anyone who needs to track their website's performance.
It also has an XML sitemap generator and a duplicate content checker. These tools are useful in keeping your site in good shape so it can rank higher on SERPs.
But this tool differs from the rest because of the SEO Live Assistant and Focus Pages tools.
The software provides a real-time SEO assistant to help you with your on-page optimization efforts.
It will show you your content's current status and what needs improvement.
This feature also divides the optimization steps into four, so you can focus on one area at a time.
It's handy for those new to SEO because it removes the guesswork. Partner this with the Blogging Assistant, and you'll produce great content in no time.
The Focus Page feature, on the other hand, works like a built-in navigation system. It guides you on the steps you need to take for better ranking.
If you want an all-in-one SEO plugin with a user-friendly interface, Squirrly SEO is the way to go.
Key features
SEO workflows
Deep keyword research
Royalty-free images
Social media tracker
Keyword management
Site SEO overview
Semantic SEO markup
Snippet editor
Pricing
From $71.99/month. Free plan available.
---
#10 – All in One SEO Pack (AIOSEO)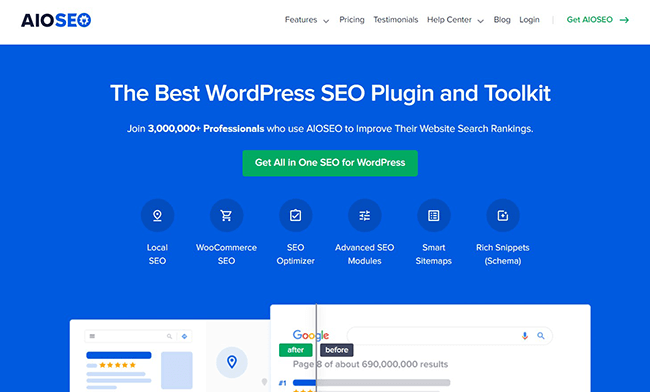 All in One SEO (AIOSEO) is one of the best SEO plugins for WordPress thanks to its deep feature set and ease of use.
AIOSEO provides tools to optimize your site for local SEO and WooCommerce. You can use this plugin to optimize your landing pages, product pages, and blogs if you have a local business or an online shop.
This WordPress SEO plugin also has an intelligent XML sitemaps feature. It can automatically generate a sitemap and submit it to all search engines.
This is helpful because you don't have to do it manually, and you're sure your pages are correctly indexed.
Besides the typical sitemap, AIOSEO also provides video sitemaps so you can also rank your videos on search engine result pages (SERPs).
On-page SEO analysis is also straightforward and effortless with AIOSEO. You can use the Page Analysis tool to check your content and optimize it for better ranking.
It will also give you recommendations on improving your title, meta description, H1 tags, alt text, etc.
Lastly, integration with AIOSEO is a breeze thanks to the built-in setup wizard.
Key features
Site audit
Local SEO
Video SEO
eCommerce SEO
WooCommerce SEO
Internal links building
Meta robots editor
On-page SEO analysis
Social media integration
Pricing
From $49.60/year. Free plugin available.
---
#11 – Yoast SEO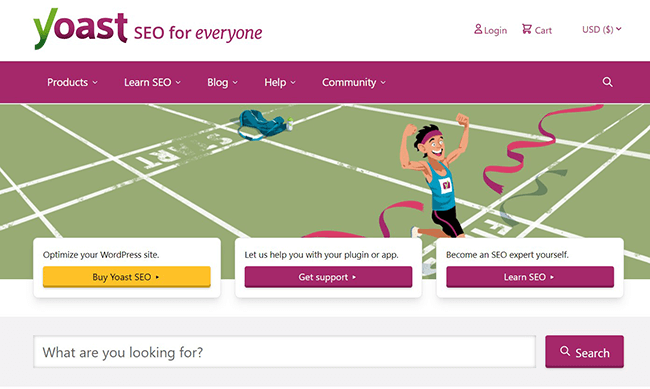 It may be last on this list, but Yoast SEO plugin can be a powerful tool for optimizing your content and pages for both search bots and your readers.
Even before Rank Math and SEOPress, Yoast SEO has been WordPress's most popular SEO plugin, especially for content optimization. It's still regularly updated and used by millions of websites.
Yoast SEO plugin is available as free and premium. The free plugin offers basic features, while the premium version has advanced features and support from the Yoast team.
So what can you do with Yoast SEO?
For starters, Yoast SEO can help you with optimizing your titles and meta descriptions.
It also analyzes your content for keyword density and suggests improving it to make it more search-engine friendly.
In addition, Yoast SEO can help you with internal linking so you can create a more solid linking structure.
Finally, Yoast SEO allows you to preview what your post will look like once you share it on Facebook and Twitter, so you can optimize your social media sharing strategy as well.
Yoast SEO can be a useful tool in your arsenal if you're a content writer or managing a WordPress website with a lot of content.
Key features
On-page SEO optimization
Google Analytics integration
Internal linking
Keyword history
Social media sharing
Redirect manager
Automated structured data
Pricing
£99/year. Free plugin available.
Related: The Best SEO Content Writing Tools To Boost Rankings
---
Final thoughts
If you're serious about taking over the SERPs, you must install the right SEO plugins or invest in a great SEO tool kit.
The WordPress plugins and tools we've listed are some of the best in the market. You won't go wrong with any of them.
If you're just starting out, we recommend trying out the free versions or free trials first.
But if you want our top recommendations, we suggest you go with Rank Math, SE Ranking, or The SEO Framework.
Rank Math is a comprehensive SEO plugin that's beginner-friendly and loaded with features. Nothing else comes close in terms of features.
SE Ranking is an all-in-one SEO platform with everything you need to rank higher in search engines. It covers all of the functionality that needs to run outside of WordPress (partly for performance reasons). We're talking about backlink analysis, rank tracking, content optimization, site auditing, etc.
Both of them together, make for a fantastic combination.
And lastly, The SEO Framework is a lightweight yet effective WordPress plugin perfect for those who want a fast and clear-cut solution.