12 Best Rank Tracking Software Tools For 2023
Do you want a better way to track search engine rankings? Having rank tracking software can make a big difference.
There are various tracking platforms out there. And learning about them by yourself can be time-consuming.
To help you out, we've compiled a list of the leading rank-tracking tools available. We'll discuss why each platform is worth considering and show some key features.
Ready to outrank your competitors? Let's get started!
Top rank tracking software tools compared
Short on time? Here's our top 4 recommendations.
---
#1 – SE Ranking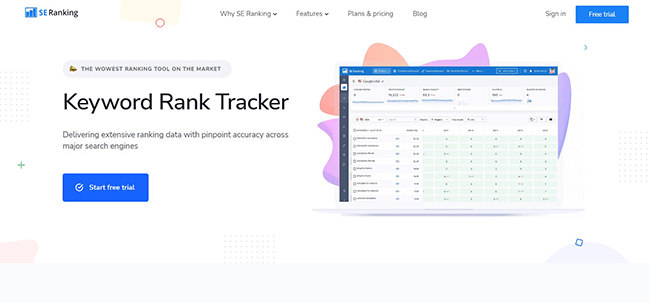 SE Ranking is one of the most excellent rank-tracking software available.
It's affordable, newbie-friendly, and caters to different markets, from solopreneurs to agencies and big companies. So this tool can scale with you.
SE Ranking's rank-tracking features are pretty impressive. Not only can you monitor the highs and lows of your pages and prevent keyword cannibalization, but you can also get detailed insights into your competitors' ranking.
You get to track what websites are targeting similar keywords and their position in search engine results pages (SERPs.) This data can help you strategize and improve your content and SEO efforts.
SE Ranking also provides vast yet accurate data from different search engines. It doesn't only rely on Google so that you can get a more holistic view of the rankings.
Besides that, you can monitor your website and keyword ranking in a specific location or multiple areas. This tool will be handy if you're targeting a local market or want to track your progress in different countries.
The other things I love about this rank-tracking tool are clear-cut data analysis and customization features.
Key features
On-page SEO tools
Content creation
Backlink checker
Site audit
Competitive analysis
Keyword research
Reporting tools
White-label for businesses
Pricing
Plans start from $23.52/month with weekly rankings checks and 250 keywords. Prices vary depending on frequency and keywords. You can try SE Ranking with their free trial.
---
#2 – Nightwatch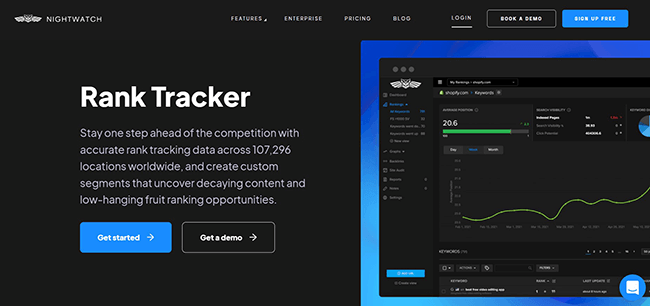 Nightwatch is another precise rank-tracking tool with a beautiful user interface.
It uses illustrations, graphs, and sparklines to show progress and ranking data. It makes analyzing more fun and engaging.
But aside from that, Nightwatch's database and features are also top-notch.
You can access over 107,000 locations worldwide and get data from any Google Data Center.
So this tool is the best for local page and SERP tracking. This tool is perfect for SEO agencies with clients from different locations.
Integration with Google Search Console (GSC) and Google Analytics is possible. It will allow you to sync data and monitor progress on three platforms in one place.
Moreover, you can track and compare other essential aspects with your competitors besides your keyword rankings. That includes the average rank position, domain rating, search visibility, and more.
It helps you identify your strengths and weaknesses in ranking positions so you can choose where to double down your SEO efforts.
All of these are impressive, but there are two things I like the most about this tool. First, the customizable data table allows you to choose which metrics to follow.
For instance, you can monitor your keyword's organic ranking, previous ranking, or local traffic. I've never used a rank-tracking software that's this flexible.
The second one is the keyword segment feature. With this tool, you can organize your keywords into groups. That way, you can easily track and measure which is doing well in SERPs.

Key features
Keyword segmentation
Detailed metrics
Site auditing
Keyword discovery
White-label and detailed reports
SERP features
Pricing
Plans start from $39/month with 250 keywords and 50 tracked websites. Prices vary depending on keywords and yearly discounts apply. You can try Nightwatch with their free trial.
---
#3 – Semrush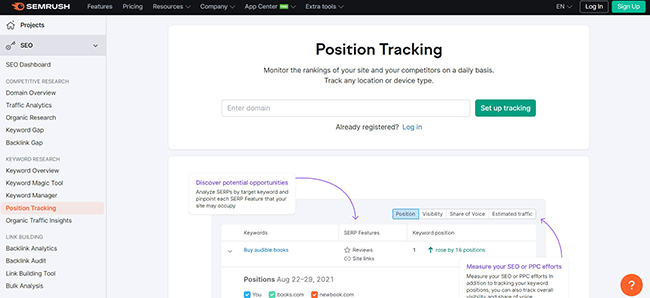 Semrush is a powerful and popular digital marketing tool. Many expert marketers and agencies swear by this tool because it's reliable, feature-rich, responsive, and updated.
When it comes to rank-tracking, Semrush does a great job of providing data that is up-to-date and actionable.
The rank-tracking tool of Semrush is known as Position Tracking. It's a handy tool for keeping tabs on your search engine rankings.
With Position Tracking, you can quickly monitor your organic and paid keyword rankings over time.
This can help you to identify potential opportunities for improving your search engine visibility.
Additionally, you can use the Semrush rank-tracking feature to discover competitors and track their ranking in SERPs for multiple locations.
This valuable information can help you refine your SEO strategy and ensure that you stay ahead of the competition.
If you hate monitoring progress every day, you can customize a notification that will only trigger when there's a significant change in your ranking.
Key features
Market analysis
Competitive analysis
Keyword research
Campaign management
Site audit
Social media management
Content optimization
Pricing
Plans start from $119.95/month. Annual plans available with further discounts. You can try Semrush with their free trial.
---
#4 – Mangools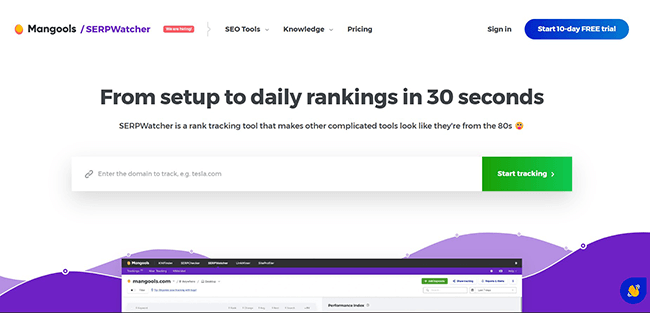 Mangools provides SEO tools for small businesses and digital marketing agencies. It's known for its affordability yet high-quality features.
One of the tools in the Mangools arsenal is SERPWatcher, a quick-to-setup rank-tracking software that helps you monitor keywords' position and website performance over time.
SERPWatcher tracks search engine rankings across all devices and even within specific locations. It supports over 50k areas, so it's a valuable tool for local search optimization.
What's more, SERPWatcher offers daily ranking updates and access to historical data, which is perfect for keeping an eye on your progress and making data-driven decisions.
And with interactive reports and alerts, sharing progress with clients or your team is a breeze.
SERPWatcher's interface is clean and user-friendly. It's ideal for users who value simplicity and want to avoid being bogged down by unnecessary data.
But that doesn't make SERPWatcher any less powerful. It's one of the most accurate rank-tracking tools on the market.
Key features
Keyword research
SERP analysis
Backlink tracking and analysis
Website audit
Competitive analysis
Data switching
Pricing
Plans start from $49/month. Annual plans available with further discounts. You can try Mangools with their free trial.
---
#5 – Wincher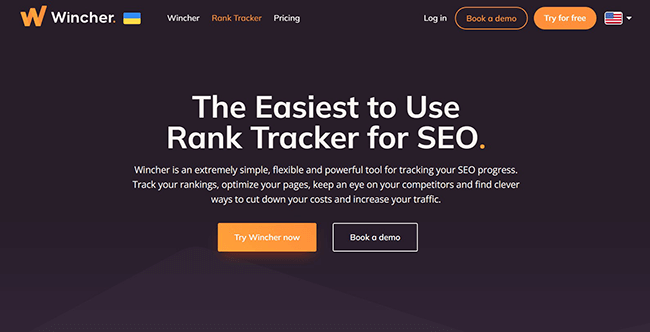 Wincher is one of the few on this list, primarily focusing on rank-tracking. It's a cloud-based software with a free WordPress plugin version.
Although it provides cool features and a significant amount of data, Wincher's dashboard and interface are clean and uncluttered.
The most important feature for me is local keyword rank tracker tool. It's essential to ensure that your website appears for the right keywords and in front of your target audience.
Wincher supports over 100,000 locations and 180 countries so getting relevant data is not an issue.
This rank tracker also offers daily rank-tracking, so you can always stay on top of your progress.
And like Mangools, you can set notifications to alert you of any sudden changes in your rank tracker.
Finally, Wincher's overview of your competitors is invaluable, as it allows you to monitor your website's performance with your rivals.
Altogether, this software's features make it an essential tool for anyone serious about improving their website's visibility in search engines.
I see Wincher as a perfect tool for content creators and small businesses who want to track their organic traffic and improve their ranking without breaking the bank.
However, it's still an excellent option for more prominent companies or agencies.
Key features
Multiple websites tracking
API access
Unlimited users
White-label reports
Competitor analysis
Integrated keyword suggestion
Pricing
Plans start from €29/month with 500 keywords with daily ranking updates. Prices vary depending on keywords and additional features. Yearly subscriptions will get you 2 months free. You can try Wincher with their free trial.
---
#6 – Morningscore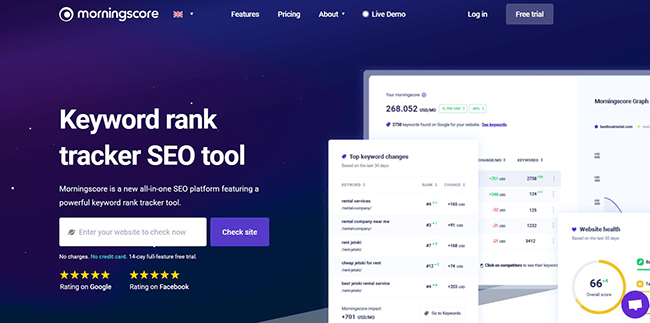 Morningscore has a fascinating approach to rank-tracking. Although the features are pretty similar to other tools, it adds fun in doing SEO and rank-tracking through gamification.
Morningscore assigns you tasks you need to complete. They are called missions.
For example, the platform will suggest a mission to get a particular tracked keyword from position 2 to 1.
Once you add that mission, the tool will give you a step-by-step guide on how to do it, with texts, images, and links.
I like it because it breaks the monotony of rank or keyword tracking tool. But more importantly, it makes the entire process fun and motivating.
It encourages you to be proactive in your SEO efforts.
Besides missions, Morningscore's powerful rank-tracker tool allows you to spy on your competitor's keyword rankings, monitor the terms you're ranking for by typing your domain, and easily manage your target keywords.
Key features
Mobile rank tracker
Keyword suggestions
PPC metrics
Site audits
SEO suggestions
SEO reports
User management
Pricing
Plans start from $65/month with 250 keywords, 5 websites and 2 users. Prices vary depending on keywords and additional features. Yearly subscriptions will give you a discount of 2 months free.
---
#7 – AccuRanker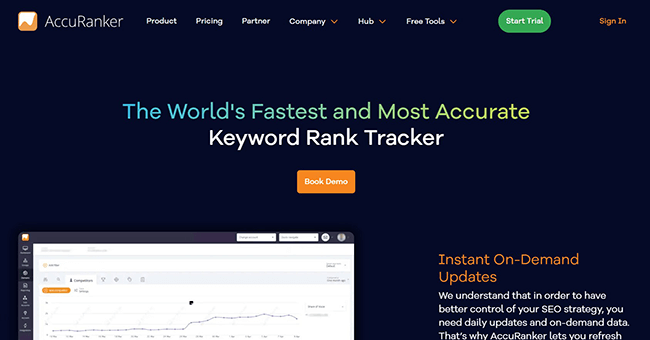 AccuRanker is a powerful rank-tracking tool used by SEO and digital marketing agencies and big corporations. It collects data from all major search engines, such as Bing, Yahoo, and Google.
In addition, AccuRanker provides detailed reports on your website's search rankings. This information is essential for improving your organic traffic campaign.
Besides the usual SERP position, search volume, and CPC, you also get other valuable data such as:
Dynamic click-through rate (CTR). Knowing the CTR can help you gauge how much traffic you'll receive.
Share of voice. This information can help you identify whether your high keywords are losing or gaining rank.
Traffic value. This metric estimates the value of your organic traffic in dollars. It lets you see which keywords generate the most revenue for your website.
These three unique metrics make AccuRanker more effective and informative than other rank-tracking tools.
AccuRanker also lets you see SERP features for your tracked keywords. This tool helps you understand how Google sees your website and what you need to do to improve your ranking.
If you want to keep a close eye on your competitor's ranking, you can take advantage of data cubing by AccuRank. It allows you to compare data from multiple angles and discover hidden opportunities.
AccuRanker is a bit more expensive than other tools on this list. However, it offers features that justify its price tag.
Key features
SERP pixel tracking
On-demand data
Third-party integrations
Massive keyword database
Keyword segmentation
Unlimited users
SERP rank tracker
Pricing
Plans start from €129/month with 1,000 keywords. Prices vary depending on keywords, and yearly discounts are available. You can try AccuRanker with their free trial.
---
#8 – Keyword Revealer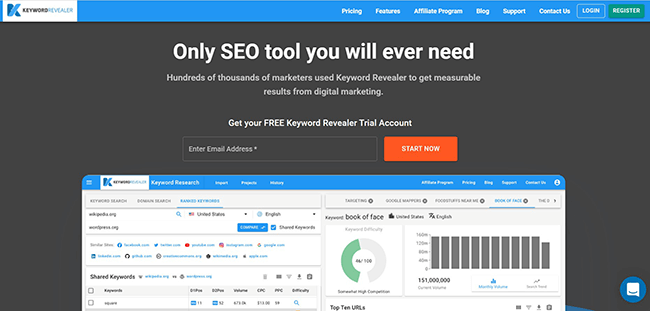 Keyword Revealer is technically not a rank-tracking tool. It's primarily a keyword research tool but it does include a position tracker feature.
Although it's just an add-on, the position tracker is handy. It lets you check your visibility score and keyword position in a well-organized dashboard.
Alongside your track keywords, you'll see their current position, rank changes, best SERP ranking, and searches. Not as detailed as other rank trackers, but it gets the job done.
Besides that, the tool also shows you the top and worst keywords, their SERP positions, and the estimated traffic they get.
Having these simple sections helps you quickly identify which keywords will give you the most ROI.
If the keyword you're planning to target falls into that category, you can quickly drop it and move on to other keywords.
Key features
Keyword mapping
Site audit
Backlink audit
Domain finder
Bulk keyword upload
Keyword analysis
Pricing
Plans start from $19.97/month. Prices vary depending on keywords and additional features. Yearly discounts are available. You can try Keyword Revealer with their free trial.
---
#9 – SEO PowerSuite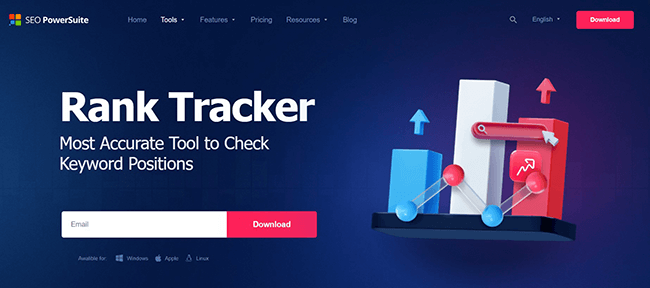 Next on our list is SEO PowerSuite. It's a freemium desktop tool you need to download and install on your computer.
SEO Powersuite's Rank Tracker is the module responsible for tracking your rankings and keywords.
What's great about the Rank Tracker is that you can monitor unlimited keywords locally and globally on desktop and mobile.
Most platforms have quotas on their keyword rank tracker, which is a significant advantage.
Other features include automatic updates, SERP features tracking, and detailed ranking reports.
Rank Tracker also gets its data from major and minor search engines. Whether you target a local or worldwide market, there won't be any issues.
The tool is also customizable, so you can set it up to match your preferences.
For example, you can scan up to 50 pages or switch between mobile and desktop rank-tracking to view the most relevant results.
The visual graph available for competitor tracking is also beneficial. It shows you a diagram of the common keywords you and your competitors are targeting.
Besides that, you can also see keyword opportunities you can take advantage of.
Overall, SEO PowerSuite is an excellent tool with robust features if you're okay with slightly complex interface and learning curve.
Key features
SEO analysis
Website audit tool
Link management
Backlink research
Keyword research
Domain comparison
Outreach management
Pricing
Plans start from $299/month. You can try SEO PowerSuite with their free download.
---
#10 – WebCEO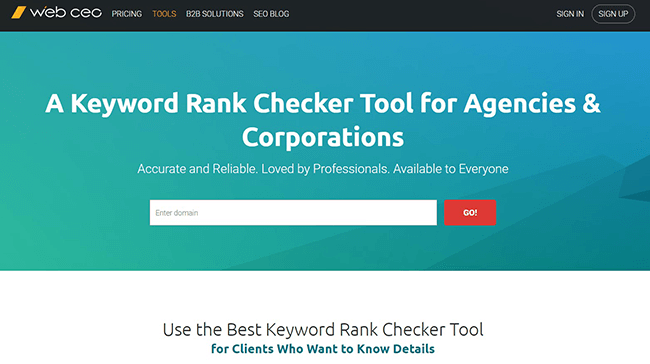 WebCEO has been powering SEO strategies for longer than most tools on this list. In fact, it's also an all-inclusive digital marketing tool like SEO Powersuite and Semrush.
It caters to advanced-level SEO agencies and has many features that will help you with your ranking efforts.
However, the tool also made a particular plan for beginners looking for a user-friendly and affordable option.
It also allows you to monitor various aspects of Google results, including SERP features, organic and paid rankings.
This means you get access to valuable data that can help improve your search engine ranking.
WebCEO knows that besides Google, YouTube is also a powerful search engine.
That's why the tool allows you to track your YouTube rankings by simply adding your URL and channel into the software.
Additionally, they have additional SEO metrics that can help you understand your website's performance.
For instance, if you want to rank from other search engines besides Google, you can monitor the number of visits your keywords get from that particular engine and make necessary changes to your website.
Key features
Toxic link analysis
Traffic analysis
Internal link-building
On-page SEO assistant
Domain analysis
Multilingual reports
SEO integrations
Blog sharing
Competitor analysis
Pricing
Plans start from $37/month (paid quarterly) for a single project and 100 keywords. For larger businesses, plans start from $99/month for 5 projects and 600 keywords. Annual discounts are available. You can try WebCEO with their free trial.
---
#11 – Advanced Web Ranking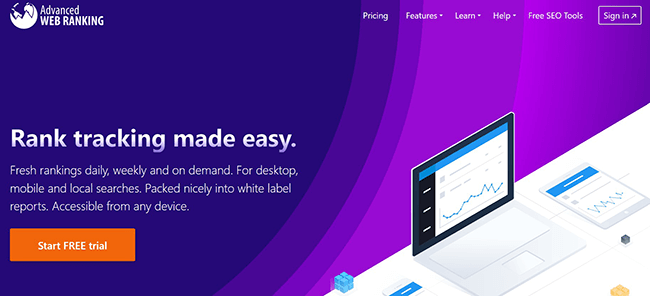 Advanced Web Ranking (AWR) has been a web-based tracking tool for over a decade. That only proves how reliable and effective it is.
With AWR, you can get the latest keyword rankings on desktop and mobile devices. The tool lets you choose how often you want the data to be updated.
You can go for a monthly, bi-weekly, weekly, or even daily update. If you don't want to miss out on any ranking changes, this tool is definitely for you.
There are so many things to like about this rank tracker.
First, the user interface is clean and intuitive. You can easily find the needed features and start.
Next, you can create unlimited ranking projects and accept unlimited team members. It's perfect for digital marketing agencies.
Third, aside from Google, AWR also provides SERP data for more than 4,000 other search engines. So if you want to track rankings on different platforms, this tool got you.
You can also integrate it with Google Search Console, Analytics, and Ads. This data integration is essential if you want a complete view of your website's SEO and keyword performance in one platform.
Lastly, you can use it to measure your search rankings and your pixel visibility. Pixel position tracking refers to the number of pixels your website is from the top of the SERP.
It may not seem like an important metric, but it can help you understand how noticeable your website is in the search results..
Key features
Competitive analysis
Report sharing
Mobile and desktop rankings
Local SEO insights
Historical ranking
SERP analysis
Pixel positioning analysis
In-depth market research
Pricing
Plans start from $49/month for 2,000 units (single search engine with a search depth of 5 pages = one unit). Prices vary depending on keywords and additional features. Yearly discounts available. You can try Advanced Web Ranking with their free trial.
---
#12 – Diib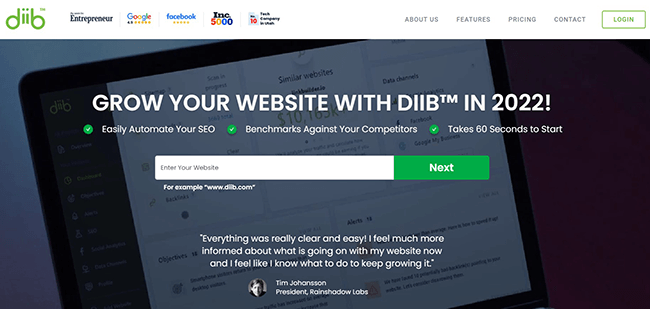 Diib is one of the best rank-tracking tools for automation and quick setup. The website claims it'll only take a minute to start with the tool.
And they're not kidding. The setup process is straightforward, and you can track keyword rankings without hassle.
Besides smooth onboarding, Diib's keyword ranking features are handy for SEO professionals and web admins.
By monitoring your best SEO keywords and backlinks, you can quickly identify any changes in your rankings and take action accordingly.
Likewise, monitoring your competitor's rankings can give you valuable insights into their strategies and help you adjust your tactics.
Finally, Diib's keyword and content ideas feature is an excellent way to generate new ideas for your website or blog.
With so many powerful tools, Diib is an invaluable resource for anyone serious about driving traffic to their site.
Key features
Social media management
Progress tracker
Automated site monitoring
Website health tracker
Weekly email overview
Pricing
Plans start from $7.99/month (renews at $29.99/month) for full access. You can try diib for free with their free plan.
---
Conclusion
So what do you think of our list of the best rank-tracking software? Is there something that caught your attention?
For me, it will be SE Ranking, Nightwatch, and Morningscore.
SE Ranking is budget-friendly, beginner-friendly, and packed with features that make rank-tracking a breeze. It also includes backlink analysis, content optimization, site auditing, report builder, and keyword research tools.
On the other hand, Nightwatch's sleek and unique interface is very appealing. The tool is also packed with powerful features and understandable data.
Lastly, Morningscore's gamification can keep you motivated to take action. The tool is also very user-friendly and easy to set up.
We hope this article helped you find the right rank-tracking tool for your needs.