12 Best MeetEdgar Alternatives For 2023
Are you looking for the best alternative to MeetEdgar?
MeetEdgar creates a constant flow of content ideas for your followers by pulling from a pre-curated content library of posts. So on autopilot, you can expect fresh social media accounts every day.
But it's not the best tool for everyone.
So, in this post, we're comparing the top tools that are similar to MeetEdgar, or have even more features.
The best MeetEdgar alternatives & competitors – summary
In a hurry? Here's a quick summary to save you some time:
Choose Agorapulse if you need an alternative to MeetEdgar that has an 'all-in-one' feature set.
You'll get access to a social media inbox, calendar, scheduling, analytics, reporting, and more.
Sendible is another strong contender as well. The social inbox isn't quite as good as the one offered by Agorapulse, but it includes content curation and its scheduling functionality is excellent. Also, its pricing plans are more affordable.
If you're just looking for the most equivalent MeetEdgar alternative to replace its scheduling and publishing functionality, choose SocialBee. It's the best dedicated social media publishing tool we've tested so far.
---
#1 – Agorapulse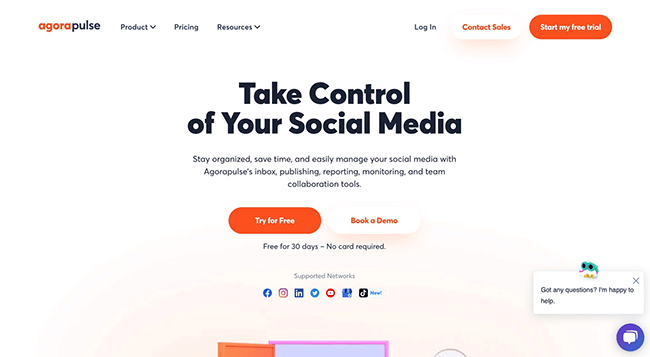 Agorapulse is a full-fledged app to manage your entire social media campaign. It's one of the best options for people who don't want to use MeetEdgar. Agorapulse's main social media management features include publishing, inbox, monitoring, and reporting.
Advantages of Agorapulse over MeetEdgar:
Social media platforms: Agorapulse supports more social networks than MeetEdgar. While MeetEdgar focuses on Facebook, Twitter, and LinkedIn, AgoraPulse works with Facebook, Twitter, LinkedIn, Instagram, and YouTube.
Advanced features: Agorapulse has key features that MeetEdgar doesn't have, like Social Inbox, Top Performing Posts, Teams, and Content Approvals.
Team management capabilities: Agorapulse has a way for teams to work together that MeetEdgar doesn't have. Agorapulse also allows content approvals where users with access to the shared calendar can accept, reject, or provide feedback on individual posts.
Pricing
AgoraPulse's Standard plan starts at €59.00/month/user for ten social media profiles, with unlimited posts and scheduling.
There's a free plan and a free trial so you can test the tool for yourself.
---
#2 – Sendible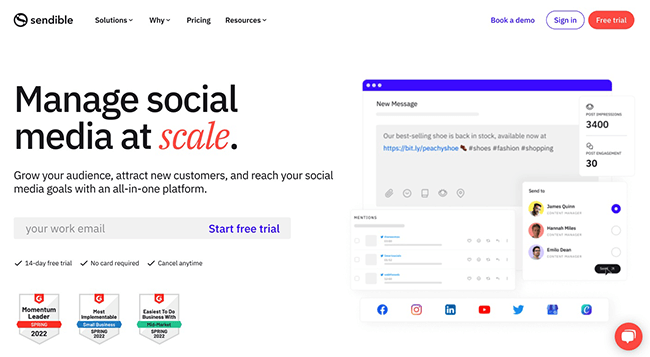 Sendible is one of the best social media management tools for teams and agencies. It includes all of the important functionality that you'll need to power your entire strategy – inbox, publishing, analytics, content curation, reporting, and more.
Advantages of Sendible over MeetEdgar:
Brand tracking: Follow hashtag suggestions, relevant keywords, and your clients' competitors on Twitter to learn about their industries. Find trends quickly, start conversations first, and improve your social media strategy.
Multi-user collaboration: Keep an eye on direct messages and comments that come in and respond quickly to get more people involved. To help provide better customer service, delegate messages like sales opportunities and support issues.
Report builder: You get best-in-class social media analytics that are made to show value. There are more than 200 modules to explore. With Sendible's drag-and-drop report builder, you can create custom reports for each client that are ready to present.
Support features: Besides live support, Sendible is contactable via email, phone, and support tickets. They also have available videos as training webinars.
Pricing
Plans start from $29/month for one brand and unlimited scheduling/publishing. Higher plans unlock additional features such as their social inbox. A free trial is also available.
---
#3 – SocialBee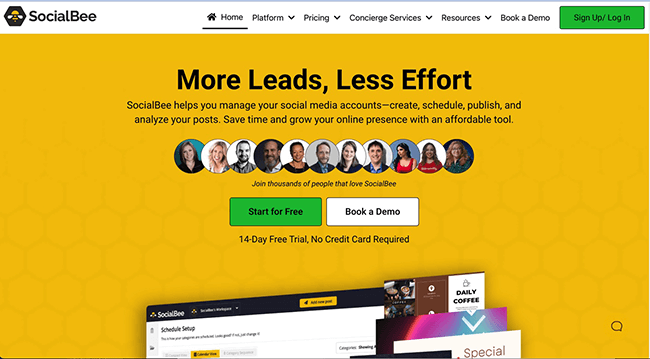 SocialBee is a web and mobile app for social media scheduling. Because it is solely a scheduling tool, no inbox management or brand monitoring features exist.
SocialBee's most important feature lets you schedule content and post them on multiple social media platforms simultaneously. You can also reuse your old content in different ways in the future.
Check this article for more social media scheduling tools.
Advantages of SocialBee over MeetEdgar:
More social media platforms: MeetEdgar focuses on Facebook, LinkedIn, and Twitter, whereas SocialBee manages more social networks, including TikTok.
Campaign management: SocialBee has more social media campaign management features than MeetEdgar.
Social analytics: SocialBee helps you collect valuable information from social media. This will help you fully understand your audience and your strengths and weaknesses. Currently, MeetEdgar doesn't have this feature.
Extended free trial access: MeetEdgar's free trial lasts only seven days, while SocialBee's lasts 14 days.
Multi-user collaboration: SocialBee offers team management capabilities such as member permissions and a client approvals process. MeetEdgar does not have these key features.
Pricing
SocialBee's plans start at $29/month, however, you can save 16% by subscribing to annual billing. Get started with a 14-day free trial.
---
#4 – Pallyy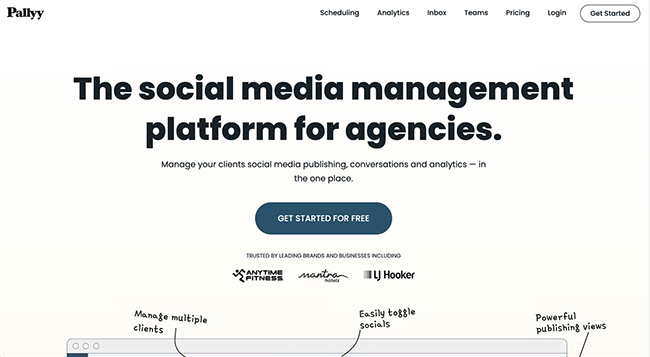 Agencies and content creators alike can use Pallyy to plan their social media posts and keep track of them. Thanks to the collaboration features, you can talk to your team members, share your calendar with your clients, and see your team's feedback in one place.
Advantages of Pallyy over MeetEdgar:
Instagram features: Pallyy comes with extra features for Instagram users. This includes a grid layout for visual post planning, hashtag suggestions, and a link in bio tool.
Social inbox: The ability to reply to comments and mentions is important. You can do this easily via a great interface within Pallyy.
Analytics: Pallyy provides data for popular social networks like Facebook and Instagram. MeetEdgar doesn't have this functionality.
Collaboration: Pallyy offers a lot of tools for team collaboration to make it better for agencies. You can add people to your team through the Settings tab and talk to them through the Feedback tool.
Pricing
Pallyy's plans start at $18/month per social set. There's a free plan and a 14-day free trial. Annual discounts available.
---
#5 – Publer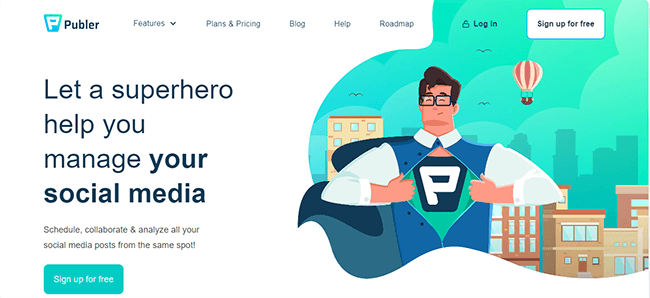 Publer is a social media management tool that assists small businesses in managing content creation and publishing. You can use it for multiple platforms such as Facebook, TikTok, Instagram, Twitter, LinkedIn, Pinterest, Google My Business, YouTube, and WordPress.
Advantages of Publer over MeetEdgar:
Collaboration: The approval queue is excellent, and it's easy to see the post and decide if it should be approved or changed. Publer has a content creation approval workflow which is not available with MeetEdgar.
Advanced features: Publer has unique key features like Twitter Thread Scheduling, Instagram First Comment, Social Inbox, Top Ranking Posts, Watermark, Teams, and Content Approvals that are unavailable in MeetEdgar.
Analytics: Managers can use Publer's graphs and analytics to gain actionable insights into published, scheduled, or failed posts, followers, content engagement, trending posts, and more.
Instagram feature: Publer allows you to schedule Instagram posts with the first comment, which MeetEdgar does not allow.
Twitter threads: Publer also allows you to schedule threads on Twitter, which MeetEdgar does not.
Check out our Publer review for more details.
Pricing
Publer has a free plan option for three social accounts and one user. The Professional plan starts at $12/month with three social accounts and no additional team members.
---
#6 – Metricool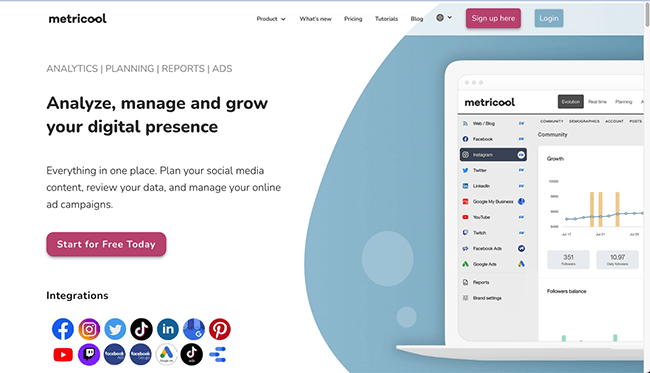 Metricool aggregates data from your website, social networks, and online advertisements. You can quickly check them, make data driven decisions, and improve your content strategy.
The depth and detail of Metricool's social network analytics are its strengths. This social platform provides you with a 360-degree view of how your social campaigns are performing in an easy-to-read dashboard.
Advantages of Metricool over MeetEdgar:
Instagram link: Metricool enables you to add unique links to your posts, directing traffic to your website. It is a good alternative to Linktree for Instagram and does the same thing.
Unified reporting: With unified reporting, it's easy to see how well your social media is doing. In particular, you can choose to see your metrics for each social network over the standard periods
Paid campaigns: Metricool includes all of the standard key performance indicators (KPIs) for your paid campaigns. You can customize detailed reports and also include links to your website or advertising platforms such as Facebook or Google ads.
Real-time web tracker: Metricool will tell you how many people are looking at your website and what pages they are looking at.
Pricing
MeetEdgar's Eddie Plan starts at $29.99 monthly for five social media profiles and unlimited team members. Unfortunately, there is no free plan.
Meanwhile, Metricool has a free plan option for several social media accounts under one brand. However, there is a limit of 50 monthly posts. The lowest paid plan is $22 per monthly for five social accounts and a 2000-post limit. Annual discounts available.
---
#7 – PromoRepublic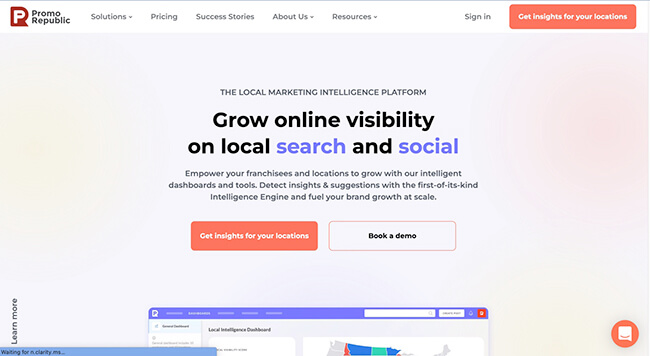 PromoRepublic is a social media marketing solution for small businesses, agencies, franchises, and multi-location brands that includes content distribution workflows.
Advantages of PromoRepublic over MeetEdgar:
White label: Experience real-time collaboration with clients on a social media marketing platform branded with your colors and logo to enhance brand recognition.
Training: Offers more options for user training, such as webinars or in-person training. Meet Edgar only has a text-based knowledge hub.
Media Library: PromoRepublic has a content library with ready-to-use content and a graphics editor. You can use PromoRepublic to access 6,000+ editable visuals. Post images and GIFs with quotes, contests, or promotions created by a design team.
Graphics editor: Create your visuals without switching between apps, resize images for five networks, including Pinterest, and schedule or post them immediately.
Pricing
Plans start at $59 per month for ten social media accounts and one user. However, this includes local SEO.
PromoRepublic has a 14-day free trial version for its paid plan for small businesses.
---
#8 – Crowdfire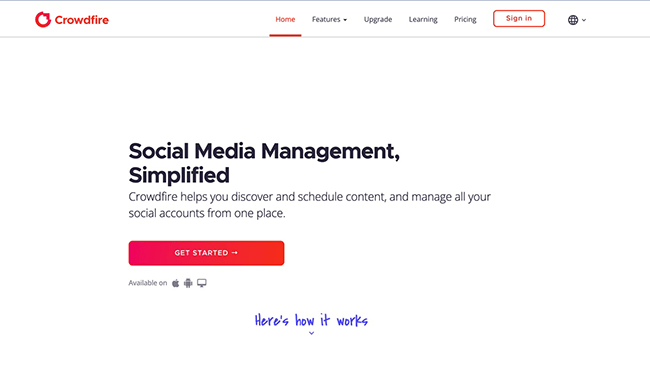 Crowdfire emphasizes its primary social management function: content scheduling to go out on all your social channels at the best times. At its higher subscription levels, it adds social listening and analysis of its competitors.
One of its best features is how easy it is to share different kinds of content on multiple social media channels.
It was also one of the first social media management apps that integrated TikTok.
Advantages of Crowdfire over MeetEdgar:
More social media platform integrations: Crowdfire works with Facebook, Instagram, LinkedIn, YouTube, Twitter, Pinterest, WordPress, Etsy, Shopify, Medium, 500px, Vimeo, and many more.
Image curation: Crowdfire is the only social media management tool that provides image recommendations for curating Instagram-shareable images.
Mention tracking: Use the team inbox to keep track of every mention, comment, and answer. Watch what people say about your Twitter account right away.
Instant replies: Send images, videos, and gifs as replies to all the mentions. Using the mobile app, you can also reply immediately while on the go.
Content approval workflow: MeetEdgar needs a way to approve content like Crowdfire.
Twitter threads: With Crowdfire, you can schedule Twitter threads, which you can't do with MeetEdgar.
Pricing
Crowdfire has a free plan available. You can post up to 10 scheduled content per account. Paid plans cost $9.99/month, and allows linking to five accounts and up to 100 scheduled posts.
---
#9 – Sprout Social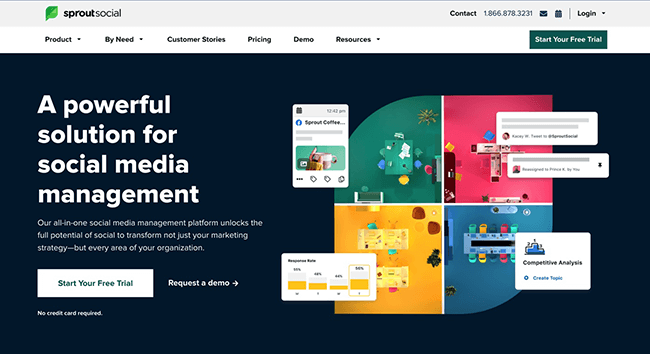 Sprout Social is a popular social media solution for larger businesses. It helps businesses manage each posting schedule, track social media metrics, and engage customers.
Sprout Social also lets businesses collaborate on social media campaigns, create custom reports, and track social media performance.
Before we dive into this tool further, it's worth noting that it is VERY expensive by comparison to MeetEdgar. As such, we only recommend it for large businesses. And even then, the cost is difficult to justify. That said, it's still a solid tool that may make sense for some users.
Advantages of Sprout Social over MeetEdgar:
Advanced features: MeetEdgar lacks Twitter Thread Scheduling, Instagram First Comment, Social Inbox, Dynamic Automations, Top Performing Posts, Teams, and Content Approvals, which Sprout Social offers.
Content approval: Sprout Social has a content approval workflow that is unavailable with MeetEdgar. Make workflows to guide the submission, review, and approval of messages. This helps your team keep an eye on things, protect brand standards, and make working together easier.
CRM tool: Sprout Social's Customer Relationship Management (CRM) social media management tool provides conversation history, contact information, and notes to help teams respond.
Pricing
Plans start from $249/month. There's a free trial and additional users are $199/month.
---
#10 – SmarterQueue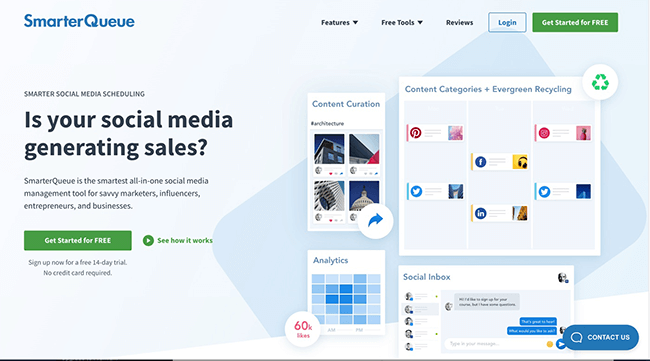 SmarterQueue is a social media publishing tool that lets you schedule, group, analyze, and publish content from one easy-to-use interface.
You can reuse evergreen content, schedule seasonal posts that stop on their own when you want, and more.
Advantages of SmarterQueue over MeetEdgar:
Advanced recycling: Edgar makes you recycle all posts in a Category, but SmarterQueue lets you choose whether to recycle or not for each post. Even better, you can set an end date and decide how many times a post should be recycled.
Media variations: A/B testing on MeetEdgar involves text; whereas Sprout Social has a media variation feature. You can also search for great media from Giphy, Unsplash, and Pixabay.
Streamlined workflow: With Saved Replies, you can make standard answers to questions that come up often. You can easily add them to your messages by pressing a button. Try out and improve your messages.
Pricing
Plans start at $29.99/month. You can tailor your plan based on your needs and a free trial is also available.
---
#11 – TweetDeck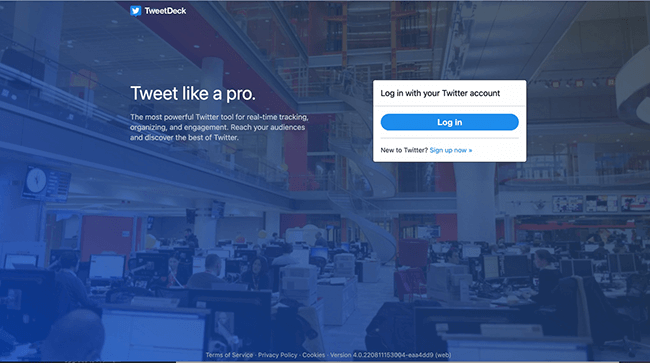 TweetDeck makes using Twitter easier by letting you see your timelines in one simple place. Unlike MeetEdgar, the integration is only for Twitter social accounts.
It has features to help you get the most out of Twitter. For example, you can manage multiple Twitter accounts, schedule Tweets to be posted at a later time, build collections of Tweets, and more.
Advantages of TweetDeck over MeetEdgar:
Designed for Twitter: Ease of use and integration with Twitter is simple. Easily connect social accounts and create views allowing different timelines, feeds, and more. Schedule content right from the social media management platform
User interface (UI): The UI is great and easy to use. Tweetdeck is a great social media management tool for getting content out to multiple accounts. The user-friendly dashboard is easy to change and lets us see several timelines in one place.
Typeahead feature: TweetDeck will run a real-time search when you start typing in the search box. This tries to autocomplete your search term by showing potentially relevant search topics and social accounts.
Pricing
Tweetdeck is free and doesn't offer a paid plan.
---
MeetEdgar pros and cons you need to know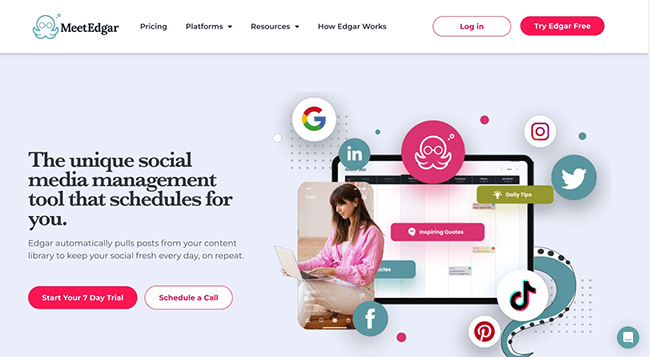 According to social media statistics, 69% of marketers use social media to build brand awareness.
So, social media management tools like MeetEdgar can make your marketing campaigns more manageable.
Should you use one of the MeetEdgar alternatives on this list? Let's weigh the benefits and drawbacks. Maybe you'll eventually decide to stick with it.
MeetEdgar pros
Ease of use: Simple and easy-to-use interface. The tool suggests steps and lets you go back or save work.
Content recycling: Share evergreen content again and easily add new content to get more people to your site from multiple platforms.
Content categorization: Sorting by categories helps you find a good balance between your commercial (promotions), curated (recommended reads), and original (my posts) when repurposing content.
Auto variations: From the MeetEdgar customer reviews we researched, this is the most talked about aside from recycling. MeetEdgar helps you get the most out of your social media posts by letting you use them differently. The auto variation feature looks at your content and suggests different ways to use parts of the original post.
Managing and scheduling: MeetEdgar simplifies social media management. Save time by being able to set up feeds for each of these social media channels. Schedule posts in advance, especially during busy launches.
Content syndication: MeetEdgar lets you add more content from your website or outside sources. An example can be a blog where you often find interesting articles you'd like to share on your social profiles.
Recurring weekly schedule: MeetEdgar has a weekly schedule that you can use to set the best times for each type of content and social network. MeetEdgar figures out how you can save time by looking at when your audience has responded best.

MeetEdgar cons
Limited reporting: The reporting features are not as robust as some of its competitor
Monitoring engagements: No feature allows you to monitor comments and other forms of engagements from within the app. This won't be an issue for all users but other platforms like Agorapulse and Sendible include this feature and still work out quite similar in terms of pricing. In short, it's not an all-in-one social media management tool.
Client management: It takes a lot of work for agencies to handle multiple clients on a single account. You have to create multiple accounts, which is more expensive than what competitors offer.
Choosing the best alternative to MeetEdgar
You have a lot of great options, as you can see. Which one is best for your business?
Well, it depends on your budget, what key features you want, and what kind of site you want to make.
If you're unsure, I'd recommend taking the free trials offered by some of the tools above. And don't forget, some tools offer free plans as well. These include Agorapulse, Pallyy, and Metricool.