10 Best Ahrefs Alternatives For 2023
Ahrefs is a leading SEO tool that features huge databases of keywords and backlinks.
You can use this tool to optimize your website, discover good keyword opportunities, keep track of your SEO efforts, and much more.
But like any software, it's not perfect.
Ahrefs recently added significant usage restrictions to its plans making it far more expensive. At the same time, they now charge new customers for overages automatically which can lead to huge bills.
Coupled with frequent technical issues, this has some users looking for alternatives.
So if you want to know other platforms that can replace this SEO tool, we'll show you 10 of the best Ahrefs alternatives in this post.
Let's get started!
Best Ahrefs alternatives & competitors
TL;DR:
Short on time? Here are our top recommendations:
SE Ranking – An affordable and great value for money tool ideal for beginners. It is packed with a ton of SEO tools for keyword research, competitive analysis, rank tracking and much more.
Semrush – An all-in-one marketing toolkit ideal for individuals as well as businesses. From SEO to content marketing, this platform has everything you need.
Morningscore – A unique SEO tool that turns your SEO processes into a game with its attractive interface.
---
#1 – SE Ranking
SE Ranking is an all-in-one platform that provides a variety of SEO tools, such as keyword research, site audit, on-page SEO, backlink monitoring, competitive analysis, and rank tracking.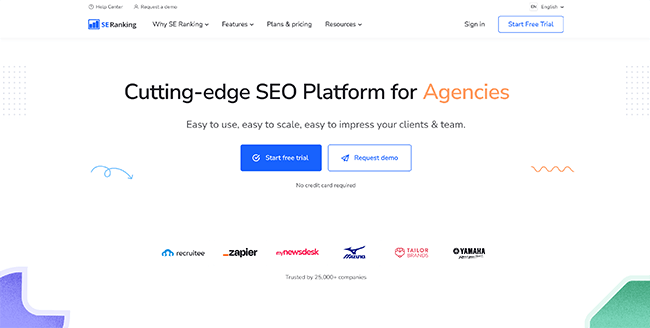 It's an affordable Ahrefs alternative and is ideal for entrepreneurs, small businesses, and marketing agencies.
We like how intuitive and responsive SE Ranking is. It makes managing projects and tracking progress hassle-free, making it a better tool for beginners and SEO professionals.
Besides the pricing and being user-friendly, many other features make this Ahrefs alternative great.
First, it automates your site's SEO audit. This allows you to set and forget about it and still get continuous data on potential problems. Whereas, Ahrefs requires you to check and update your audit manually.
SE Ranking also stands out for its report builder and daily rank updates. With this tool, you can impress your clients by creating beautiful, comprehensive reports and staying on top of your SEO efforts with daily updates.
Agencies will find this especially useful since they can integrate its reporting capabilities with additional data from Google Analytics and Google Search Console.
On the other hand, Ahrefs only refresh their data every 3-7 days, and the report feature is limited and expensive in comparison.
Lastly, SE Ranking also excels with tools for competitor analysis and keyword research. You can use them not only for organic but also for PPC campaigns.
In summary, SE Ranking is a great Ahrefs alternative if you want an affordable yet powerful SEO tool with more robust reporting and competitive analysis features.
Key features
Site audit
On-page SEO
SERP tracking
Keyword analysis
Keyword grouper
Position tracking
Backlink analysis
Competitor analysis
Page monitoring
SEO Reporting
Lead generation
Content marketing tool
Pricing
The cheapest monthly plan starts at $23.40/month. You can claim a 14-day free trial before subscribing.
---
#2 – Semrush
Semrush is a popular digital marketing solution providing comprehensive SEO capabilities akin to what you get with Ahrefs.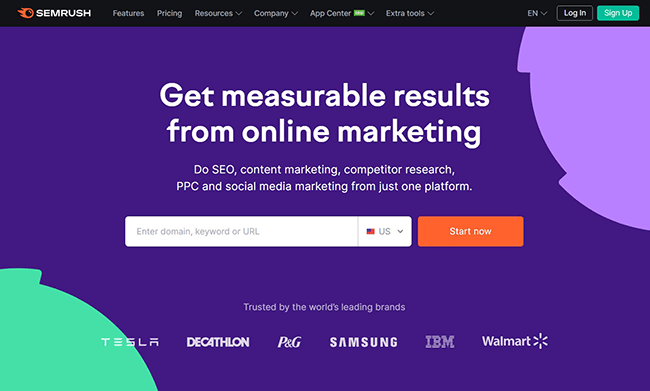 You can do SERP analysis, site audits, backlink checking, position monitoring, and more with both tools.
However, Semrush provides additional features, making it an attractive platform for those looking for Ahrefs alternatives.
For starters, it offers more granular keyword research features such as gap analysis and Keyword Magic Tool, which helps uncover profitable keywords faster.
It also includes a robust set of content optimization and SEO writing features, which aren't available in Ahrefs.
Besides that, you can also use it to send emails to new prospects, manage your social media accounts, and track your advertising campaigns.
Semrush is also better than Ahrefs regarding accuracy, reliability, and depth of keyword research.
It refreshes its data more often than Ahrefs, giving you a real-time view of the changes. It also has daily rank tracking updates that make it easier to track your rankings across SERPs.
Finally, the Semrush reporting feature is one of the best available in the market.
You can use its customizable drag-and-drop report builder and connect it with a Google Data Studio dashboard to access more data visualizations and analysis.
Overall, Semrush is one of the best Ahrefs alternatives for those looking for a full-package platform that provides more than SEO tools.
Key features
Social media marketing and management
Website monetization
SEO and PPC keyword research
Competitor analysis
Market analysis
SEO writing assistant
Content optimization
Content analysis
Link building
On-page SEO checker
Local SEO
Rank tracking
Pricing
Semrush's starter plan is slightly higher than Ahrefs' and costs $129.95/month. But you can get a 7-day free trial and use a free plan after the trial period.
---
#3 – Morningscore
Morningscore puts fun into SEO with its unique and attractive interface.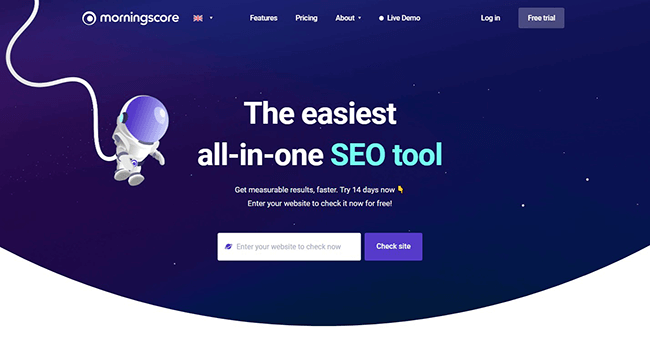 It's an effective SEO tool designed to help website owners optimize their sites and improve their rankings on Google.
It offers a wide range of features comparable to Ahrefs, making it an excellent tool for keyword research and tracking, competitive analysis, site audit, and backlink monitoring.
What makes Morningscore a great alternative to Ahrefs is its fresh concept. It offers a fun and user-friendly experience with its gamified approach.
With Morningscore, you can add your own missions, tick them off, and be rewarded with congratulatory messages and points.
Additionally, it provides actionable SEO suggestions to help you reach your goals. We're not just talking about data or numbers that you still need to interpret. We're talking about actionable advice on what to do next.
Besides that, Morningscore lets you monitor your SEO goals within the platform. It allows you to track your progress as you work, ensuring that you stay on track.
Don't let the fun interface and powerful features fool you. Morningscore still allows you to get serious SEO work done. It's affordable, and has some more generous usage allowances than Ahrefs.
For instance, Ahrefs only allows you to track one website for the base plan, while Morningscore lets you track up to five websites.
You can add up to two users with Morningscore and get more seats as you upgrade. On the other hand, Ahrefs only provides one user seat and charges you for additional users.
Lastly, it provides daily data updates like the two Ahrefs alternatives above.
Morningscore is an excellent tool for those looking for a fun and user-friendly SEO tool that offers great features at an affordable price.
Key features
SEO suggestions
SEO goals
Keyword research tool
Site scanner
Link building
Rank tracking
Competitive analysis
PPC analysis
SEO and white label reports
Project management
Pricing
Morningscore's starter plan costs $65/month. But you can try a 14-day free trial. No credit card required.
---
#4 – Mangools
Mangools is a popular choice among users who are just getting started exploring the world of SEO.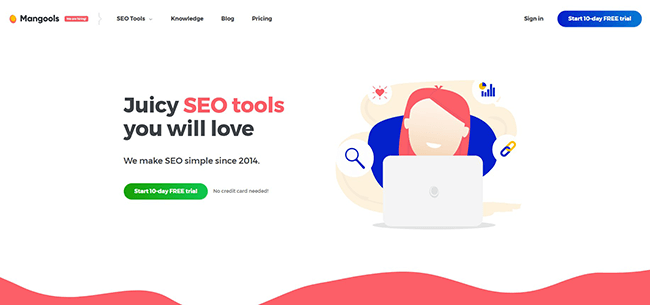 It packs a set of useful features that are easy to navigate and use, making it great for beginners. It provides rank tracking, backlink analysis, keyword research, site analysis, and SERP analysis.
Mangools has one of the best keyword research tools in the market. Although it's less detailed than Ahrefs, it provides reliable, accurate, and valuable data.
In some cases, it has shown better search volumes and trend results than Ahrefs. This is useful for those trying to target long-tailed keywords.
Its feature set isn't quite as advanced as the likes of Semrush and SE Ranking, however. For example, it doesn't include competitive keyword research.
Another important thing to note is that the tools inside Mangools aren't fully integrated.
To check the SEO authority of a domain you entered in the keyword research tool, you'll need to go to Site Profiler from KWFinder.
Regardless – it's a great tool and its interface makes it exceptionally easy to use.
Mangools is the top choice for online bloggers, freelancers, and website owners looking for affordable, powerful, and well-designed SEO software.
Key features
Daily rank tracking
Keyword research
SERP analysis
Backlink analysis
Competitor research
Pricing
Free plan available. Paid plans start at €29/month, save 35% with an annual subscription. Mangools offer a 48-hour full refund policy.
---
#5 – Serpstat
Serpstat is the ultimate choice for valuable data, comprehensive SEO tools, and affordability.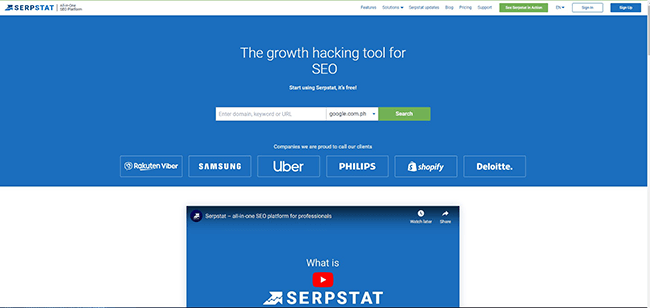 Serpstat features excellent rank tracking, page audit, and keyword research tools.
With Serpstat, you can uncover keyword opportunities to provide the best return for your SEO strategy.
You can compare keyword data points such as search volume, CPC, competition level, and total search traffic to find the most efficient keyword strategies.
Besides that, it offers more valuable details such as the number of Facebook shares and potential traffic score for each page to help you focus on the best keywords.
While it doesn't have the largest backlink index that we've tested, their database is still significant. With more than 1.1 trillion links from over 407 million sites.
If you're trying to boost your link building efforts, Serpstat is a solid option.
Other than that, this SEO software has a tool called text analytics. What it does is it goes through page content to analyze and optimize it for search.
It will then provide the data you need for content creation, spam checking, and discovering keyword gaps.
Lastly, besides being budget-friendly, it's generous with its feature set.
For example, you can work on ten projects in the base plan, do daily position tracking plans, and access API in any pricing plans.
Key features
Paid and organic keyword research
Keyword grouping
Keyword rank tracker
Competitive analysis
Site audit tool
Domain batch analysis
Backlink analysis
Reports scheduling
Project management
API access
Pricing
Serpstat's base plan costs $69 per month. Unlike Ahrefs, which requires you to pay $7 for a 7-day trial, it offers the same for free.
---
#6 – WebCEO
WebCEO is an all-in-one SEO toolkit favored by marketing agencies, businesses, and freelancers.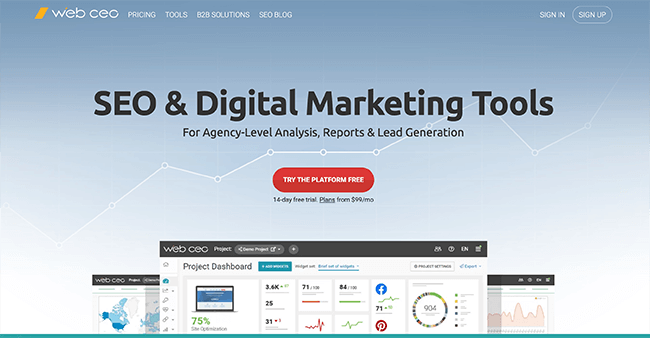 It provides 23 powerful SEO tools to help with keyword research, rank tracking, in-depth SEO audits, backlink checker, safe link building and detoxification, social media analysis, and competitor research.
Although most tools are similar to Ahrefs, WebCEO provides a wider variety of tools overall.
For instance, it collects data from multiple channels. With its social media analytics tool, you can quickly monitor your social mentions, evaluate the performance of your content on Facebook and Twitter, and analyze the traffic coming from social media.
WebCEO also offers a content optimization tool which can be incredibly useful.
Optimizing your existing content is essential for boosting keyword rankings. So I really like WebCEO's tools for this.
In addition, WebCEO can help identify potentially harmful links. However, I'd always recommend manually vetting links if you were considering disavowing them.
Besides those, this SEO software provides on-demand rank checking, tracks more search engines than Ahrefs, and offers white label and branded reports.
Key features
Backlink data monitoring
Rank tracking
Traffic analytics tool
Content optimization
Competitive research
Social media analysis
SEO audits
Link building
Project management
Google services integration
White label
SEO reports
Pricing
WebCEO's most affordable plan costs $99/month. If you want to try it first before investing, you can start with the free 14-day trial.
---
#7 – Rankwatch
Rankwatch is a sophisticated SEO management platform that offers users an easy and efficient way to monitor their digital marketing campaigns.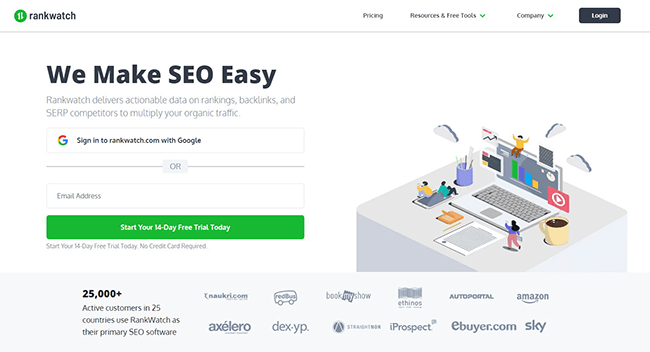 With Rankwatch, you can gain an overview of all your SEO activities and be provided with data-driven insights for better decision-making.
Like most SEO tools on this list, Rankwatch allows you to do competitive analysis, rank tracking, keyword research, detailed website audit, and backlink data analysis.
However, there are some reasons why you should choose it as an alternative to Ahrefs.
Let's start with its interface. Rankwatch comes with a simple yet powerful setup process. Once you register and sign in to your account, you can create a new project and add your domain.
After that, you only need to choose which search engine you want to track your rankings for, the platform will do the rest. This setup is user-friendly and requires minimal effort to get going.
Rankwatch also has an advantage when it comes to position tracking. It has a city-based rank tracker that lets you track your website's rankings in thousands of cities.
This allows you to better understand your status in different locations and what results your customer sees for their particular search query.
Another feature I find interesting is the LHF opportunities. LHF stands for "low-hanging fruit" and is a valuable tool for search optimization.
This tool will provide a list of keywords that can help you rank on specific searches.
By analyzing this data, you can find new opportunities to target your content.
Both tools allow you to add keywords in bulk and import them from a CSV file. However, Rankwatch lets you upload straight from your Google Analytics and Webmasters.
You don't have to switch back and forth between tools to get the data you need.
And lastly, there's a tool that agency owners handling multiple clients will be happy to hear about: its white label feature.
The 100% White Label interface allows your clients to log in and access their ranking data anytime they want.
This tool helps you create stronger relationships through increased transparency and control, allowing customers to feel more confident in you as a provider.
Key features
Keyword suggestions
Organic and paid keyword research
Rank tracking
Website analysis
Competitive analysis
Sales prospecting
White label feature
Advanced reporting
Pricing
For $29/month, you can get the basic plan and enjoy some tools only available in higher plans of Ahrefs. Rankwatch also provides a 14-day free trial for new users.
---
#8 – SEO PowerSuite
SEO PowerSuite is the only desktop-based SEO toolkit in this list. It provides excellent value for money.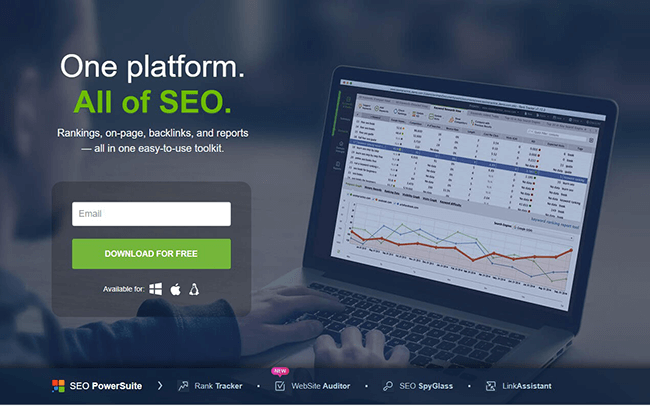 SEO PowerSuite provides tools to help you analyze different websites, discover new keywords to target, identify link building opportunities, monitor keyword rankings on various search engines, and optimize pages for improved visibility.
If you're looking for a more affordable tool that offers almost everything that Ahrefs has, then SEO PowerSuite is an excellent choice.
Besides being desktop-based while Ahrefs is cloud-based, there are four other things you need to note:
First, SEO PowerSuite has a white label feature ideal for agencies. If you're an agency owner, you'll be able to produce and customize reports for your clients with your logo and branding.
Second, its rank tracking tool is extremely flexible. You can use it to monitor your Youtube and local ranking, and it analyzes up to 1000 search results. However, for the best results, you'll need to use proxy servers.
Third, SEO PowerSuite, while being desktop software, contains some tools that run in the cloud. For example, their backlink tool, Link Explorer, is cloud based.
Lastly, SEO PowerSuite's set of tools is broken down into 4 individual pieces of software. You don't have to get all of them. You can use only the ones you need.
Key features
Keyword position tracking
Local SEO
Competitive analysis
SERP monitoring
Website audit
Core Web Vitals audit
Backlink analysis
Toxic link removal
SEO content optimizer
SEO reports
Pricing
SEO Powersuite Pro, their most affordable plan, costs $596/year. But you can download them for free and use all the tools under SEO PowerSuite.
---
#9 – AccuRanker
AccurRanker is a great Ahrefs alternative for rank tracking. It offers fast, reliable and user-friendly SERP checks and position tracking.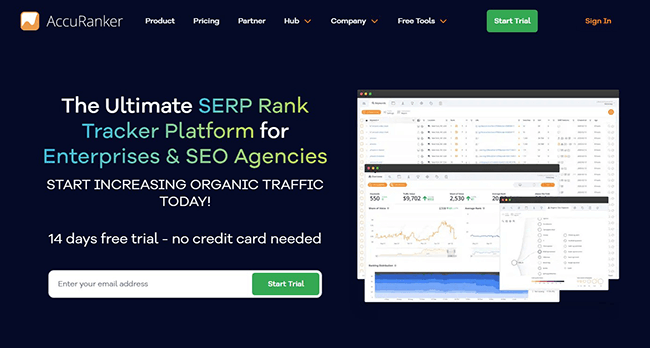 Its intuitive interface makes it easy for users to identify changes in rankings quickly and accurately.
Besides being a solid rank tracking tool, AccuRanker also provides similar Ahrefs tools like site audit, competitor analysis, and SERP analysis.
It provides valuable tools that can help you discover more opportunities to improve your rankings and organic traffic.
For example, AccuRanker provides Share of Voice (SoV) to measure how your high-traffic keywords perform in the search. If you want to quickly check whether your ranking is increasing or decreasing in the top 20 positions, this tool can help.
Another great tool is dynamic tagging. You can use it to create and combine multiple rules to narrow down your keyword search.
This lets you create and manage multiple filters for targeting the right keyword data.
Other things we like about AccuRanker are on-demand ranking updates, unlimited users, and easy integration with Google Search Console, Google Analytics, and Google Data Studio.
Key features
SERP analysis
Keyword discovery
Competitor tracking
Unlimited domain tracking
Historic search volume
Share of voice
On-demand data
API
Advanced reporting
Third-party integration
Pricing
AccuRanker's base plan is $116/month. But you can get a 14-day free trial.
---
#10 – Nightwatch
Nightwatch is an affordable SEO solution that allows users to track their website's rankings, monitor backlinks, and audit their site for errors. You can also create organized reports to understand your website's performance better.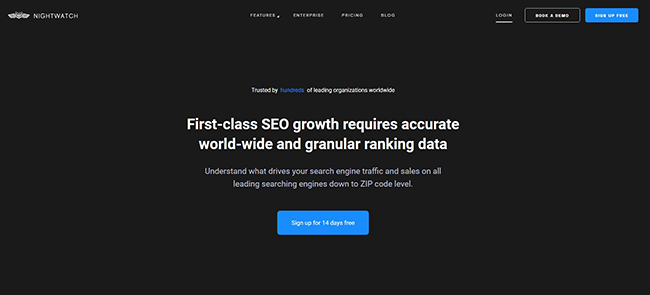 Like Ahrefs, NightWatch can also help you expand your organic traffic, monitor your high-traffic keywords, and drive more profits for your website or business.
But what makes it stand out from other tools is its comprehensive rank tracking.
It enables you to keep track of your ranking across 107,296 locations worldwide, allowing you to view how your site is doing in different locales accurately.
NightWatch also lets you track your keyword rankings on multiple search engines, such as Google, Bing, Yahoo, and Youtube. Ahrefs, on the other hand, only provides data from Google.
This makes NightWatch suitable for companies operating in multiple markets and regions.
Among the SEO tools we've checked, Nightwatch has one of the best user interfaces. It's sleek, intuitive, and straightforward. Data is presented in an organized way, so it's easy to navigate through the dashboard.
The only drawback is that it doesn't have a keyword research function. This is a serious limitation, considering that keyword research is an essential element of any SEO strategy.
However, if your main goal is to monitor your website's performance and rankings, Nightwatch is a strong contender.
Key features
Site audit
Rank tracking
Competitor analysis
Historical data
Custom segments
SEO reports
Pricing
Its pricing starts at $49/month. Nightwatch also has a 14-day free trial.
---
Conclusion
There are many great Ahrefs alternatives available to choose from.
Depending on your specific needs, any of these tools is fantastic and can help you improve your SEO efforts.
I hope you found this comparison helpful.
If you'd like to check out more of our comparisons, I'd recommend our posts on SEO audit tools, rank tracking software, and keyword research tools.