10 Best SEO Audit Tools For 2023
Do you want to know how well your website is performing? Auditing your site can help you figure that out.
An SEO audit is an analysis of your site that looks at various factors, such as site structure, content, and links, to identify any areas that need improvement.
If you're looking for the most reliable SEO audit tools, you've come to the right place.
We'll show you the best software, their key features, and how much they cost.
Ready to know which SEO audit tool is right for you? Let's get started.
The best SEO audit tools compared
Short on time? Here are our top recommendations:
Semrush – An all-in-one SEO toolkit, best value for money and ideal for individuals and businesses of all sizes.
SE Ranking – An affordable SEO tool with all the essential features, perfect for beginners and small businesses.
Morningscore – A unique SEO platform with quirky features, all at a reasonable price.
---
#1 – Semrush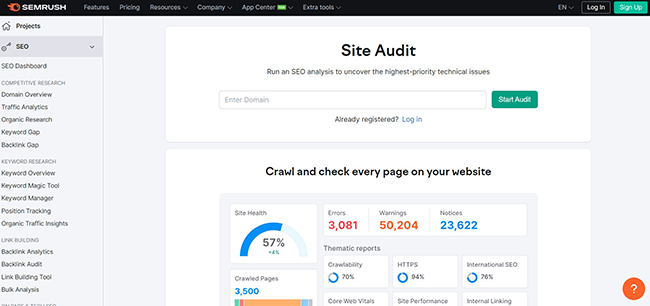 Semrush is an SEO and marketing platform that offers a large suite of tools to help you improve your online visibility.
It offers several fantastic tools for SEO audits: Site Audit, Content Audit, and Backlink Audit.
Semrush's SEO audit tool is a great way to get an overview of your website's health and performance.
The tool will crawl your pages and report back on any errors, warnings, or notices it finds. It will also generate a thematic report in percentage, which you can use to identify areas for improvement.
What I like about the SEO audit tool of Semrush is that it doesn't just leave you with raw data. It provides detailed and shareable explanations of each error and clear instructions on how to fix them.
If you want a more detailed analysis, you can integrate it with Google Analytics. It will allow you to see slow-loading and orphaned pages.
The Content Audit tool will group your content into certain categories that make it easy to identify which content needs updating. Once you start auditing content, you'll be able to see your content, Google Search Console data, and Google Analytics data. This makes content audits easier than ever before.
The Backlink Audit tool is another great feature of Semrush. It allows you to check the quality of your inbound links and remove any harmful or toxic ones.
Additionally, the backlink audit tool keeps you updated on any new or lost backlinks. You can integrate it with Google Search Console to make it more powerful.
Overall, Semrush has one of the best SEO audit tools for any website.
Key features
SEO audit
Backlink audit
Content audit
Competitive analysis
Keyword analysis
Keyword management
Organic traffic analysis
Link-building
SEO content template
On-page SEO checker
Local SEO
Domain overview
Social media management
SEO writing assistant
Pricing
Semrush's Pro plan costs $129.95/month. 
---
#2 – SE Ranking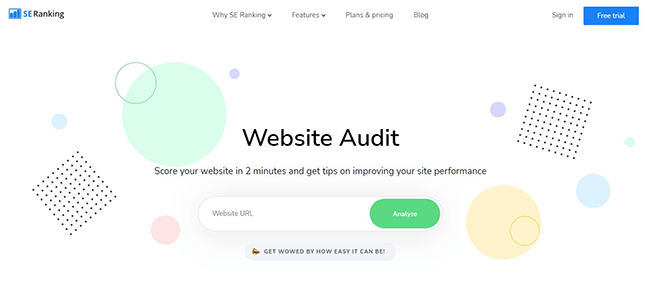 SE Ranking is a cloud-based platform that offers users simplified software for their SEO and business needs.
It's a great option for those looking for more affordable and user-friendly software than Semrush.
SE Ranking's Website Audit Tool provides you with everything you need to know about your technical SEO's health score. A small line graph under it also shows how your website is compared to other users.
The impressive page crawler of SE Ranking can go through your first 1,000 pages in just a couple of minutes. It will then provide precise SEO performance reports and quick solutions to the issues.
This online SEO audit tool lets you monitor your progress and compare it with your past SEO audits. It allows you to see whether your efforts are working or if there are any persisting issues.
You can also generate customizable PDF reports of your SEO audits to share with your team or clients.
Moreover, integrations with Google Search Console and Google Analytics are available to help you track your site's progress better.
Key features
Technical site audits
Content auditing + optimization
Content creation tools
Paid campaigns analysis
On-page SEO analysis
Rank tracking
Keyword research
SERP audit
Backlink analysis
Page monitoring
Pricing
For as low as $39/month, you can audit up to 40,000 pages of your website and access other SEO tools.
---
#3 – Morningscore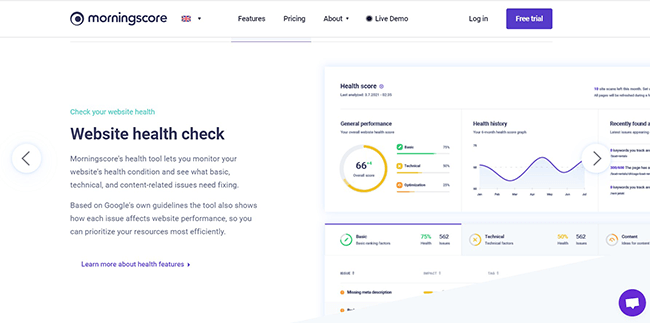 Morningscore is an innovative and fun SEO platform that uses gamification to make things more interesting.
Its SEO audit tool falls under the Website health check. Like the other tools, Morningscore provides an organized dashboard where you can see your site's performance overview.
What makes Morningscore a great website audit tool is that it ranks the issues by potential returns and severity.
Moreover, the tool provides detailed guides on how to fix each site issue. These guides are concise and easy to follow, which is perfect for those who are not tech-savvy.
Besides that, Morningscore offers website crawl automation so you can set and forget it. It's a great feature for busy business owners or those with multiple websites to manage.
All of these SEO tools are handy, but one unique feature I've noticed was the landing page audit and optimization.
Morningscore knows how crucial landing pages are for businesses. That's why it presents all problems found on your site's landing pages and prioritizes them according to their importance.
If you need an interactive SEO platform to motivate you, Morningscore is the best option.
Key features
SEO audit
SEO gamification
Team management
Keyword tracking
SEO analysis
White-label reports
Backlink tracking
SEO reporting tool
Keyword management
Pricing
You can get a 14-day free trial as a new user, but paid plans start at $65/month.
---
#4 – JetOctopus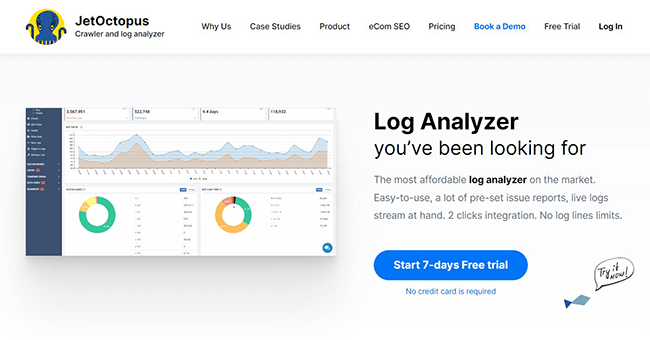 JetOctopus is a robust technical SEO audit tool. It does what most other tools on this list can't do – log file analysis.
It simplifies site auditing so even newbies can understand what's going on with their website. This is made possible by its user-friendly interface and detailed site reports.
This tool's speed crawling is on another level, as it can crawl up to 200 pages in a second and 10,000 pages in just a minute or less. In a fast-paced world like SEO, it gives you a huge advantage.
JetOctopus provides three SEO audit tools: the log analyzer, the regular SEO audit tool integrated with GSC, and the Javascript SEO.
JetOctopus' log analyzer tool is designed to help users understand their website's traffic better.
By analyzing log files, the tool can identify which pages are being visited by bots and any technical issues that users may be experiencing. In addition, the log analyzer can also help users to identify crawl budget issues and fake bots.
The JetOctopus GSC gets data from the Google Search Console but provides better and more detailed reports for users.
For example, you can get multiple charts about your website's performance, cannibalization reports, and dynamic sections like CTR, impressions, clicks, and more.
The last site audit tool from JetOctopus is Javascript SEO. This tool ensures that your site's crawlability isn't affected by Javascript.
It analyzes internal links, duplicate content, on-page SEO, page speed, and more.
So if you need a technical SEO site audit tool with fast speed and can handle big websites, you should check JetOctopus.
Key features
Linking analysis
On-page SEO insights
Page speed analysis
Core web vitals analysis
Unlimited log files
Unlimited projects
Pricing
JetOctopus has a free 7-day trial, and its most affordable plan costs $160/month.
---
#5 – Surfer

Surfer provides the best content audit tool that I've ever used.
It doesn't have a comprehensive site analysis like the ones above, but it does offer an SEO audit tool for on-page SEO of individual web pages.
Surfer is ideal for content writers and website owners who want to improve their existing content and boost them for better rankings.
With Surfer's SEO audit tool, you can identify the issues and missing elements of your content and find out what you need to do to improve them.
For example, if your H2 tags are too long or you need to include essential SEO elements like internal linking, Surfer will provide you with recommendations.
It'll also provide insights about your top-ranking competitors, like their content and domain scores. A clear idea of your competitors' status will help you plan a content strategy to outrank them.
Besides that, Surfer also audits your article's keywords and provides you with more relevant terms you should target.
I like how Surfer's SEO audit tool focuses on content optimization because it's also essential for your site's ranking.
Key features
Content optimization
Keyword research
AI outline generator
Backlink suggestions
Internal link analysis
Keyword optimization
Content planning
Pricing
Plans start at $89/month. Annual discounts available. No free trial or free plan.
---
#6 – Nightwatch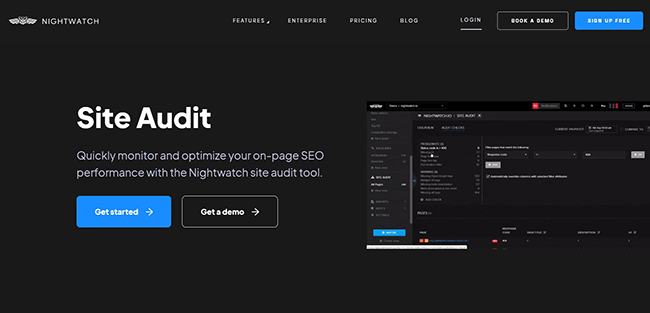 Nightwatch is primarily a rank-tracking tool, but it also includes an excellent SEO audit feature.
One of the best SEO audit tools of Nightwatch is audit issue segmentation. This tool allows you to group the errors and findings on your site by URL. Doing so lets you see how each impacts your site's SEO and performance.
Additionally, Nightwatch allows historical data analysis. It's a valuable feature because it lets you see how your website's SEO has changed.
Besides those, this SEO audit tool shows you the list of all broken links and web pages, missing meta tags, and other crucial elements. You'll be able to identify all the invisible SEO errors that hold your site back.
The powerful SEO tools of Nightwatch make it an excellent audit tool for freelancers, digital agencies, and businesses of all sizes.
Key features
Local tracking
Website audit
SERP checker
White-label reports
Keyword discovery
Pricing
Nightwatch offers a 14-day free trial, and you can get the most affordable plan for as low as $39/month.
---
#7 – Screaming Frog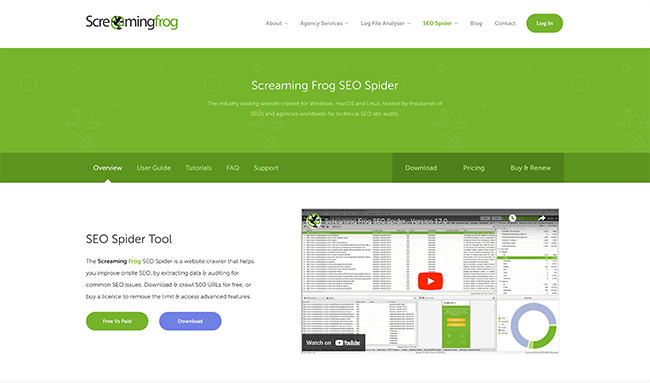 Screaming Frog is one of the best website crawlers and SEO audit tools in the market.
The SEO Spider Tool of Screaming Frog is a reliable audit tool that allows you to find on-page and technical site issues quickly. It's feature-rich, so I won't be able to mention everything that it does.
However, I chose three SEO audit features from which you can benefit the most.
First is the ability to see all broken links on your site in one place. This tool also allows you to export all the findings for a quick fix.
The second feature is the advanced XML sitemap generator. This is essential because a well-structured XML sitemap can help search engines understand your site's structure.
And lastly, the Screaming Frog SEO audit tool can assess your URL and internal links' structure. It will then provide visual representations to understand better how your site is interconnected.
This SEO audit tool also has an extensive list of features, including the ability to filter and export findings. You can also integrate it with Google Analytics, Google Search Console, and PageSpeed Insights for a bigger picture of your site's SEO.
Key features
Meta data analysis
Duplicate content discovery
Audit automation
Progress tracking
PPC management
Link-building
Agency services
Log file analysis
Pricing
Screaming Frog has both free and paid versions. A paid license costs $139/year.
---
#8 – SEO PowerSuite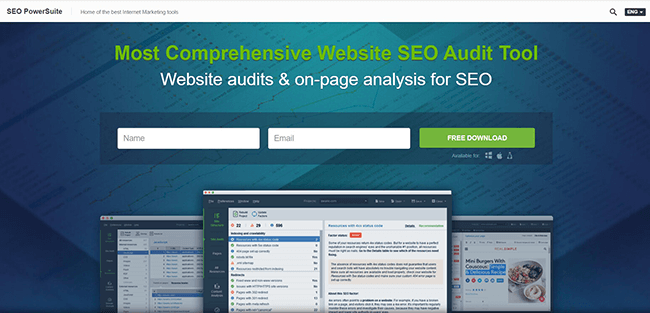 SEO PowerSuite is another all-in-one SEO tool that provides website audit, rank tracking, and backlink analysis.
The auditing tool of SEO PowerSuite is called Website Auditor. It provides users with a wide range of features, including the ability to analyze your SEO performance, detect site errors, improve your authority, and send detailed reports to your teams and clients.
The best SEO audit tools inside Website Auditor are site structure visualization, technical website audit, and webpage content optimization.
The site structure visualization tool lets you see how your site's pages are interconnected. This is a valuable feature because it allows you to identify any errors that hold your site back. And can help you identify internal linking opportunities you may have missed.
On the other hand, the technical website audit will provide you with a thorough list of all your website's problems. That includes site speed, duplicate content, heavy scripts, etc.
I like that for every issue, SEO PowerSuite shows all the affected pages and clear instructions for solving the problem.
Lastly, the content audit tool allows you to analyze your web page and optimize it for better search engine rankings. This feature uses a step-by-step approach to help you write SEO-friendly content.
There's so much more than SEO PowerSuite can do, but those are the core features that make it one of the best SEO audit tools.
Key features
On-page SEO audit
Technical SEO audit tool
Rank tracking
Backlink analysis
Competitive research
Sitemap generator
Link suggestions
Keyword research
Pricing
SEO PowerSuite has Free, Professional, and Enterprise versions. The Pro plan costs $125/year.
---
#9 – Serpstat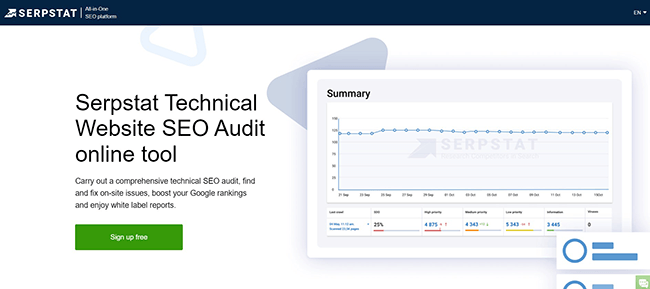 Serpstat is another SEO platform that does a little bit of everything. It has over 40 tools covering search optimization, from keyword research to site auditing.
Serpstat allows you to analyze your whole site and web pages. It then provides you with in-depth analysis and easy-to-understand data and graphs.
Although Serpstat is an advanced tool, its interface won't intimidate you.
Additionally, it organizes its recommendations in tables, so you can easily see what needs to be fixed and where your site is performing well.
I like how the tool arranges the issues and groups them from high-priority to low-priority. Not everyone has the time to sort out which parts of their site need more attention, so it's a big help.
Serpstat also allows you to conduct an express page audit. For example, you're troubleshooting a particular problem or optimizing a specific landing page.
You can simply input the URL, and Serpstat will show a detailed report of that page, with what's missing, what the issues are, and what you can do to improve them.
Using Serpstat as one of your go-to SEO audit tools is a good decision. Everything you need to know about your site and page condition will be available and downloadable with just a few clicks.
Key features
Site auditing
Site optimization
Keyword trends
Local SEO
Team collaboration
Integrations
Search volume analysis
Competitor analysis
PPC campaigns
Pricing
You can try Serpstat for seven days without charge. After that, you'll need to pay $69per month.
---
#10 – Labrika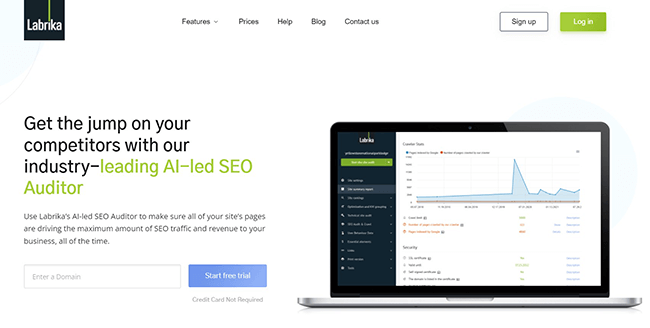 Labrika is an AI-powered tool that helps you with your SEO efforts.
Like some of the best SEO audit tools, Labrika has an intuitive interface and provides a complete analysis of your website.
Using this tool won't require any technical skills or prior experience. Just provide your site URL or web page, and Labrika will do the rest.
Once you undergo the analysis, you'll get actionable recommendations in one comprehensive report.
Labrika will highlight crucial errors, such as incoming and outgoing links, plagiarized and keyword-stuffed pages, empty meta tags, page speed, and many more.
From there, this tool will classify the issues by importance so you can focus on the critical ones first.
One of this tool's best practices is that the suggestions and analysis are up to date with Google's algorithm.
Key features
AI-based SEO auditor
Content optimization
Site progress tracking
Multiple language support
Position checking
Keyword ranking
Pricing
Labrika's Lite plan starts at $19/month.
---
Conclusion
So those are the best SEO audit tools at the moment. Although the perfect tool doesn't exist, the ones mentioned above come close.
If you can't decide which tool to use, check out our top picks:
Semrush is the best all-in-one SEO toolkit, offering the most features and tools.
SE Ranking is the top choice for small businesses. It's an ideal alternative to Semrush for those who want a tool that's affordable but still offers all the essential features.
Morningscore is a unique tool that's loaded with features. Its gamification features provide an easy-to-follow list of tasks to complete for improved rankings.
You can start with any of these three reliable tools to ensure that your website follows the best SEO practices.
If you'd like to learn more about SEO tools, check out our posts on rank tracking software, keyword research software, and WordPress SEO plugins.