11 Best Instagram Link In Bio Tools For 2023
Want to get yourself the best link in bio tool for Instagram?
Instagram's decision to not allow links in content puts a lot of pressure on that single bio link.
Here's the good news:
The Instagram link in bio tools in this post will help you get more out of your solitary bio link.
In this post, you'll find a comparison of the best bio link tools on the market. While these tools are mostly used with Instagram, you can use them with other social media sites such as TikTok and Twitter.
What is the best instagram bio link tools?
The best bio link tool depends on your needs. So, here's a quick summary to help make your decision easier:
Now, let's take a closer look at each tool.
---
#1 – Shorby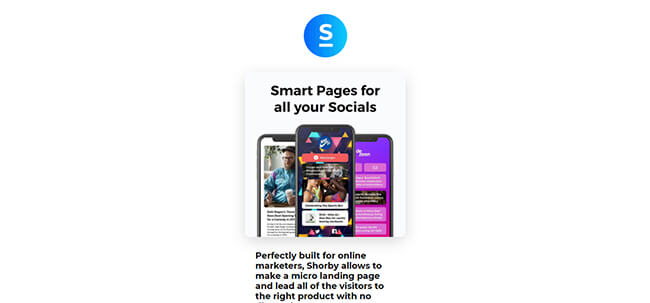 Shorby allows you to create micro-landing pages known as Smart Pages that you can link from your Instagram bio.
You can add different links on the page such as blog posts, product pages, affiliate links, other social media profiles, private messengers, and more.
In doing so, you maximise the page that you'll be linking from your Instagram bio by stuffing in as many relevant links here.
Shorby also has a Messenger Links feature which allows you to get leads from social media. You can include them on your Smart Page or create a dedicated shortlink that opens up a messaging app like Facebook Messenger when the link is clicked. Also works as a "click to call" feature.
Pricing:
Shorby is available in three plans starting at $15 per month ($12/month paid annually) for five (5) Smartpages, direct messenger buttons, click analytics, and more.
Higher plans give way to more premium features like organizing different projects into folders, inviting team members to manage your accounts and integration with Google Analytics.
#2 – Tap Bio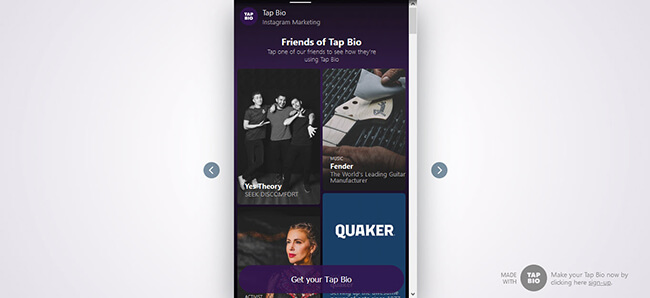 Tap Bio positions itself as a bio link tool for influencers and creators to promote the causes they're passionate about to their followers.
After creating an account, add multiple cards on your profile to feature elements such as links, images, videos, and content on each.
Then create a call to action for each card to increase conversions and engagement with your audience.
Pricing:
Tap Bio has a free plan that lets you create a profile card for your Instagram account. However, it will have a Friends of Tap Bio card by default.
To remove it, you need to sign up for one of its paid plans (starting at $5 per month or $36 yearly). Doing so also grants you more cards to add to your profile, manage more Instagram accounts, and give you stats for your profile.
#3 – Woorise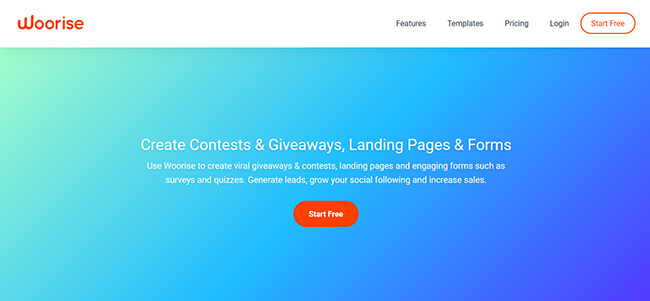 At its core, Woorise is a platform for launching viral content and giveaways to help grow your social media.
As part of its growth tools, however, you can create a bio link landing page for Instagram using Woorise's drag and drop landing page builder and easily customizable design settings.
From the page, you can include links to your landing and product pages, other social profiles, videos, and more.
Finally, you can add as many links as you want to get the most out of the landing page from your Instagram bio.
Pricing:
Woorise offers a free version for unlimited campaigns with a maximum of 500 entries across all campaigns monthly.
The paid plans start at €23 per month per site for 2,000 entries. The max number of entries and more premium features are available for higher plans.
#4 – Feedlink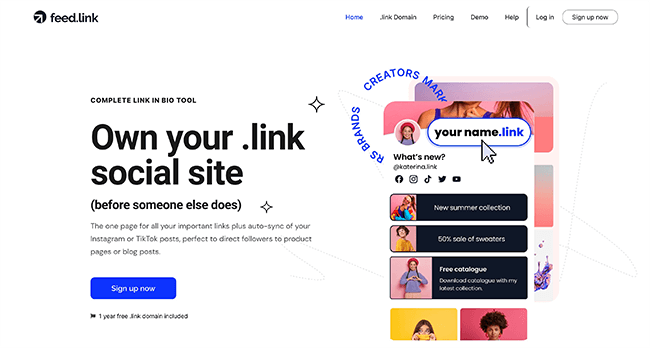 Feedlink is a feature-rich bio link tool that makes it easy for content creators to build social landing pages fast.
This tool was developed by the team at EmbedSocial and comes loaded with some useful features.
It's ideal for both Instagram and TikTok profiles but you can use it on any other social media platform.
In the case of TikTok and Instagram, you can automatically pull in videos & images, add custom external links, collect subscribers, and more.
Pricing:
There's a free plan available that allows the creation of one social media page and unlimited links.
The platform is free for the first year if you take their Starter plan. That plan includes one social media page and unlimited links. It renews at $12/year.
When you upgrade to the Pro account for $3/month, you get access to TikTok and Instagram feeds, and a total of 3 pages. On the Business plan, you get more pages and the ability to turn off Feedlink's branding.
#5 – Lnk.Bio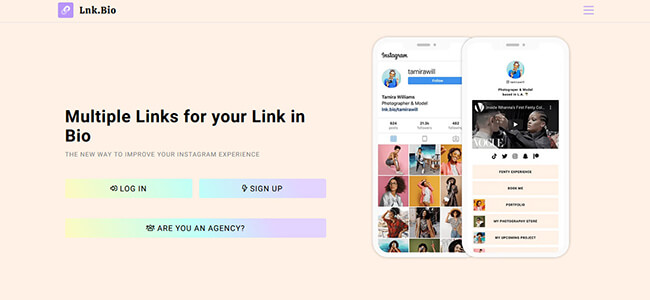 Lnk.Bio keeps things simple by helping you feature as many links as you want, especially your other social profiles, to maximise engagement across all channels.
On top of unlimited links. Lnk.Bio allows you to create and match the colors and layout of the micro-landing page with your brand for consistency.
Pricing:
The free version lets you create a page with unlimited links using a random URL.
To get the ability to customise the URL and other premium features (scheduled links, link tracking, etc.), you must pay at least $0.99 per month per account.
If you're managing the Instagram accounts of clients, Lnk.Bio has an agency plan starting at $1.99 per month for managing different profiles in a single dashboard.
#6 – Leadpages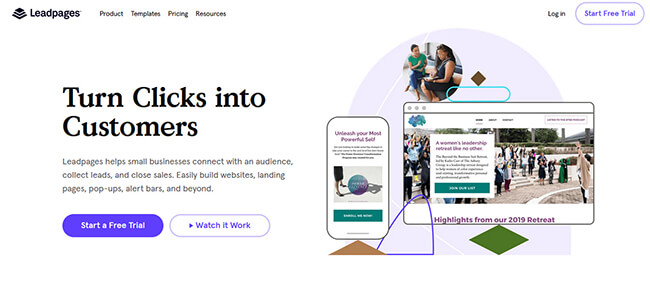 As one of the best and most popular landing page builders in the market, Leadpages' foray into the world of Instagram bio link tools shouldn't come as a surprise.
Build a beautiful Instagram bio page using its sophisticated drag-and-drop builder. Aside from the multiple links you can add, drop elements like countdown timers, opt-in forms, CTA buttons, checkouts, and more to mobilise followers into action.
Best of all, you can create different variants and see which version achieves the highest conversion. From here, rinse and repeat the process to constantly improve its engagement rates.
Pricing:
Since Leadpages offers more than an Instagram bio link tool, it is the priciest tool in this list starting at $37 per month ($27 per month billed annually) for its basic landing page features. The higher plans give access to A/B split-testing, email trigger links, advanced integrations, and more.
#7 – ShortStack

Similar to Woorise, ShortStack is a social media contest platform that lets you create landing pages with interactive quizzes and giveaways to engage your audience.
To help engage them even more, ShortStack also gives you the option to create a landing page that you can link from your Instagram bio.
From here, link to your landing pages, videos, and other content that you want your followers to see and know about. You can also point to your social media platforms so they can follow you there as well.
Pricing:
ShortStack works best if you're serious about growing your online presence by way of launching contests. Starting at $99 per month ($79/month paid annually), you can up to 10,000 entries and 50,000 views on all your campaigns.
There's also a limited free trial for 20 entries and 100 views.
#8 – Linkin.bio by Later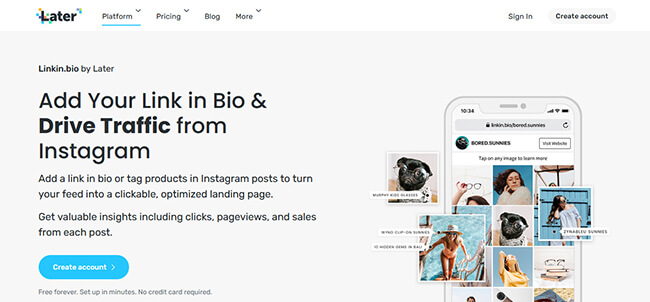 Later helps you schedule the best times for publishing on Instagram and measure your performance over time.
Linkin.bio by Later further helps users get the most ROI from your Instagram efforts.
Create a landing page and link to your best Instagram posts or content from third-party sites.
You can also plug in your Shopify pages here to drive more revenue to your e-commerce store.
From here, analyze the number of clicks to your links from your Instagram bio page to determine its effectiveness.
Pricing:
Linkin.bio is available in Lite and Standard plans. The former is available in Later's free and Starter ($15 per month) subscriptions.
You can get the latter from the Growth ($25 per month) and Advanced ($40 per month) subscriptions.
The Starter plan gives you access to premium features like adding multiple links to a single Instagram post, view revenue and sales from Shopify on your Later dashboard, and more.
#9 – Milkshake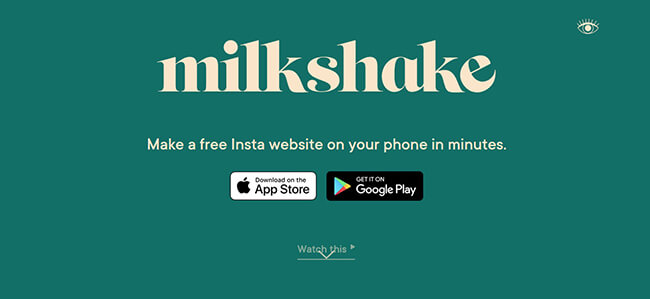 Instead of an Instagram link in bio page, Milkshake helps you create a free Insta website to house all the best content you can offer your followers.
Even if you don't know how to build a site from scratch, Milkshake just asks you to pick "cards" which will serve as the pages for the site.
From here, add elements such as images, videos, blog posts, links, and more, before customizing the look of each card.
Finally, analyze the monthly breakdown of the site and find ways to improve its performance.
Pricing:
Milkshake is free to use. Create as many sites for the Instagram accounts you're managing in a single dashboard.
There is also an app you can download on the AppStore and Google Play so you can take care of the sites straight from your mobile device.
#10 – Campsite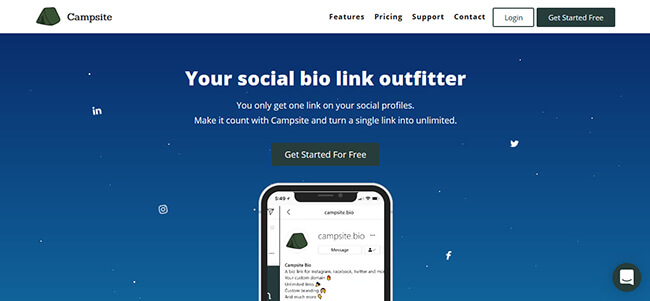 Unlike the other Instagram link in bio tools above, Campsite brings something different to the table.
Aside from creating a customizable page for your Instagram bio with as many links imaginable, you can control its metadata using a custom image, title, and description for each.
If you're growing your email list, Campfire integrates with MailChimp and Google Sheets and lets you add as many as five merge fields for better data collection.
Also, you can access images from Unsplash straight from the tool so you can edit and upload them to your profile without leaving the site.
Pricing:
The free plan offers basic features like unlimited links to your custom landing page and the ability to create image carousels using Canva.
The Pro plan ($7per month) grants you all the premium features above plus the use of a custom domain, scheduling your links to go live, and more.
#11 – Link in Profile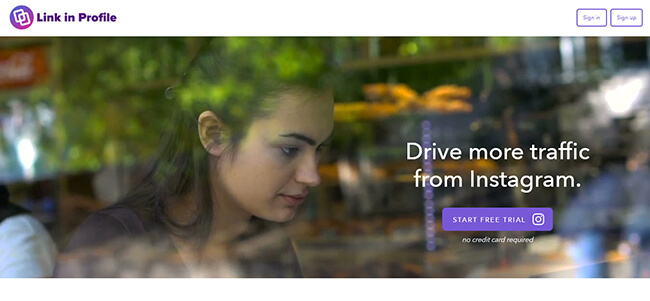 Link in Profile is one of the few Instagram link in bio tools that let you add links to the images you upload on the platform.
Just sign up for an account and your page will be ready in seconds. Add the links on the image captions to take your followers where you want them to go.
The most unique thing about Link in Profile is the infinite scroll feature. It will show every link you have on your page until the visitor stops scrolling down.
Pricing:
For $9.99 per month, you get a dedicated Instagram landing page. All you need to worry about are the links you want your followers to see.
There is a 30-day free trial of the tool. Use this period to test out its feature and make an informed decision before subscribing to it.
---
What is a link in bio tool?
Usually, you would have to change your Instagram bio link after publishing each new post.
If you just published a giveaway, you'd need to update your bio link. But this might stop other users from finding their way to your website.
This can be incredibly confusing for your audience.
The solution? Use a tool for creating a social media landing page that includes all of the important links you want to share on your Instagram account.
The result? Your audience can find their way to your most important pages & content FAST.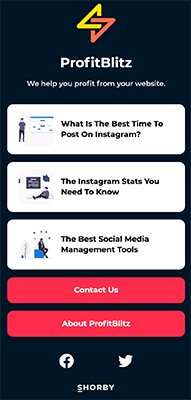 What are the best Instagram bio link tools from the list?
If you want the best link in bio tool that is simple to use and provides comprehensive insights you can use to improve its performance, you should give Shorby a try.
For starters, however, Tap.Bio's free account should help get your feet wet. While limited, you can still create a page and add multiple links to maximise your Instagram bio link.
Now, if you're looking for more than just an Instagram bio page, there are tools in the list that could help you get more things done out of them.
Woorise and Leadpages are ideal for your general landing page needs. Woorise even lets you launch social contests to help increase your engagement on social media and generate more followers as a result.
Finally, Later is a useful tool for managing not only your Instagram but also Facebook, Twitter, and other channels. This way, you won't have to use a different social media marketing tool for scheduling content and managing accounts. However, you will have to pay a premium for those features.
Related reading: