9 Best KWFinder Alternatives For 2023
KWFinder is a popular keyword research tool and part of the Mangools suite of SEO tools. But what alternatives are available?
In this post, we're comparing the best KWFinder alternatives to help you conduct keyword research.
The best KWFinders alternatives & competitors
#1 – SE Ranking
SE Ranking is an all-in-one digital marketing and SEO platform. It provides powerful tools to help small business owners and agencies build their online presence.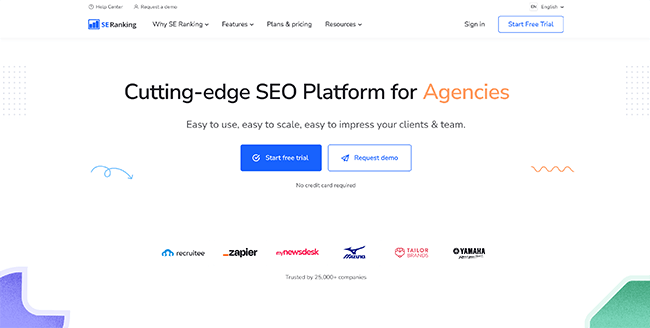 Some of the advantages of SE Ranking are its affordability and ease of use, even for beginners.
For keyword research, both KWFinder and SE Ranking offer comprehensive data and filtering options. All you need is to add your seed keyword, and the tools will quickly show you the most relevant keyword ideas.
However, SE Ranking stands out because it offers additional keyword research methods – including a large database of organic keywords. This makes it easier to see what your competitors are ranking for. You also get traditional keyword research functionality.
SE Ranking does have a higher learning curve than KWFinder. But, overall, it offers a more comprehensive feature-set – site auditing, on-page SEO, content optimization, and more.
Key features
Keyword research tool
Keyword suggestions
Keyword grouping
Keyword rank tracker
Competitor analysis
SERP analysis
On-page SEO analysis
Backlink checker
Webpage monitoring
Site auditing
Content marketing tools
White-label reports
Pricing
For only $23.40/month, you get basic SEO tools and weekly ranking updates. Besides that, SE Ranking also offers a 14-day free trial.
---
#2 – Semrush
Semrush is one of the most comprehensive and reliable digital marketing tools available on the market.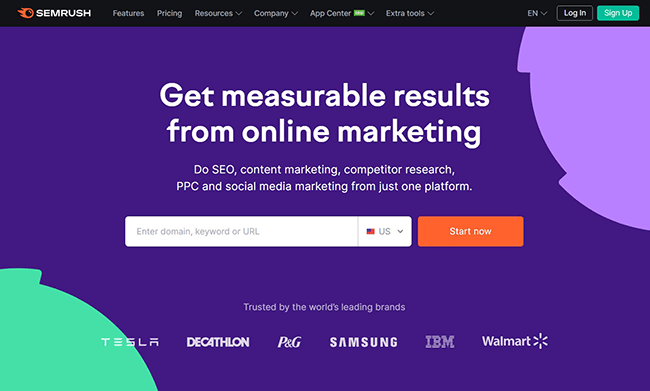 Semrush provides users quick access to crucial keyword data such as search volume, keyword difficulty score, keyword intent, CPC, competition data, SERP status, and more.
Because of its advanced keyword database, Semrush is an ideal tool for organic and paid campaigns.
On top of that, Semrush has specific keyword tools that aren't available in KWFinder.
Its Keyword Manager tool allows you to group and share a list of up to 1,000 keywords with your clients and team members.
This tool also offers a Keyword Gap feature, which helps users find keyword ideas for efficient campaigns by comparing and checking your rivals' keyword data.
Another helpful tool is the Keyword Magic tool, which uncovers thousands of profitable keywords from one seed keyword.
Besides its advanced keyword research tools, Semrush provides powerful features, such as on-page optimization, content marketing, advertising, and social media management.
Semrush is a great KWFinder alternative for those who want an all-in-one marketing tool. That includes bigger agencies, growing businesses, and marketers.
One thing to note, though, is its user interface isn't as friendly as KWFinder. It can feel a little clumsy and confusing at first. Mainly because there are so many tools. It's a comprehensive platform!
Key features
Keyword research
Keyword suggestions
Keyword gap analysis
Keyword management
Organic and PPC research
Traffic analysis
SEO content templates
SEO writing assistant
Advertising tools
SERP analysis
Site audit tool
Rank tracker
Competitor research tool
White label reports
Social media monitoring
Backlink gap analysis
Pricing
Semrush's base plan is way more expensive than KWFinder at $129.95/month. You can try its 7-day free trial and use its free limited plan after.
---
#3 – Morningscore
Morningscore is an intuitive and user-friendly SEO platform. It provides most of the tools offered by major platforms – at a more affordable price.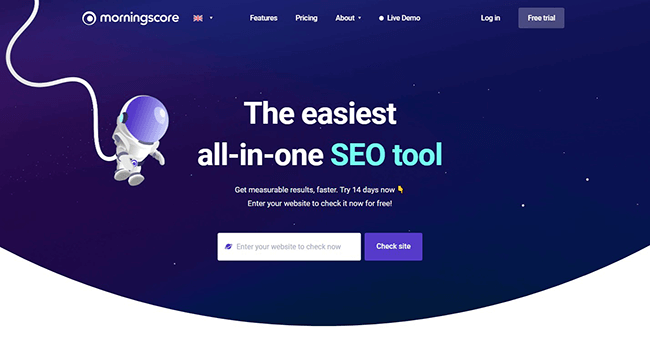 You can use it for keyword research, rank tracking, documentation, backlink checker, and SEO audit.
But what makes it stand out is how it simplifies SEO for everyone. Yes, KWFinder has a beginner-friendly interface, but you still need to figure out how to implement the data you get.
With Morningscore, you can see specific and actionable SEO tasks in the form of missions. This is purely customizable, so you can also add your own.
On top of that, Morningscore will provide a step-by-step guide on achieving that mission.
That's what we love about this tool. If you want to avoid complicated software and save time by working only on the most important things, Morningscore is the best.
Besides gamification, Morningscore's keyword research tool has everything you need and more.
Not only can it help you unravel new keyword opportunities based on a list of your target keywords, but it also provides daily ranking updates. This allows you to track your progress and make necessary improvements.
You can also monitor your competitors' keywords and rankings for a more detailed analysis.
With this tool, finding relevant keywords to target is super easy. But unlike KWFinder, it doesn't produce long-tail keywords. That can be a major deal breaker for content marketing.
What Morningscore offers, though, is the ROI potential metrics.
This data shows your target keyword's possible value when it reaches the top page. You can see this metric alongside the keyword difficulty score and search volume.
Lastly, its advanced filters let you quickly pinpoint the best keywords for your project. You can quickly narrow down massive keyword ideas into small, quality lists.
Key features
Keyword rank tracker
Keyword ideas
Keyword management
Competitor keyword analysis
Organic and PPC metrics
Site audit
Backlink analysis
SEO tasks
ROI potential
SEO reports
Pricing
Morningscore's paid plans start at $65/month. It also offers a 14-day free trial with no credit card required.
---
#4 – Serpstat
Serpstat is a fantastic tool for website owners and digital marketing professionals.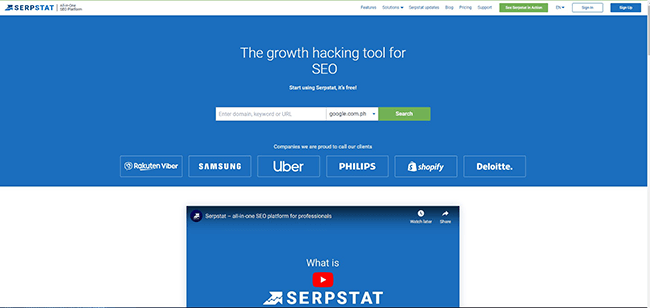 It has over 50 tools, and you can use them to find the most profitable keywords, analyze your competition, create great content, monitor backlinks, track your website performance, and much more.
Its keyword tool provides similar metrics to KWFinder, such as keyword difficulty, search volume, traffic, CPC, and more.
Besides getting access to a vast database for keyword analysis, you can also use Serpstat to find trends, analyze ad campaigns, and get competitor insights.
You can then use the results to create a detailed content plan to get more traffic to your website.
Serpstat's collaboration tools can help you streamline your workflow and stay on top of your tasks and results if you're working with a team and running multiple projects.
I like that it's cheaper than other KWFinder alternatives with similar functions. But, it is a bit more complicated – the interface is not quite on par with KWFinder.
Serpstat is more ideal for SEO professionals and marketing experts already accustomed to using similar tools.
Key features
Organic and PPC keyword research
Keyword trends
Keyword clustering
Batch analysis
Competitor analysis
Content tools
Position tracking
SERP crawler
Backlink analysis
Page audit
API
Local SEO
Team collaboration
White label features
Pricing
Serpstat's Lite plan is at $69/month. There's also a free version of the tool, but if you want to experience the paid plan, you can get a 7-day free trial.
---
#5 – Keyword Revealer
Keyword Revealer is a solid keyword research tool designed to help digital marketers and SEO professionals unlock their true potential.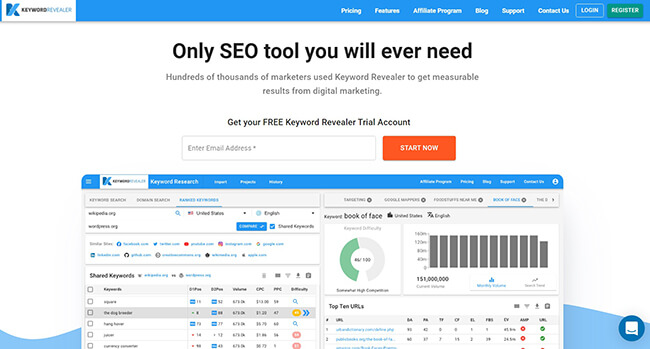 It provides users access to over 114M competitor keywords and three billion total keyword data points.
Like KWFinder, this tool is super easy to use. Their UI's are quite similar. KWFinder is more colorful, but the way they present their data is the same.
Keyword Revealer is especially affordable and offers generous usage allowances in terms of keyword suggestions.
Keyword Revealer also has a unique tool called Keyword Brainstorming that gives you content ideas organized into topical groups. You can use this data to create relevant and engaging content for your target keyword.
Besides those, Keyword Revealer provides other features such as site analysis, backlink checking, and keyword monitoring.
Key features
Keyword discovery
Keyword research
Competitive analysis tool
Rank tracking
Site analysis
Backlink analysis
Project management
Pricing
The Basic plan starts at $12.50/month. Keyword Revealer offers a free version and a 7-day money-back guarantee for first-time subscribers.
---
#6 – SpyFu
SpyFu is an SEO and PPC tool that can give you an edge over other brands in your niche.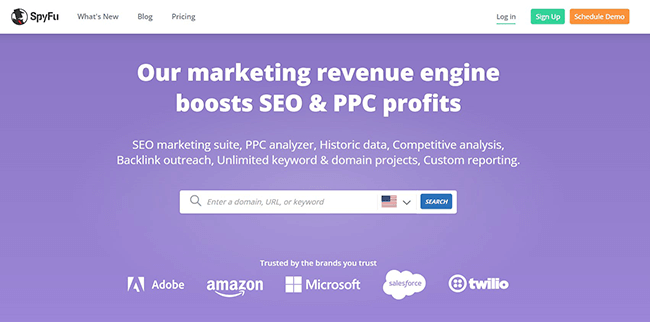 You can use it to discover long-tail keywords for organic and paid searches and analyze competitor data like ads, backlinks, and their traffic. It also allows you to track keyword rankings and check SERPs.
The core feature of SpyFu that makes it an ideal alternative to KWFinder is its deep database. It provides over 7 billion results and is helpful for researching good keywords with low competition.
Besides that, SpyFu offers something that most KWFinder alternatives don't – unlimited keyword and project management. You can gather and monitor as many keywords as possible and handle multiple websites or campaigns without spending extra.
In addition, this SEO tool lets you create and send detailed reports to your clients and team members.
If you're new to SEO and PPC or want to up your keyword research game, SpyFu is an excellent KWFinder alternative. It's user-friendly, so even beginners can quickly understand how the tool works.
Key features
Keyword research tool
Organic and PPC competitor analysis
Keyword groups
Bulk analysis
SERP analysis
Link building
Domain analysis
Position tracking
Rank history
Google Ads campaign analysis
Branded reports
Influencer marketing
Pricing
The cheapest plan starts at $39/month, and you can get a 14-day free trial. SpyFu also offers a 30-day money-back guarantee for unsatisfied first-time users.
---
#7 – Keyword Tool
Keyword Tool is a freemium online tool that helps you find keywords for search engine optimization (SEO).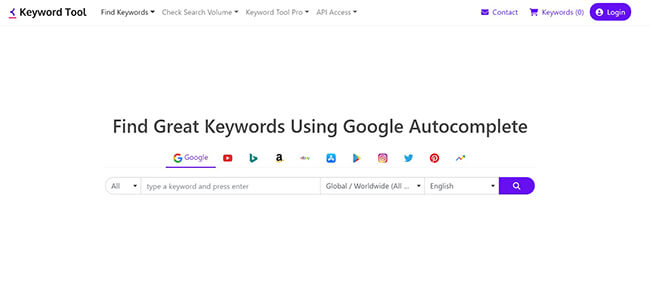 Although it's primarily for organic keywords, you can still use it for your PPC campaigns. It offers more suggestions than what you get from Google Keyword Planner.
With a simple, intuitive interface, you can explore new keyword ideas from Google Autocomplete, YouTube, Amazon, Bing, and many other popular sources.
It also provides hashtag suggestions on popular social media platforms such as Twitter and Instagram.
The Keyword Tool simplifies keyword research by providing valuable metrics of your target keyword, including the search volume, trend, competition level, and average CPC.
Below this data, you'll also see thousands of long-tail and related keywords that you can target.
These insights are highly reliable because it's what people are typing into search boxes. Autocomplete analyzes and notes previously entered queries related to your seed terms.
It also allows you to filter for results based on the media type, language, and location. This way, you can publish content that meets your target audience's needs and rank higher in organic searches.
Keyword Tool is an effective tool. But if you really want to enjoy all of its features, you'll need to subscribe to the Pro plan, which is more expensive than KWFinder's base plan.
With its one-of-a-kind features like auto-complete discovery, broad keyword coverage, and valuable metrics, this tool is a must-have for any marketer looking to attract more quality organic and paid leads with targeted content.
Key features
Keyword suggestions
Keyword trends
Search autocomplete
Hashtag suggestions
PPC keyword research
Competitor analysis
API tools
Pricing
Keyword Tool has a free version, but if you want to access more features you can get the Pro Basic plan for $89/month.
---
#8 – Answer The Public
Answer The Public is an excellent alternative to KWFinder, as you can use it to find great content ideas for your website.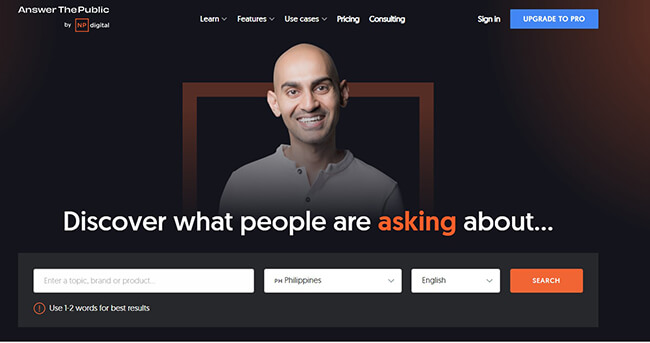 It's perfect for bloggers and writers who want to publish relevant posts for their audience and niche.
Like the Keyword Tool, it collects data from the Autocomplete of search engines. It also has a free version and provides long-tail keywords presented in a wheel graph.
You can easily see what type of questions people ask about a particular term.
The results page is organized into tabs, including "questions," "prepositions," "comparisons," and "alphabetical." Although the design and information are minimal, the tool is still useful.
If you want to check the SERPs for a specific keyword result, you can click it, and Answer the Public will direct you to the Google search.
I like the visual representation of the data because it makes keyword research easier and more efficient. People with no background in SEO can use it without any difficulty.
But you might feel disappointed if you're expecting to find metrics like search volumes, keyword difficulty, cost-per-click, and competition.
The Public is quite limited in that area. It only provides color-coded key indicators for search volume. No numbers or extra data, unlike KWFinder.
Overall, Answer the Public is a useful keyword research tool for anyone looking to build a solid content strategy with relevant topics and ideas that engage their target audience.
I recommend it to those who need a basic free keyword research tool. While they do offer paid plans, most of the other tools on this list will work out more cost effective.
Key features
Content ideas
Topic clusters
Keyword trend monitoring
CSV data export
Weekly alerts
Pricing
Answer the Public's base plan costs $99/month. But it has a free version that allows you up to three daily searches.
---
#9 – Moz Pro
Moz Pro is a KWFinder alternative that provides comprehensive keyword research, page optimization, and link building tools.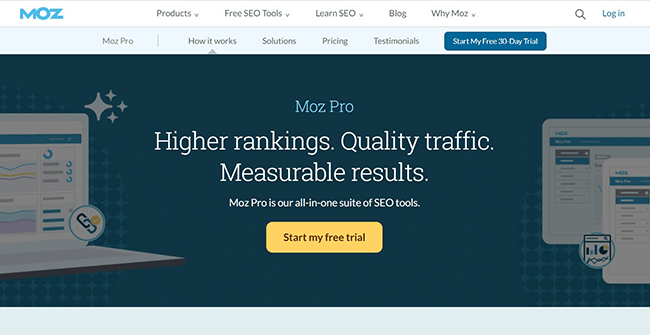 Moz Pro's main advantages are its powerful algorithms and intuitive navigation.
With its Keyword Explorer tool, you can quickly discover high search volume keywords for your niche or create custom lists of related terms to find the ones that resonate with your target audience.
It also allows you to find relevant long-tailed keywords in the form of questions. This data can be used to create content that ranks on Google and other search engines.
Like KWFinder, MozPro's Keyword Difficulty tool also helps you determine how hard it might be to rank for a particular keyword by viewing the results on SERPs.
What we love about this tool, aside from complete and detailed SEO analysis, is it lets you try most of the basic features for free.
Yes! You can do competitor research, domain analysis, keyword research, and much more without spending a dime.
Key features
Keyword explorer
Competitor analysis
Domain analysis
Rank tracking
Site crawler
On-page optimization
Local SEO
Link building
Custom reports
Google algorithm forecast
Pricing
The Standard plan costs $99/month. Moz Pro provides a 30-day free trial where you can get full access to all the tool's features. But you can also enjoy the basic ones for free at a limited level.
---
Conclusion
That ends our roundup of the best KWFinder alternatives! Which do you think is the best?
With so many options available regarding keyword research tools, it's not easy to choose the right one for your needs. But we hope this comparison guide helps!
Related comparisons: