12 Best Moz Alternatives For 2023
Moz is one of the most popular and comprehensive SEO tools available today.
It offers keyword research, site audit, link building, rank tracking, SERP analysis, and more – all wrapped up in a powerful platform.
But competition is strong in the SEO space and there are a lot of other options worth exploring.
We're comparing the best alternatives to Moz in this post. Let's get into it.
The best Moz alternatives & competitors
TL;DR:
Short on time? Here are our top recommendations:
SE Ranking – Is our top recommendation due to its excellent featureset as well as it being great value for money, and ideal for individuals and businesses of all sizes.
Semrush – A comprehensive all-in-one marketing toolkit which is feature-rich.
Morningscore – An SEO tool with gamification features for an enjoyable experience whilst tracking and monitoring SEO progress.
---
#1 – SE Ranking
SE Ranking is the best alternative to Moz for those that don't want to break the bank, whilst still getting all the features they need.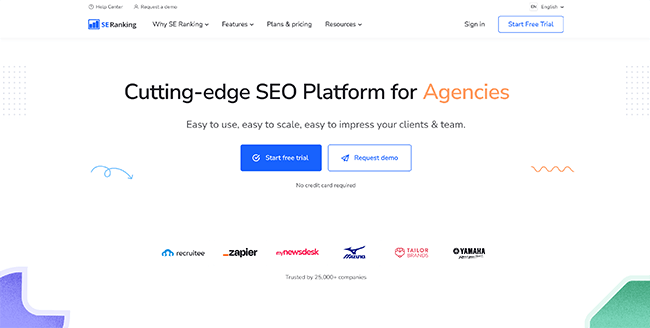 Despite its low cost, this powerful platform provides a huge range of SEO tools to help you with keyword research, keyword tracking, link monitoring, site audits, competitive analysis, and more.
It also includes a SERP monitoring feature that lets you track your competitors' websites in real time.
It can easily replace Moz in almost all aspects, and it's more user-friendly for beginners.
What I like about SE Ranking is despite being affordable, the data provided is reliable, accurate, and effective. You won't have to choose between quality and cost anymore.
Moreover, it's better than Moz in some important areas.
For instance, competitor research in SE Ranking is more comprehensive than Moz. Both platforms provide accurate data. However, SE Ranking presents the information in an easier-to-understand and well-organized format.
Additionally, you can perform more queries and manage more projects inside SE Ranking than Moz. This allows you to do better and faster keyword and competitor research for your SEO campaigns.
SE Ranking is one of the greatest alternatives to Moz for agencies who need to provide reports for their clients but want to avoid paying premium pricing.
The report builder is excellent. It allows you to customize reports with your logo, brand colors, and domain name so that when you share access or email a report, it looks like it came from your company.
SE Ranking also offers not just on-page SEO but a full content optimization tool (similar to that of SurferSEO).
Key features
Site audit
Competitive research
Keyword research
Keyword grouper
Content optimization
Rank tracking
On-page SEO checker
Backlink analysis
White label reports
API
Client collaboration
Content creation tools
Pricing
SE Ranking's paid plans can go as low as $23.40/month, depending on ranking check frequency and your subscription period. A 14-day free trial is available.
---
#2 – Semrush
Semrush is an all-in-one digital marketing platform equipped with over 50 tools.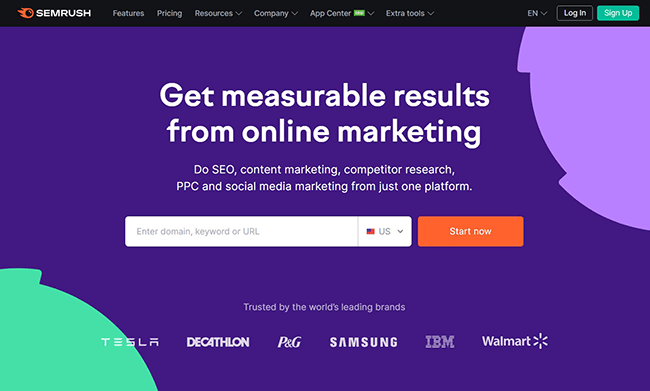 It's one-of-a-kind software that provides not only SEO tools but also PPC keyword search, social media management, content marketing, competitive analysis, and much more.
Some essential tools that Semrush and Moz offer include site audit, organic keyword research, domain analysis, and backlink analysis.
However, because Moz is mainly an SEO tool, it doesn't offer the breadth of features that Semrush does.
This makes Semrush a more flexible and better option for those who need more than just basic SEO tools.
You can run your entire marketing operation inside the Semrush platform, making it a great Moz alternative.
I also noticed that in some similar tools, Semrush still provides more options and functionalities.
For instance, its keyword research tool gives you access to over 21 billion keywords, while Moz is only around 500 million. You can find more detailed and accurate keyword insights with Semrush.
Another factor that Moz needs to include is the search intent data that you can find in the domain analysis and keyword research tool of Semrush.
It helps you understand why people are searching for a topic and create content that can better capture their attention.
And lastly, Semrush lets you track up to five sites and 500 keywords on its lowest plan, while Moz only allows three and 300 keywords.
For just a few dollars difference, you get access to a broader selection of marketing tools and more detailed data with Semrush.
Key features
Keyword research
Keyword gap analysis
Competitor analysis
Position tracking
Link building
Traffic analytics
Content audit
Content optimization
Social media management
Paid advertising
On-page SEO
Pricing
Semrush's base plan is $129.95/month. You can try its paid plans for seven days free, then switch to a free limited account.
---
#3 – Morningscore
Morningscore is an SEO tool that uses gamification to make optimization more enjoyable and engaging.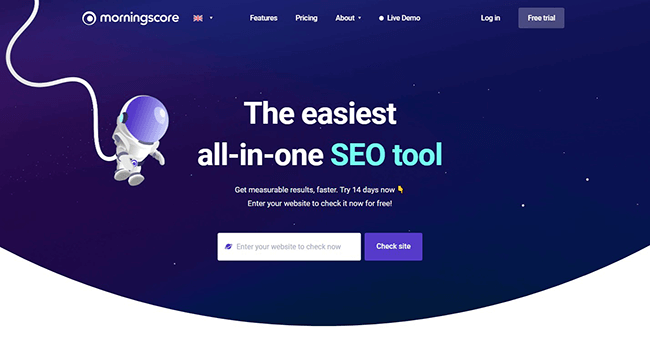 It provides specific and actionable missions which will guide you through each step of the process. What's more, is that you can create your own ones in case you have specific needs.
This feature is something that Moz doesn't offer and what makes Morningscore stand out from other alternatives to Moz.
Like Moz, Morningscore provides essential SEO tools such as keyword research, site tracking, website audit, competitive analysis, and backlink analysis.
But one thing that Morningscore does better is the keyword update frequency. It updates keyword data daily, while Moz does it every seven days. That's quite a difference when it comes to the accuracy of keyword data.
Also, besides tracking your site progress, Morningscore provides you with ROI computation. This will show what your Google traffic is worth so you can make better decisions with your SEO strategy.
Overall, Morningscore presents a great Moz alternative for those looking for a more fun and user-friendly way of doing SEO at a much cheaper price.
Key features
Keyword research
Keyword management
Keyword monitoring
Site audit
Competitor analysis
Backlink monitoring
SEO suggestions
User management
SEO and White-label reports
Pricing
The most affordable plan of Morningscore starts at $65/month. You can also subscribe to the 14-day free trial.
---
#4 – Serpstat
Serpstat is an SEO software suite that offers a variety of features and tools to help marketers achieve their growth objectives.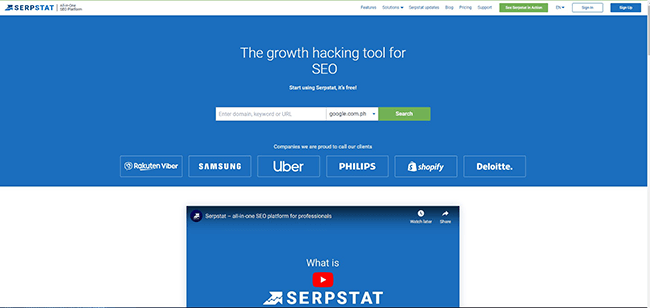 Serpstat and Moz are both excellent tools for SEO professionals to optimize their website performance. Both offer technical site audits, keyword rank tracking, keyword research, domain analysis, and backlink analysis.
A batch analysis tool is available on both platforms, allowing you to compare multiple domains quickly and easily.
However, there are some things Serpstat does better than Moz (at least, in my opinion). For example, I find the SEO audit tool to be more comprehensive and easier to use.
Additionally, the competitive analysis tool shows you which pages are viral and the most popular among other brands.
This makes it easy to keep track of what your competitors are doing and plan your own SEO strategy accordingly.
Serpstat also allows you to do daily rank tracking, while Moz only gives you a weekly update.
Besides that, Serpstat also offers additional keyword research capabilities than Moz.
For instance, its keyword trend feature provides a detailed list of the most popular searches for a given region and is updated constantly throughout the day.
This allows users to gain more insights into trends than Moz can provide.
The Keyword grouping tool on Serpstat allows you to quickly gather up to 50,000 keywords in meaningful groups to help improve your ranking and overall SEO performance.
And lastly, Text Analytics is a great tool that can help you optimize the text on your page to rank for clusters of keywords rather than single words.
It provides an extensive list of recommended terms to use in Title, H1, and Body tags taken from the top 10 search results for all relevant keywords.
Key features
Keyword research
Keyword trend
Keyword clustering
Text analysis
Search analysis
Backlink analysis
Rank tracker
Content analysis
Local SEO
SERP checker
API
Third-party integration
AI content tools
Pricing
Paid plans start at $69/month, and Serpstat provides a 7-day free trial for new users.
---
#5 – Mangools
Mangools offers great value for money and is among the cheapest Moz alternatives in this list.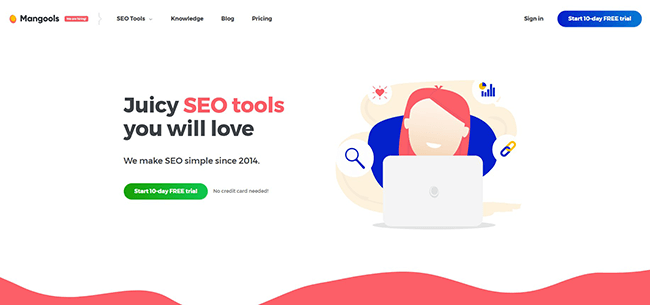 Its SEO tools are ideal for various users, including freelancers, small to medium business owners, SEO agencies, and affiliate marketers.
The Moz alternatives provided by Mangools include keyword research, SERP analysis, competitor analysis, backlink analysis, and rank tracking.
What makes Mangools better than Moz and other SEO tools is its user interface.
It's one of the most intuitive and provides users with detailed information about their search queries and results in an easy-to-understand format.
Mangools offers five different tools but you can get them all in one plan.
Two of our favorites are the KWFinder and SERPWatcher tools.
The KWFinder is one of the Mangools' most-used tools.
It helps you quickly find high-quality keyword suggestions relevant to your topic or website.
What we love about this tool is it provides lateral keywords, which are related to the topic but aren't just a direct variation of your original keyword.
This allows you to find keyword combinations that your competitors may have overlooked or haven't thought of.
SERPWatcher on the other hand lets you track keyword ranking daily for any domain. And it gets data not only for desktop but also for mobile searches.
There's also SERPChecker which is another useful tool – it gives you an in-depth analysis of all search engine results pages and provides detailed metrics on each result.
This allows you to see which pages are ranking higher than yours and makes it easier to plan how to move forwards with your strategy.
Key features
Keyword research
Backlink analysis
SEO insights
SERP analysis
Rank tracking
Mangools browser extension
Volatility checker
SERP snippet preview
Pricing
Free plan available. Paid plans start at €29/month, save 35% with an annual subscription. Mangools offer a 48-hour full refund policy.
---
#6 – SEO PowerSuite
SEO PowerSuite is an advanced desktop-based SEO software toolset that provides powerful features to help optimize your website.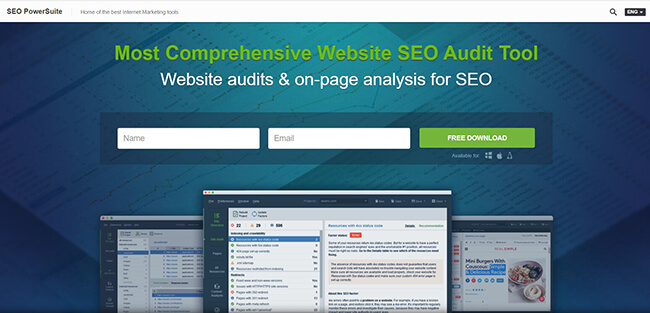 It has a comprehensive keyword research & rank tracking tool (Rank Tracker), on-page analysis & site auditing tool (Website Auditor), backlink research (SEO SpyGlass) and link building (LinkAssistant) features.
What makes it such a great Moz alternative is that there are very few limitations. For example, you can have an unlimited number of projects while Moz only allows five for its base plan.
SEO PowerSuite also lets you do unlimited keyword rank tracking, whereas Moz only allows up to 300 per campaign.
To get the best results, you will need to use proxies but the upshot is that it makes large scale rank tracking a lot more affordable.
Additionally, analyzing backlinks is limitless with SEO SpyGlass while Moz only allows you to see up to 10,000 links per site. If you're running a bigger website, this can be a dealbreaker.
Rank Tracker has 20+ methods of providing keyword suggestions. All you need is to input one seed keyword or phrase and you'll get thousands of suggestions.
This leaves you with the task of coming up with new keyword opportunities through your own brainstorming and research. Moz does not provide any automated system for this process.
And to top it off, SEO Powersuite supports more than 456 local and global search engines, allowing you to track your keyword rankings in localized versions, too.
On the other hand, Moz only covers Google, Yahoo, and Bing.
Key features
Site audit tool
Backlink analysis
Link management
Keyword monitoring
Competitors rank tracking
Mobile SEO
Position tracking
Data history
SEO reports
Data export
SEO content optimizer
Pricing
SEO Powersuite charges $596/year. But it has a free plan perfect for those who want to try it out before paying annually.
---
#7 – WebCEO
WebCEO is the best Moz alternative if you're looking for an affordable yet feature-rich SEO & digital marketing tool.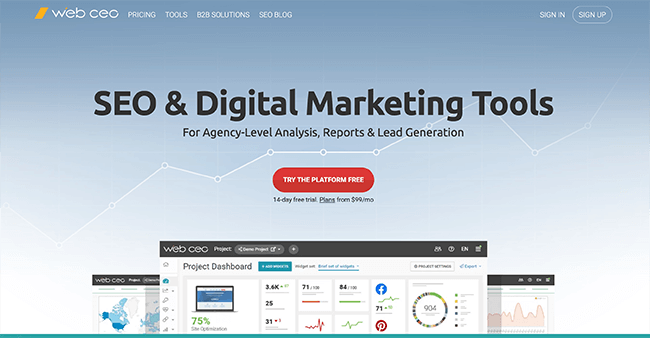 WebCEO is a comprehensive set of 23 marketing tools tailored for pro-level SEO, PPC, and SMM.
One of its best features is keyword research which allows you to spot good keyword opportunities that can boost your search traffic.
But you can also use it to check your rankings, run comprehensive SEO audits, track backlinks, conduct link detox, and monitor your competitors' progress.
Like Moz, WebCEO lets you identify bad links, including broken, dead, and spammy links that can damage your website's rankings.
However, there are some unique features/tools that WebCEO provides which are great for SEO agencies.
For instance, Moz doesn't allow you to delegate projects to users. WebCEO, however, lets you do that and share parts of your projects without providing full-level access.
This gives you more control over what your team members see and avoid any issues that might arise.
Moreover, all reports of SEO issues will appear as To-Do entries in the Task Manager in WebCEO. This feature helps you create a step-by-step plan to complete tasks efficiently.
Additionally, the base plan of WebCEO provides five user seats at no extra cost. Moz only allows one and you'll need to pay $49 for each added seat. Making it more expensive as your business grows.
Integrating Google Search Console, Google Analytics, and Google Ads is pretty much a breeze when using WebCEO.
For Moz, however, you might need to use Zapier or other alternatives – which can be a hassle.
If you're managing multiple projects and clients and want the ability to delegate and track tasks, this SEO platform offers more value for the money.
Key features
Rank tracking
Keyword research
Site audit
SEO analysis
Backlink checker
Competitor backlink profile
Social media analysis
Google search console integration
Google analytics integration
Pricing
The Startup plan costs $99/month, which is the same price as Moz. You can also get a 14-day free trial.
---
#8 – Frase
Frase is a powerful tool designed to help with content optimization.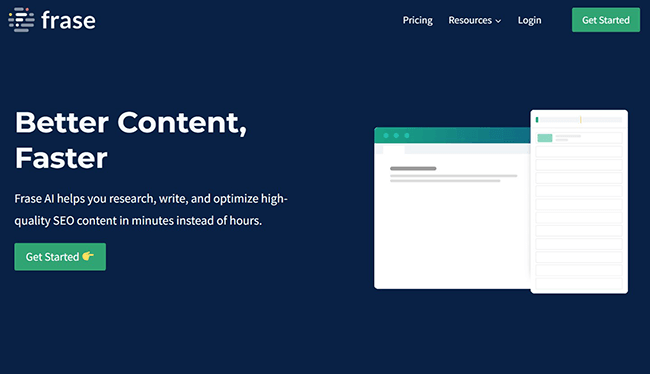 It's not an all-in-one SEO tool like Moz and other SEO tools from this list, but it does provide effective keyword research and suggestions that can be used to optimize your website's content.
For instance, Frase's content brief generator allows you to analyze the top 20 SERP results and generate a comprehensive brief that includes an overview of the SERP, potential headings, link suggestions, and Wikipedia topics.
However, the one that stands out is the 'Questions' feature, which provides insights into what people are asking for.
This can help you craft content that is more specific and targeted to your audience's needs, offering a better chance of showing in SERP snippets.
Additionally, Frase has an AI-powered writing assistant that can help you write better and more engaging content in shorter amounts of time.
The tool uses natural language processing to understand the topics you're writing about and provides keyword recommendations for improving your SEO.
The on-page optimization that Moz offers is somewhat limited. It's useful but it's quite old school by comparison to the content optimization functionality within Frase.
Key features
Keyword research
Content brief generator
Content editor
Content optimization
Content scoring
SERP analysis
Templates
Competitive analysis
AI-writing assistant
Pricing
The Solo plan of Frase costs $14.99/month. For $1 dollar, you can get access to a 5-day free trial.
---
#9 – Surfer
Surfer is another SEO tool designed explicitly for content optimization.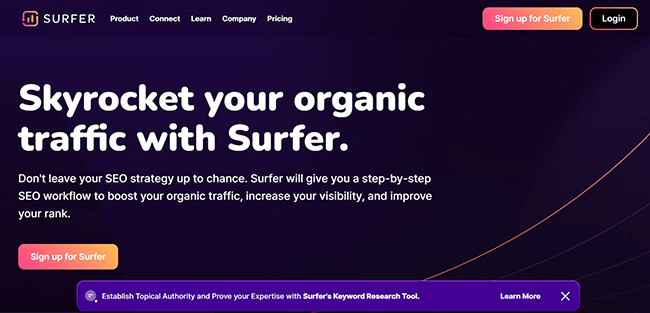 Surfer includes a similar content optimization feature to Frase but it also offers keyword research, SEO analysis, content audits, and other tools that can help you gain an edge over your competitors in the SERPs.
First, Surfer provides detailed insights into the SERPs for any keyword you enter with its free chrome extension.
This tool lets you know the average word count of pages that rank higher in Google, as well as how many times they've used the exact keyword.
Plus, Surfer offers keyword suggestions to help you optimize your content with the most relevant terms.
Additionally, this Moz alternative comes with a content audit tool that helps identify areas of content improvement and flags any SEO issues.
Surfer's content audit tool lets you identify what's missing in your content and what needs to be added for better optimization. For example, keyword frequency, backlink gaps, title tags, and meta descriptions.
Like Moz, Surfer also has a keyword research tool but it works in a different way (some may say it's better, but we'll let you be the judge!)
Once you input your seed keyword, Surfer will show you clustered keywords grouped by intent. This approach will help you identify keyword opportunities instantly and create content with higher keyword relevance.
Moz doesn't have this feature, so you'll need to gather and pick the keywords manually.
The Surfer SEO content editor is a unique tool that helps you create top-notch content. To use it, simply enter a keyword and start crafting your article within the editor. The right side of the screen will display your content's score and suggested keywords to improve it.
When you click on these terms, you can view examples. With each NLP term, you add from the suggested keyword list, your content's score will continue to improve.
Surfer's content editors can easily be shared with your writers, even if they don't have access to your Surfer account. If you give your writers a sub-account, they'll be able to use Surfer's Chrome Extension. This will allow for content optimization directly within Google Docs and/or WordPress.
Additionally, Surfer has an AI recommendation engine called GrowFlow. Add your website and each week Surfer will suggest actionable tasks to improve your rankings. Unlike some other tools that offer this sort of feature, the recommendations are actually useful!
Key features
Content editor (optimization)
Keyword research
Keyword clustering
Content audit
Competitive analysis
GrowFlow AI SEO suggestions
Website content management
Pricing
Plans start at $89/month. Annual discounts available. No free trial or free plan.
---
#10 – MarketMuse
MarketMuse, like Surfer SEO and Frase, is a Moz alternative for content optimization.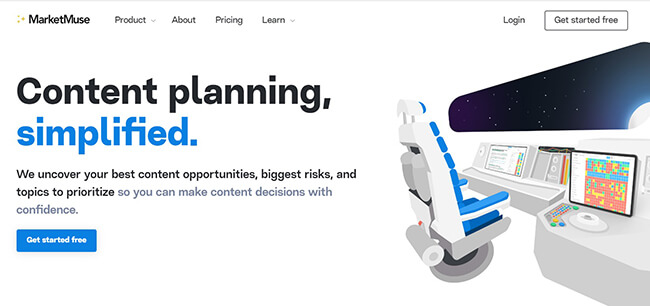 It helps marketers increase their organic search rankings, gain an edge in their industry, and maximize revenue by streamlining the content creation process.
MarketMuse analyzes millions of articles and existing SEO data to provide insights on topics, keywords, opportunities, and trends.
It's a solid tool for research and optimization of content.
In short, MarketMuse's metrics are designed to help you prioritize effective SEO strategies to maximize their effectiveness with minimal effort.
Overall, MarketMuse is a fantastic SEO tool for those who want a comprehensive content optimization tool with additional features like internal and external linking and web page monitoring.
Its free plan makes it a viable option for those that want to level-up their SEO strategy without spending any money.
However, their paid plans are extremely expensive compared to other tools on this list.
Key features
Content optimizer
Topic grouping
Web pages monitoring
Internal and external linking
Content brief
Content gap finder
Text editor
Team collaboration
Pricing
MarketMuse only offers annual plans, with the cheapest starting at $7200/year. It doesn't have a free trial, but it does offer a free plan.
---
#11- Nightwatch
Nightwatch is a fantastic SEO tool for small businesses and entrepreneurs.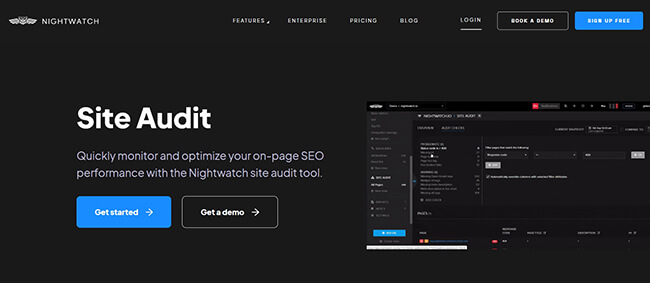 It is an excellent alternative to Moz when it comes to easily tracking keyword rankings, doing site audits, and generating reports.
The dashboard is intuitive and user-friendly, making it simple to navigate.
The amazing thing about Nightwatch is its local SEO tracking capabilities. It does restrict you to one Google Data Center but allows you to access any Google Data Center worldwide.
This gives you an unprecedented level of accuracy and flexibility when it comes to monitoring your important keywords and rankings.
Besides that, compared to only 200 countries tracked by Moz, Nightwatch provides you with SEO data from 107,296 locations – both on the search engine results page and map pack.
This means you can quickly identify any low-hanging SEO fruit and take advantage of it.
This SEO tool also provides the accuracy you need for monitoring your rankings across multiple search engines, including Youtube, DuckDuckGo, and Bing.
Get an exact understanding of your SEO performance in any location with detailed SERP results.
And another thing I love about Moz is the beautifully designed, white-label reports. All you need to do is simply drag and drop the data into your report design, and you can create impressive SEO reports in minutes.
Plus, it's easy to automate when the reports are sent out – saving valuable time for your team.
Overall, Nightwatch is one of the best SEO tools for small businesses and startups looking to get accurate SEO results on a budget.
Key features
Keyword rank tracking
Local SEO
Competitive analysis
Site audit
White-label reports
Report automation
API
Google Analytics integration
Pricing
You can subscribe to Nightwatch for as low as $39/month. If you want to try it first, you may do so with the 14-day free trial.
---
#12 – AccuRanker
AccuRanker has powerful web-based capabilities that help users get the best results from their SEO and SEM efforts.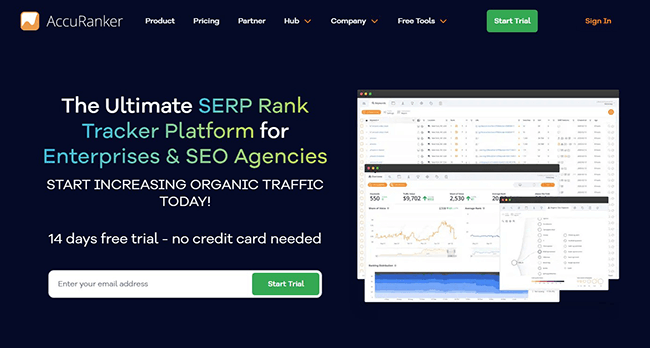 It's the best alternative to Moz's rank tracking tool. The reason being is that AccuRanker is one of the fastest and most accurate rank trackers that we've tested. It generates value for SEM and SEO Professionals in many ways.
With AccuRanker, you get fast and reliable results that can help you boost your SEO efforts quickly.
Unlike Moz, which takes some time to show the ranking data, AccuRanker updates rankings daily but you can request on-demand ranking updates. This is very useful when Google is rolling out one of its updates.
One thing that caught my attention is the competitor analysis with the Share of Voice (SoV) feature.
It's a great way to measure how successful your most important keywords are compared to your competitors.
Key features
Keyword rank tracker
Search volume history
Share of Voice
SERP analysis
Competitive analysis
Advanced reports
Third-party integration
Pricing
Monthly paid plans start at 129/month. But you can try AccuRanker for free for 14 days.
---
Conclusion
That ends our list of the best Moz alternatives. What do you think?
When choosing the right SEO tool for your business, you must consider the features you need and match them with the tools on this list.
We hope this list helps you find the right tool for your needs.
And if you'd like to check out more of our comparisons, I'd recommend these: