10 Best Semrush Alternatives For 2023
Semrush is an all-in-one SEO tool with comprehensive features for keyword research, content marketing, competitor analysis, advertising, and social media.
It's one of the leading SEO tools. But, like most platforms, it has its drawbacks. Semrush can be expensive and complicated for some users.
Today, we'll be exploring the best Semrush alternatives to power your SEO strategy.
Let's dive in!
The best Semrush alternatives & competitors
#1 – SE Ranking
SE Ranking is one of the best Semrush alternatives for those that need a feature-packed tool that won't break the bank.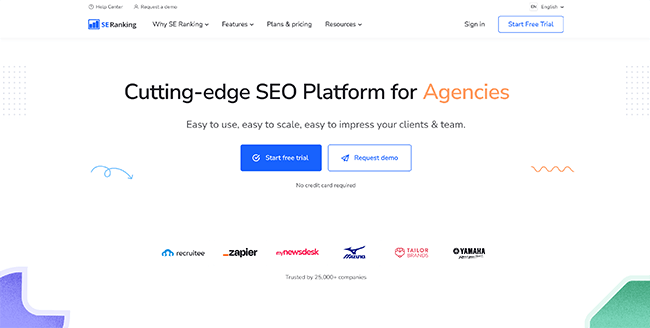 It's an affordable SEO tool with an array of powerful features yet remains simple and user-friendly in its dashboard design. This makes it a great choice for anyone just starting out in SEO.
It basically offers almost all the features that Semrush has, but at a much better price point. That includes the basics, such as keyword research, competitor analysis, backlink tracking, rank tracking, and more.
Its keyword rank tracking tool is incredibly accurate and up-to-date, allowing you to track results from multiple locations worldwide and across different search engines.
You can customize the tool according to your needs by selecting scanning frequency and depth and tweaking the interface.
Another thing we like is its keyword research tool, which can be used to run both organic and paid campaigns. It provides essential parameters such as the difficulty score, search volume, CPC, global volume, total traffic, and traffic cost to help you make informed decisions.
You'll also be presented with keyword ideas in the form of similar or related terms that you can use as replacements for your target keywords.
Although the database of SE Ranking is not quite as vast as Semrush's, it still offers a huge amount of data with 887 million keywords, 327 million domains, and 3 trillion backlinks in the US alone.
In addition, SE Ranking also offers tools for competitor analysis. This allows you to gain precise insight into your rivals' keyword strategies, backlinks, and audience demographics to ensure you're one step ahead of the game.
What makes SE Ranking impressive, besides the amazing SEO tools, is its extra features. These include a comprehensive content optimization tool, which allows you to create SEO-friendly content and white-label reports for agencies.
Companies with large accounts can easily manage multiple websites through the API feature.
Overall, SE Ranking is a compelling SEO platform that has something for everyone!
Key features
Keyword research tools
Keyword grouping
Rank tracking
Website audit and monitoring
Bulk keyword analysis
On-page SEO analysis
Competitive research
Backlink checker
Backlink monitoring
SEO checklist
Content marketing tools
Content optimization
Social media analytics
White-label SEO
Report builder
API
Pricing
You can subscribe to SE Ranking for as low as $23.40/month. It also offers a 14-day free trial.
---
#2 – Morningscore
Morningscore is a revolutionary SEO tool that makes optimizing websites easy and fun. It's dedicated to those new to the world of search engine optimization.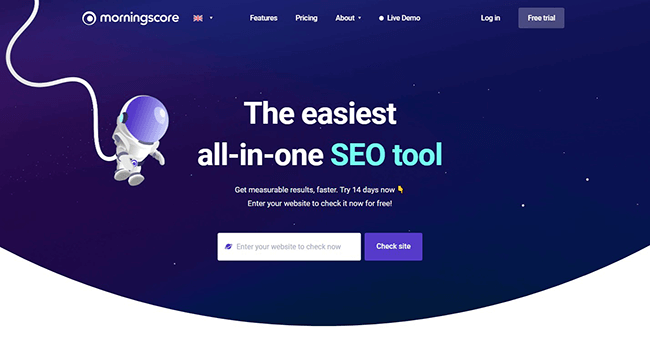 It can also be helpful for agency owners looking to reach their goals faster. With Morningscore, you can easily make sense of your website's SEO needs and quickly implement the necessary changes to drive results.
Morningscore offers many of the same features as other Semrush alternatives. It provides keyword research, competitor analysis, link building, website audit, and keyword tracking.
Its keyword database provides results from various platforms, including Moz, Google Ads, Google Search Console, Oxylabs, and Serpstat.
This results in a longer loading time than Semrush, but it also ensures that you get the best and most accurate data out there.
But what stands out for us is its usability.
While most other SEO tools can give us satisfying, comprehensive data. They can be quite complex and overwhelming to users. Not everyone has the time to analyze numbers or the money to hire someone.
Morningscore removes the complexity from SEO and simplifies it for everyone.
With its friendly user interface, you can get specific SEO tasks and suggestions to boost your website's performance in no time.
They call this feature SEO missions. It's designed to motivate users to focus on tasks that will impact their rankings.
Besides the particular missions, you'll get an illustrated step-by-step guide so you can be sure that you're doing everything the right way.
It's like playing a game, but instead of achieving points and levels, you're working towards improving your SEO.
In addition, the website audit features are extremely useful.
Morningscore lets you check your own SEO health score and identify areas for improvement. But it also has a website scanner that allows you to analyze your competitor's website in one dashboard and see their keywords, links, and SEO health score.
Its interface is also much more beginner-friendly, offering an easier way to boost organic visibility without being overwhelmed by bells and whistles.
Any marketer or digital agency can use it to make their online store visible, find profitable keywords, and help clients reach their goals faster.
Key features
Keyword analysis
Keyword management
Keyword tracking
Website health monitoring
SEO suggestions
Link profiling
On-page SEO checker
Technical SEO analysis
SEO reports
Competitor site analysis
Pricing
Morningscore's base plan costs $65/month. You can test its full feature through its 14-day free trial.
---
#3 – Mangools
Mangools is a great alternative to Semrush, offering features like keyword research, SEO analysis, backlink analysis, rank monitoring, and website analysis.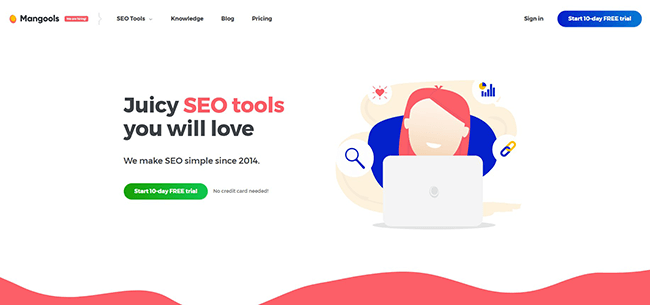 It is designed for both beginners and experienced users and provides simple-to-understand analytics and interfaces that make getting started with SEO easier.
Additionally, it offers competitive pricing plans that should fit any budget. With Mangools, you can quickly improve your website's visibility and performance in search engines while saving time and money.
Mangools has a total of five tools that cover different SEO aspects. Our top three favorites are KWFinder, SERPChecker, and SERPWatcher.
KWFinder is an advanced keyword research tool that lets you discover hundreds of short and long-tail keywords in minutes.
It includes powerful features such as keyword suggestions, filters, and analytics for each keyword you enter.
You can check their keywords' position, search volume, keyword difficulty, and CPC. These metrics help you choose the best keywords for your website that will have the highest impact on search engine rankings.
SERPChecker is an SEO tool designed to help you analyze your competition. It allows you to see the SERPs and understand why your competitors rank higher than you.
Meanwhile, SERPWatcher is an SEO rank tracker. It tracks your keyword rankings over time and gives you detailed analytics on your SEO performance.
Along with its valuable features, Mangools' competitive pricing makes it a better alternative to Semrush. It's cheaper, yet you can still get accurate and reliable results for all the SEO tasks you need to do.
But there's just one slight downside with this tool is that the research allowances on lower plans can be quite restrictive. It's not a deal breaker but worth mentioning. You can, however, increase limits by upgrading to higher plans if you need to.
Key features
Keyword analysis tool
Competitor keyword research
Domain checker
Link building
Search trends
Competitor insights
Local SEO
Google SERP analysis
Rank tracking
Performance index
Backlink checker
Backlink monitoring
Pricing
Free plan available. Paid plans start at €29/month, save 35% with an annual subscription. Mangools offer a 48-hour full refund policy.
---
#4 – Serpstat
Serpstat is a powerful all-in-one tool used by 800,000 people worldwide for their SEO and online marketing needs.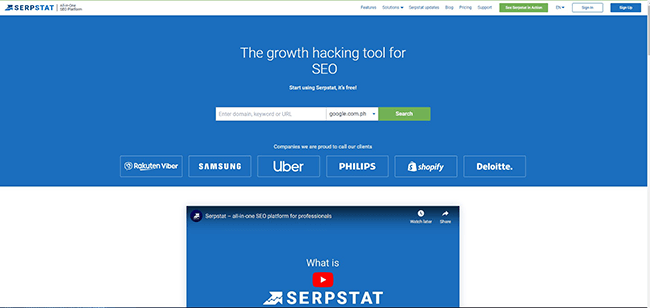 With over 50 tools at your disposal, Serpstat can help you improve your visibility on the web – from backlink analysis to rank tracking, keyword research, and site auditing.
Like Semrush, you can use its research tools to fuel your SEO and PPC campaigns.
It allows you to discover valuable keyword data, including keyword difficulty, search volumes, costs, and competition that Semrush offers.
But it also provides some unique tools, like cluster research. This gives you access to a list of related search queries that your competitors may not know, allowing you to optimize your pages more effectively.
Besides that, Serpstat's competitor keyword analysis is quite helpful, delivering a detailed list of all the missing keywords for which your competitors are ranking. It lets you stay ahead of the competition and create the most comprehensive pages possible.
When it comes to backlink analysis, Serpstat is still entirely accurate but falls short in comparison to more advanced tools when it comes to discovering all existing backlinks.
Still, this SEO tool gives valuable insights, such as your number of backlinks, referring domains, follow/no follow rates and more.
What makes Serpstat an attractive option over other SEO tools is its ability to track up to 15,000 keywords for its base plan. If you want the same keyword coverage on Semrush, you'll need to pay over $600/month.
Key features
Domain analysis
SEO & PPC keyword research
Keyword trends
Batch analysis
Site audit
Local SEO
Backlink analysis
Position tracking
SERP history
Text analysis
SEO reports
AI content tools
API
Pricing
Serpstat's paid plans start from $69/month. You can get a 7-day free trial, but it also offers a limited free version.
---
#5 – WebCEO
WebCEO is an all-encompassing SEO suite that can help boost visibility on search engines for businesses of any size.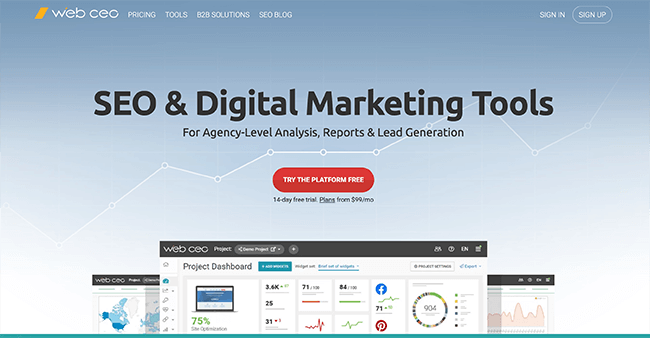 You get all the essential SEO features Semrush offers but at a better price. That includes website audit, keyword research, link building, rank tracking, and reporting services.
Its keyword research tool includes unique metrics such as Keyword Effectiveness Index (KEI), global and local monthly searches, and bid competition.
These data are helpful in finding profitable terms for both organic and paid searches.
In addition, WebCEO's rank tracking is pretty accurate. It provides real-time data so you can see precisely what people get on their browsers.
And like Semrush, you can easily integrate WebCEO to Google Services, such as Google Ads, Google Search Console, and Google Keyword Planner, for better and more reliable traffic analysis and reports.
But here's what makes WebCEO a great alternative to Semrush.
First, it provides five user seats for the base plans. You also need to pay only $5/month per additional user. Meanwhile, Semrush charges $45/month per user.
It also gives you more control over the rank-checking tool. It offers on-demand updates and monitors more search engines like Google, Youtube, Bing, and Yahoo.
Lastly, the white label SEO tools feature of WebCEO is one of the best among the Semrush alternatives. You can do more with it than just create custom and branded reports.
With this feature, you can sell WebCEO's SEO tools under your own brand name on a custom domain or sub-domain. This gives you the authority and control to offer fantastic SEO services to your clients.
Overall, WebCEO is an excellent tool for small business owners and solopreneurs, but it can transform SEO agencies into well-oiled machines.
Key features
Keyword research
Keyword rank tracker
Competitor analysis tools
Domain analysis
Technical site audit
Backlink checker
Brand monitoring
SEO analysis
Internal link analysis
Sitemap generator
Content submission
Traffic analysis
Google services integration
Social media analysis
Pricing
The Solo plan costs $37/month, but you can get advanced SEO tools for as low as $99/month. Besides that, WebCEO offers a 14-day free trial.
---
#6 – RankWatch
RankWatch is a cloud-based platform that offers powerful tools to help you perform all your SEO tasks in one place.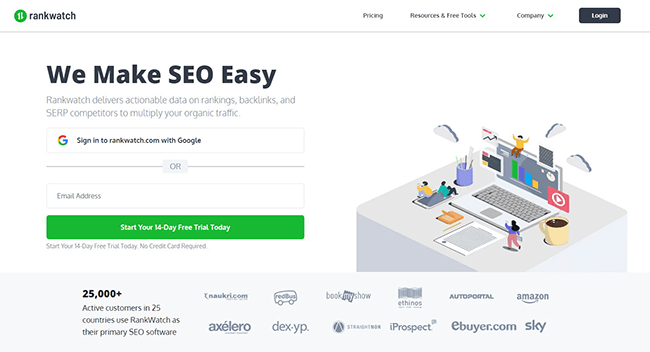 You can use this tool to analyze your competitors, find profitable keywords, optimize you site, and monitor backlinks.
Additionally, RankWatch has integrated tools to help generate comprehensive reports and get deep insights into your SEO performance.
These features can be easily monitored with its user-friendly dashboard.
It offers three types of keyword suggestions based on your seed keyword – organic, paid, and question-based.
These ideas help optimize content, run successful paid campaigns, and target query-based keywords with impressive search volume.
One thing I like about RankWatch is its site auditor. It can evaluate the overall performance and SEO friendliness of your website in one go.
It analyzes more than 110 on-page factors affecting your website and its ranking. It's almost as good and detailed as Semrush's site audit tool.
But what makes RankWatch a fantastic alternative to Semrush is its flexibility. This SEO tool allows you to add as many projects, domains, and clients as you need without any cap.
So if your plan includes 250 keywords, you can track 250 projects with a maximum of one keyword per project. Semrush, on the other hand, limits its project even on the highest plan.
Additionally, you can create, automate, and share unlimited 100% custom reports with your clients through RankWatch.
All of this at a much more affordable price as compared to other Semrush alternatives.
Key features
Keyword suggestion tool
Backlink analysis
Website analysis
Rank tracking
Competitor research
Email notifications
Mobile-friendly checker
Google Analytics integration
Custom reports
White-label features
Pricing
RankWatch's base plan starts at $29/month. You can try paid features with the 14-day free trial and also use some tools for free, like the website analyzer, backlink analyzer, and mobile-friendly test.
---
#7 – Nightwatch
Nightwatch is an SEO tool designed to help businesses with their rank tracking, reporting, and site auditing needs. It was founded in 2016 by Steve Mingione.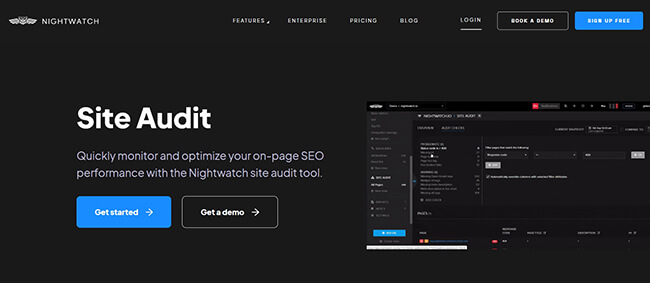 Although Nightwatch isn't as comprehensive and feature-packed as some other tools, the tool is still an excellent choice, especially if you're into local and multiple-rank tracking.
It has one of the best rank trackers on the market
Nightwatch's rank tracking tool is ideal for anyone who needs accurate and reliable data on their website's performance.
It provides real-time updates of organic and local search results in over 107,000 locations worldwide.
In addition, it includes detailed insights into crucial keyword metrics. This includes tracking positions, impressions, and clicks on all major search engines besides Google.
Nightwatch doesn't have solid keyword research tools like Semrush, but it still helps boost your online authority with its Keyword Discovery feature.
All you need to do is enter a URL, and you'll find loads of new keywords that can be organized by segments to craft an effective SEO strategy.
Nightwatch's site audit is a great tool to scan your website for any on-page issues that need attention. It also provides insight into which URLs need more priority, ensuring your SEO efforts are effective in the long run.
Moreover, Nightwatch's automated white label reports are incredibly helpful for teams and clients. It quickly generates an understandable, attractive report that clients can easily digest.
This simplifies the process of analyzing data and also allows you to focus your time on other essential tasks.
But what got me is the design of this tool. Among the Semrush alternatives, it has one of the best UX that is both easy to use and pleasing to the eye.
If you want something intuitive and with a beautiful UI, I highly recommend Nightwatch.
Key features
Rank tracking
Keyword discovery
SERP analysis
Site audit
On-page SEO suggestions
Report automation
Custom reports
Report templates
API access
Pricing
Paid plans start at $39/month for 250 keywords. But you can sign up for free and enjoy a 14-day free trial.
---
#8 – AccuRanker
AccuRanker is a Semrush alternative with a singular focus – keyword tracking. This powerful tool helps over 30,000 businesses worldwide, including IKEA, Kinsta, and HubSpot. It also powers the rank tracking functionality of some of the larger SEO tools via its API.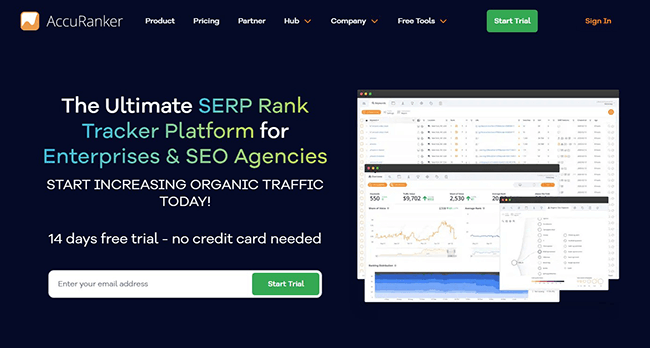 Its user-friendly interface allows easy navigation across a wide range of keyword tracking tools, making it an excellent choice for those who want a reliable tool dedicated to rank tracking.
Setting up AccuRanker is also easy and can be done in no time.
With this tool, you can track how your website performs compared to others in various search engines. Plus, the advanced filtering options can help you see specific results.
For instance, I can get just data like the Share of Voice which gives me the percentage of clicks on specific keywords, and the Top Competitors report to see who ranks in the top 10 for my keywords.
This allows me to save time and energy by showing me useful yet straightforward insights.
The filter options are also available on AccuRanker's keyword research tab. You can use it to easily identify all the keywords connected with your landing page and track how their rankings are changing over time.
AccuRanker's report feature is also a good reason to invest in it. It's designed to give users great insights into their data, highlighting the most important findings. The reports are also customizable and can be generated with a few clicks.
Besides the mentioned features, there are two more things that make AccuRanker a great alternative.
First, its base plan lets you track more keywords than Semrush. It's a little more expensive, but you get double the tracking power, making it a great value pick.
Second, is its domain and user limitation. Semrush has a limited number of domains and users that can be used on one account, whereas AccuRanker allows you to track and add unlimited for both.
This makes it a better choice for businesses with multiple clients and team members. If you're just looking for rank tracking, give AccuRanker a try.
Key features
Keyword ranking analysis
Competitor analysis
SERP history data
Data segmentation
SEO reports
Third-party integration
Pricing
AccuRanker's most affordable plan costs $129/month, but you can track 1000 keywords for that. Like most Semrush alternatives, you can also claim a 14-day free trial for this SEO tool.
---
#9 – SpyFu
SpyFu is an SEO tool that provides extensive keyword and competitor research.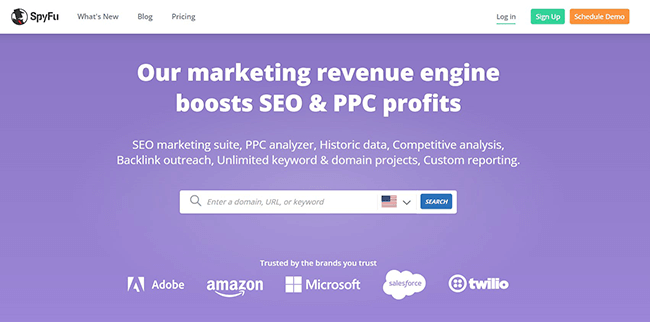 Although SpyFu's primary feature is keyword analysis, you can also use it to monitor backlink efforts, stay on top of projects, and schedule custom reports.
SpyFu's competitor research feature gives you a comprehensive view of your competition's performance.
It allows you to track their strategies, discover high-volume keywords with low competition, and gain insights on optimizing your ad campaigns.
Most results provided by SpyFu are from Google services like Google Ads and Google Keyword Planner.
SpyFu also has a tool called Kombat, which lets you look deeply and compare two domains side-by-side.
You'll get recommendations on which keywords to target and other valuable insights.
Like Semrush, the keyword research tool offered by SpyFu is also comprehensive. You can quickly get an overview of all essential metrics, like ranking difficulty, clicks, CPCs, and monthly search volumes.
In addition, you will have access to a list of related and question-based keywords that could help expand your content strategy.
You can get all of these tools at a lower price than Semrush. And that's not the only advantage of SpyFu.
SpyFu has a free plan that allows unlimited search and provides you with ten results. This is quite generous compared to Semrush's free plan.
Besides that, SpyFu's interface is more suited for beginners. It still boils down to preference, but users are less likely to feel overwhelmed by SpyFu's dashboard.
Overall, SpyFu is a great Semrush alternative for those on a tight budget who still wants satisfying results.
Key features
Domain analysis
SEO and PPC keyword research tools
Backlink analysis
Rank tracking
Custom reports
Competitor analysis
List builder
Pricing
SpyFu's Basic plan costs $39/month, but you can use this SEO tool free without signing up.
#10 – Moz Pro
Moz Pro is one of the oldest Semrush alternatives available in the market.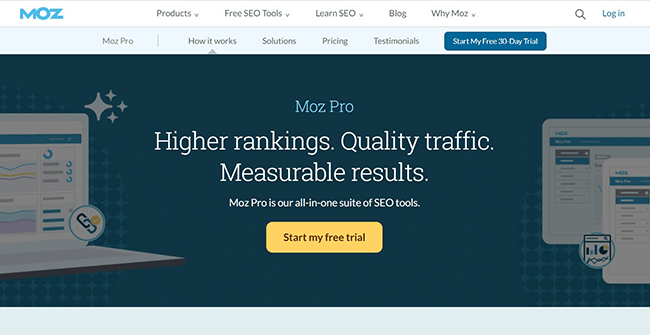 This freemium SEO tool is famous for its features and reliability. It provides an interface where you can easily track keyword rankings, optimize your website and content strategy, monitor backlinks, and analyze competitors.
Its Keyword Explorer is one of its best tools. It helps you discover profitable keywords and thoroughly analyzes their search volume, ranking, difficulty levels, and click-through rate.
Another of Moz Pro's pride is its rank-tracking tool. It gives you the power to make reliable and accurate decisions using reliable data.
It also gathers results for both mobile and desktop in over 200 countries. You can feel confident in targeting top positions with these competitive advantages.
When it comes to data, Moz Pro can give you more results as it covers various search engines like Bing, Yahoo, and Google. Semrush mainly focuses on the biggest search engine – Google.
But here's something you shouldn't miss. Moz Pro offers some free tools. It lets users do keyword research, site audit, link building, and domain analysis. All you need to do is sign up, and you can explore these features. However, expect free functionality to be limited.
Key features
Domain analysis
Mobile and device rank tracking
Keyword suggestions
SEO metrics
Site audit
On-page optimization
Link building tools
SEO reports
Pricing
The paid plans start at $99/month. But Moz Pro offers a free version, and you can try all the paid features for a free 30-day trial.
---
Conclusion
That's a wrap for the best Semrush alternatives. Whether you're looking for a more affordable solution or a premium tool that provides more detailed insights, this list has something for you.
To give you a quick summary of the top Semrush alternatives, the three best options are:
SE Ranking is the best overall for its affordability, features, and ease of use. It's perfect for beginners but can also provide exceptional tools for professionals and agencies.
Morningscore's gamification feature gives it a unique edge. You can also get this tool at a much more affordable price than Semrush.
Mangools toolkit is one of the best for accuracy and value for money. It's ideal for those who want to access all the essential SEO tools without breaking the bank.
We hope that this guide has been useful.
Related comparisons: