9 Best SEO PowerSuite Alternatives For 2023
SEO PowerSuite has been among the most popular choices for SEO professionals, marketing agencies, and bloggers. But what alternatives are on the market?
But it has one limitation – it's downloadable software. So, if you'd like to switch to a web-based app to handle your SEO, you're in the right place.
In this article, we're breaking down the best SEO PowerSuite alternatives.
Are you ready? Let's dive in and take a closer look at them.
Best SEO PowerSuite alternatives & competitors
#1 – SE Ranking
SE Ranking is a versatile tool designed to provide all tools needed to create a successful SEO strategy.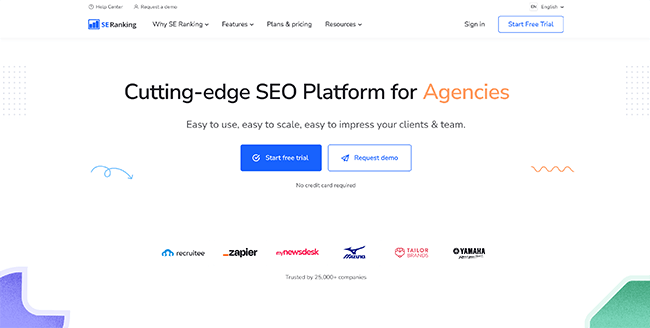 This SEO tool has been carefully crafted for small business owners, solopreneurs, and digital marketing agencies.
It provides all the necessary functions, such as keyword research, competitive analysis, rank tracking, website audit, backlink checker, and link building.
SE Ranking's competitor research tool is an incredibly useful feature that helps you figure out what your online competitors are doing. You can see their keyword strategies for organic and paid searches, and their Google Ads history.
With this information, it's easier to find market gaps or opportunities and use them to your own SEO and PPC campaigns.
SEO Ranking's Keyword Rank Tracker is also an excellent tool. It not only provides metrics from various search engines, but it also gives data on both mobile and desktop devices.
Besides keyword opportunities, this SEO PowerSuite alternative can show you technical SEO analysis of your pages and subdomains for better rankings.
In addition, its solid backlink checker is a great replacement for SEO SpyGlass. You can use it to check the backlink profile of your competitors and see which links you can also target.
By leveraging these features, you can take control of your SEO strategy and ensure maximum visibility in search engine results.
Overall, SE Ranking offers all necessary SEO tools and valuable features like social media management, content marketing, and B2B features.
Key features
Keyword tracking
Keyword clustering
Competitor research
Webpage monitoring
Website audit
Backlink checker
SERP analysis
On-page SEO checker
Content marketing tools
SEO reports
API
Client collaboration
Pricing
SE Ranking has one of the most affordable paid plans available. It starts at $23.40/month and you can use the tool free for 14 days.
---
#2 – Morningscore
Morningscore is an efficient all-in-one SEO software that makes the process easier and more achievable for small business owners and eCommerce websites.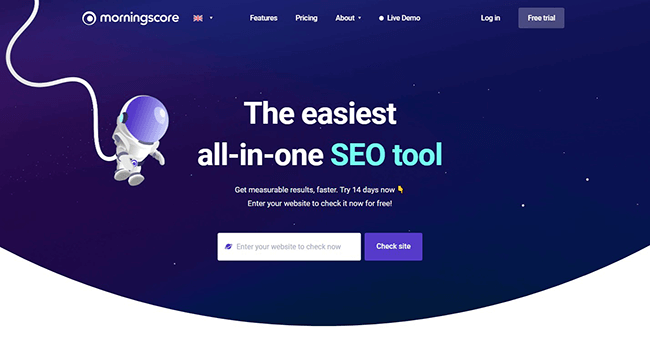 Like SEO PowerSuite, it also offers rank tracking, link management, competitor analysis, and project management. But what makes Morningscore different is its unique approach to SEO.
It helps you better understand SEO metrics and suggestions by using gamification through missions and challenges. If you love playing games or following specific SEO tasks, this tool is for you.
I personally enjoyed the suggestions and feel that it's a valuable tool, especially for those who dislike decoding technical data.
It's super easy to use and provides good and specific recommendations to improve your ranking.
In addition, I like how integrated the tools are. For instance, the keyword management tool lets you add your key terms to the rank tracker. The tool will then provide new keyword ideas through its own suggestions or competitor insights.
The website health tool is another great feature of Morningscore. It identifies basic, technical, and content-related issues with your website, providing insights into how each issue can affect overall performance.
Key features
Site scanner
Keyword monitoring
Keyword management
Link monitoring
Organic and PPC metrics
Project management
SEO reports
SEO tasks
SEO suggestions
Competitor keyword analysis
User management
Pricing
Morningscore paid plans start at $65/month. It also has a 14-day free trial for new users.
---
#3 – Semrush
Semrush is one of the best SEO PowerSuite alternatives in this list. It's one of the most popular SEO tools on the market and includes a large selection of features.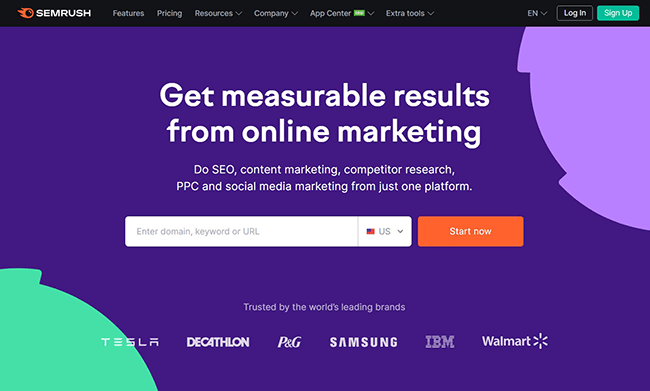 To say that Semrush is a comprehensive SEO tool is an understatement, as it works beyond that. You can also use it for your PPC campaigns, social media management, market research, and content marketing.
So if you're looking for a tool where you can manage all of your marketing efforts and access powerful and reliable insights, Semrush is for you.
But there are two things you need to know. Although it offers monthly plans, its most basic plan is 2x more expensive than SEO PowerSuite. (However, you get more tools).
In addition, you might also need some time to get used to the interface of Semrush. It's user-friendly for those who have a background in SEO, but it can really be confusing and crowded for newbies. This is partly because there are so many tools.
If you can justify the cost and don't mind the learning curve, Semrush is a great alternative to SEO PowerSuite.
Key features
On-page SEO checker
Technical SEO audit
Organic and paid keyword research
Traffic analysis
Keyword analysis
Competitor analysis
Local SEO
Rank tracking
Link building
Content analysis
Content optimization
SEO writing assistant
Social media marketing
Paid advertising
Email outreach
Pricing
Unlock the power of Semrush's paid plans for free with a seven-day trial period. Afterward, you can continue with the base plan that starts at $129.95/month or opt for the free limited plan.
---
#4 – Mangools
Mangools is an affordable SEO tool that's ideal for beginners. With its intelligent features and simplicity of use, Mangools helps you drive results faster for your SEO efforts.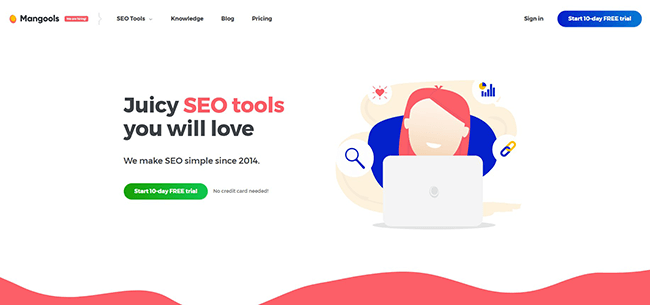 The five SEO tools of Mangools include SERPChecker (ranking checker); KWFinder (keyword research tool); LinkMiner (backlink analysis tool); SiteProfiler (competitor's site auditing tool); and SERPWatcher (rank tracker).
It has several features that stand out from other SEO tools. That includes finding SEO keywords with low difficulty and high search volume.
It also has a SERP feature that can show you search results for any location, which is useful if you want to see how your website ranks relative to others in certain areas.
Mangools can track your rankings, so you never have to worry about missing out on changes or being left behind.
Like the SEO SpyGlass of SEO PowerSuite, it has a powerful backlink feature that allows you to quickly find the best backlinks and see previews without having to open another tab.
Finally, Mangools can check competitors' website authority by providing essential SEO data and popularity metrics, as well as link profile insights.
With all these features combined, Mangools is a powerful tool for SEO professionals and small businesses who want to get an edge over their competitors.
Key features
Keyword suggestions
Keyword tracking
SERP analysis
SERP snippet preview
Competitor research
Backlink analysis
Domain checker
Link profiling
Content ideas
Volatility checker
Mangools SEO extension
Pricing
Free plan available. Paid plans start at €29/month, save 35% with an annual subscription. Mangools offer a 48-hour full refund policy.
---
#5 – Serpstat
Serpstat is a comprehensive software that offers impressive tools to help you gain a competitive edge in your SEO and PPC strategies.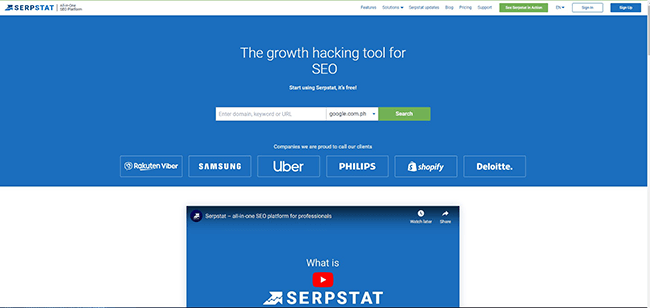 It's an excellent tool for website owners and companies who want to grow their online presence and website traffic.
If you've been using popular SEO tools like Semrush or Moz, you'll find that Serpstat offers a much more cost-effective solution for the same basic features.
Serpstat's keyword research tool can help you identify relevant keywords and phrases to target, while its content analysis helps you publish the best content for SEO.
If you're a website owner, you probably want to know what place your website holds in the competition.
Serpstat can help you figure that out by tracking and comparing your rankings with those of other websites in global and local organic search and paid search results.
This helps you understand how much market share you have compared to other brands.
With Serpstat, you can also easily find out who your competition is and how they're doing.
The tool lets you see your competitors' keywords, the number of visits their website gets, and other valuable metrics. I recommend doing this analysis because it helps you understand what successful strategies others are using and apply them to yours.
But aside from these tools, I think Serpstat's Google Chrome extension stands out the most. You can't get this from SEO PowerSuite..
The Serpstat Chrome extension lets you check, analyze and view your competitor's website data for free.
And if you're a project or marketing manager, Serpstat also provides features such as white-label reports, team collaboration, and data export.
Key features
Competitor analysis
Website auditor
PPC analysis
Keyword trend
Keyword analysis
Position tracking
Local SEO
SERP analysis
Content optimization
AI content tools
Team and project management
Third-party integration
Browser extension
Pricing
Serpstat's Lite plan costs $69/month, and you can get a 7-day free trial if you're a first-time user.
---
#6 – Nightwatch
Nightwatch is a powerful SEO software that provides agencies and digital content marketers with the tools they need to increase their website's visibility in search rankings.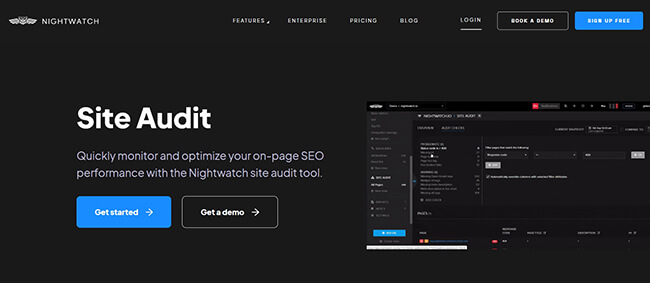 It's a fantastic web-based alternative for SEO PowerSuite Rank Tracker and Website Auditor.
It offers many features, including keyword tracking, backlink monitoring, site audit, sub-user accounts, and API access.
With Nightwatch rank tracking tool, users can get precise insights into their keyword rankings, track progress over time, and identify areas for improvement.
Nighwatch offers precision rank tracking data in over 107,296 locations around the globe. With this powerful tool, you can discover ranking opportunities and content ideas that may otherwise go unnoticed.
This means that you'll be able to quickly identify areas where your SEO efforts are bearing fruit – or where you need to focus more of your energy.
Besides the accurate keyword ranking checker, Nightwatch also provides you with a website audit tool.
It helps you identify any areas that need your attention like pages, backlinks and missing metadata that can give your website an extra edge.
This SEO PowerSuite alternative shows a list of crucial factors to improve. It's worth noting that Nightwatch's site audit recommendations can get quite technical, like with most other tools.
Nightwatch also lets users quickly generate highly detailed and beautiful reports with features such as white label and automated report delivery.
This makes it easy for businesses to document and keep track of their SEO performance on an ongoing basis.
This platform doesn't offer a complete keyword research tool. But you can still get access to a Keyword Discovery feature.
With it, you can quickly discover new keywords simply by entering a URL, and then organize them to create a winning SEO campaign.
The user interface of this tool is particularly impressive – its simplistic design makes it one of the easiest tools I've used. I like the dark mode as it provides this sleek and modern look interface.
Once you try the tool, you'll see how Nighwatch thought of its users when designing the tool. It's very intuitive.
Key features
On-page SEO checker
Site audit
Local rank tracking
Keyword suggestions
SERP analysis
SEO reports
URL and custom segmentation
Report automation
Google Search Console integration
Pricing
Nightwatch's cheapest plan starts at $39/month. It also comes with a 14-day free trial.
---
#7 – WebCEO
WebCEO is another feature-rich SEO PowerSuite alternative. If you're looking for a comprehensive SEO and online marketing tool, you'll never go wrong with this tool.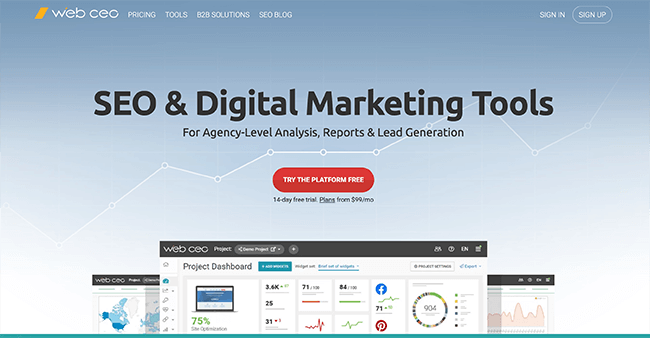 With 23 powerful SEO tools plus extra features ideal for agencies and B2B companies, this web-based suite will help make your digital marketing efforts a success.
It offers keyword research, internal link optimization, tracking of rankings across search engines, competitor metrics, and more.
With WebCEO, you can get suggestions for profitable keywords to use on your website and learn how well your site responds to semantic searches.
You can also track your website's ranks on desktop and mobile, images, video and news searches.
Finding out what your competitors are doing so you can outrank them is possible with WebCEO.
In addition, if you want to venture into link building, you can use it to identify bad or toxic links pointing to your website and get detailed research on where your organic traffic is coming from.
With WebCEO, you can easily manage hundreds of client sites, making SEO tasks a breeze.
You can also add multiple projects, schedule your SEO tasks in batches, and get live progress updates through widgets.
All these tools are great. But one of my favorites is the multilingual feature.
WebCEO allows you to tap into foreign markets and target new audiences with your SEO services by giving you access to 24 languages. SEO PowerSuite also has this feature, but it can only cater to 7 languages.
If you want to make an impact globally and expand your customer base, you'll love this feature.
This tool is a good fit for agencies and teams of SEO professionals thanks to its team collaboration functionality.
With the Task Manager feature in WebCEO, you can easily assign tasks, set deadlines, and review the progress of any project without having to provide full access to your account.
Finally, WebCEO helps you create customizable SEO reports that you can share with clients via email or domain publishing.
There's so much this tool can do. So if you want to explore all and see what tools you can use, sign up for the free trial of WebCEO below.
Key features
Technical audit
SEO analysis
Backlink analysis
Keyword research
Rank tracking
Sitemap generator
Content assistance
Content submission
Traffic analysis
Social media analysis
Google analytics integration
Pricing
The Solo plan starts at $37/month, but it's charged quarterly. You can also claim a 14-day free trial like most SEO tools on the list.
---
#8 – RankWatch
RankWatch is an SEO management platform that lets you gain insight into digital marketing campaigns and get actionable recommendations.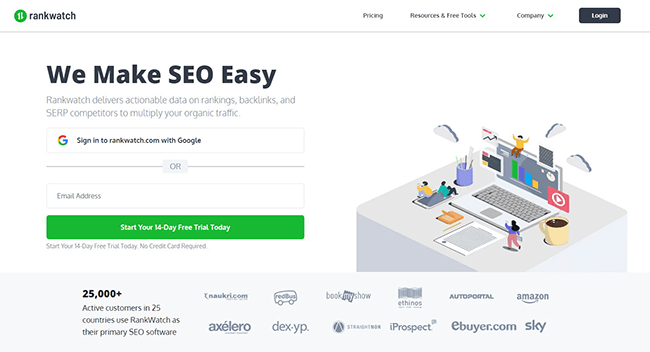 With the help of RankWatch, users can monitor their rank, analyze keywords with SERP data, conduct a site audit, study competitors, and even analyze backlinks – all in one dashboard.
Furthermore, the platform also offers local SEO, alerts, and white label reporting. It is an ideal solution for those looking to simplify their SEO process.
One of the great features of RankWatch is its automated email alert system. You can save time from manually checking the fluctuations of your keywords with this tool.

This feature allows you to receive instant notifications as soon as a keyword enters or leaves the top 1, 10, or 100 ranking.
The Website Analyzer tool from RankWatch is another great feature.
It allows users to conduct in-depth research into the aspects that make a website stand out, such as Social Media and Mobile.
This will give users all the necessary information to boost their rankings and make them more visible to users.
Besides site analysis, competitor analysis is also at the heart of RankWatch.
It allows you to keep an eye on other websites' organic and paid campaigns and find out who your toughest competitor is and what ads they are running.
Moreover, RankWatch will provide a trend report of their online presence and suggest keywords that could give you an edge over them.
RankWatch is an ideal alternative to SEO PowerSuite for those just starting out with SEO management. It may not be as detailed, but it's powerful enough to get started and grow your websites.
Key features
Organic and paid keyword research
Site audit
Position tracking
Competitive analysis
White label features
SEO reports
Sales prospecting
Pricing
Rankwatch paid plans start as low as $29/month. It doesn't offer a free plan, unlike SEO PowerSuite, but you can get a 14-day free trial.
---
#9 – AccuRanker
AccuRanker is one of the most reliable and accurate keyword rank tracking software tools on the market. It's one of the best alternatives to SEO PowerSuite's rank tracking functionality.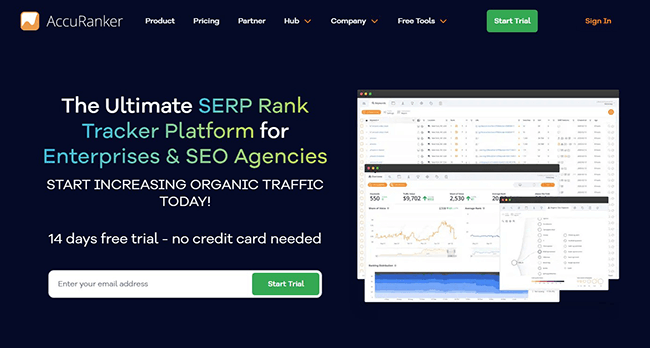 At the heart of AccuRanker is its position tracking tool. This enables you to monitor your SEO performance and that of your competitors.
You can conduct an in-depth analysis of this ranking data thanks to useful segmenting and data filtering functionality. Then, you can share these insights with your team.
You can also view past rankings for keywords to understand search trends. This helps you make better decisions about keyword optimization and stay competitive in the SEO game.
AccuRanker's SERP History feature helps you to track how various SERP features on Google affect traffic to your website, so you can better understand your SEO performance and determine what steps to take.
AccuRanker's instant on-demand updates also lets you refresh keyword rankings whenever you need them, so you always have the most up-to-date data on hand – very few rank trackers offer this feature.
One tool that caught my attention is the free Google Grump Rating feature. It's a free tool that shows how Google algorithm reacts to selected keywords. You can use this to compare changes in your rankings by country and device.
I recommend this SEO PowerSuite alternative for users who want an easy and reliable way to track keywords.
Key features
On-demand rank updates
SERP tracking
Competitor analysis
Domain tracker
Data segmentation
Keyword analysis
Historic search volume
Unlimited seats
Share of voice
Google services integration
API
Report automation
Pricing
Paid plans start at $129/month. It's more expensive than SEO PowerSuite, but it offers a 14-day free trial and a 14-day money-back guarantee.
---
Conclusion
That wraps up my top picks for the best SEO PowerSuite alternatives to consider.
Whether you are looking for a complete SEO tool or just need some help auditing your website's technical performance or monitoring your keyword position – these options are surefire ways you can get ahead in search engine rankings.
If you're still having a hard time choosing from the tools above, here are our favorites:
SE Ranking is the best alternative overall. It's perfect for beginners, has a flexible pricing option, and offers more SEO, content marketing, and B2B tools.
Morningscore's simplified approach makes it the second-best tool. If you want to break free from the traditional, boring way of doing SEO, Morningscore is your best bet.
Semrush is the best comprehensive tool. It costs more than SEO PowerSuite, but it provides all the features you need to improve your digital marketing strategy.
We hope this article gives you a better understanding of some of the outstanding SEO PowerSuite alternatives available on the market.
Related comparisons: