10 Best SpyFu Alternatives For 2023
Are you planning to step up your SEO game but not sure if SpyFu is the right tool?
In this post, we're compariing the best SpyFu alternatives on the market.
The best SpyFu alternatives & competitors
Below, I'll give you a quick overview of each tool. We'll also explore the key features and pricing of each one. Let's get into it.
#1 – SE Ranking
SE Ranking is our top pick for SpyFu alternatives because it offers a deep feature-set and is surprisingly affordable considering the features on offer.
It's a web-based software that provides a wide range of SEO & digital marketing tools.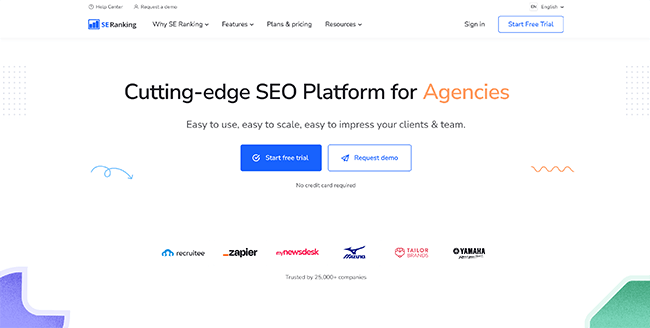 Like SpyFu, it can also cater to different types of businesses – from solopreneurs and enterprises.
You can use SE Ranking to check top-performing paid and organic keywords, spy on your competitors, and analyze search engine results to improve your page rankings.
In addition, this platform allows you to automate reports so you can thoroughly monitor the progress of your SEO campaign with ease.
SE Ranking is the ideal tool for an agency dealing with clients, as you can schedule, customize, and white-label your reports.
On top of that, SE Ranking's interface is one of the best in the market.
PPC and SEO tools can be pretty intimidating for beginners, but this platform makes the whole process easier (at least in my experience.)
I've found SE Ranking to offer superior data on competitor's high-ranking keywords, backlinks, and pages.
SE Ranking also has complete content marketing tools to help you plan, write, and optimize your content for search engines and your readers.
SE Ranking's PPC functionality is a little weaker than SpyFu, but if organic search is your priority, that shouldn't be an issue.
Key features
Site audit
On-page and off-page optimization
PPC traffic research
Rank tracking
Site monitoring
Competitor analysis
Backlink checker
SERP checker
Keyword analysis
Keyword management
SEO reports
SEO checklist
Marketing plan tool
Lead generation
Pricing
SE Ranking's base plan is cheaper than SpyFu at $23.40/month. A 14-day free trial is also available for its new users.
---
#2 – Serpstat
Serpstat is a popular all-in-one SEO platform that also includes PPC research data. This platform is for you if you're looking for an affordable tool that doesn't compromise reliability and flexibility.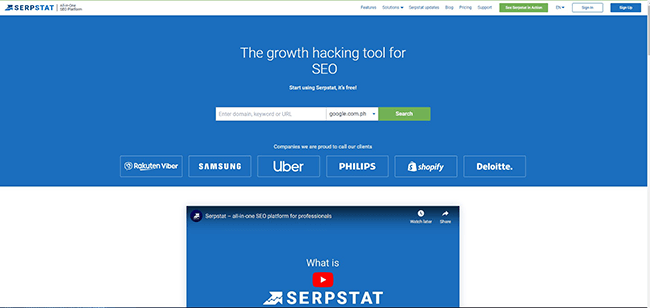 Among the SEO tools provided by Serpstat, it excels most at rank tracking, page audit, and keyword research.
You can use these features to track your website's SERP performance, find valuable keywords for your campaigns, and audit your pages for any SEO issues.
Also, with its daily updates and historical data, you can monitor changes in your rankings over time, understand what's working, and improve your organic position.
Another thing we like about Serpstat is its keyword search tools – there are several different research methods available and a large amount of data. In addition, you can discover fresh keyword ideas to use in your content marketing campaign.
With its keyword trend feature, you can quickly find seasonal and location-based trends and use them to create content that your target audience needs.
Besides those, Serpstat also provides site audit and backlink tools.
The site audit gives actionable advice and how-to guides to optimize your webpage, so you can improve user experience and make your content accessible to search engine crawlers.
Meanwhile, its backlink feature can help you monitor all the changes in your backlink profile and find out what links you gain and lose. You can also check your rival's backlinks and find new domains to target.
Serpsta's backlink index is somewhat limited compared to some other tools, but it can still provide valuable insights for SEO and link building.
The only issue I have is its user interface. It's not as beginner-friendly as other tools, and you'll need to get used to it before navigating the features comfortably.
Key features
Competitor analysis
Backlink profiling
Keyword research
Keyword clustering
Rank tracking
Trending searches
Text analysis
Page audit
SERP analysis
Local SEO
Batch analysis
Content analysis
AI content tools
Custom reports
Team collaboration
API
White label
Third-party integration
Pricing
Serpstat's paid plans start from $69/month. It offers a 7-day free trial, with no credit card required.
---
#3 – Semrush
Semrush is an all-in-one digital marketing solution designed to help businesses of all sizes with their online visibility.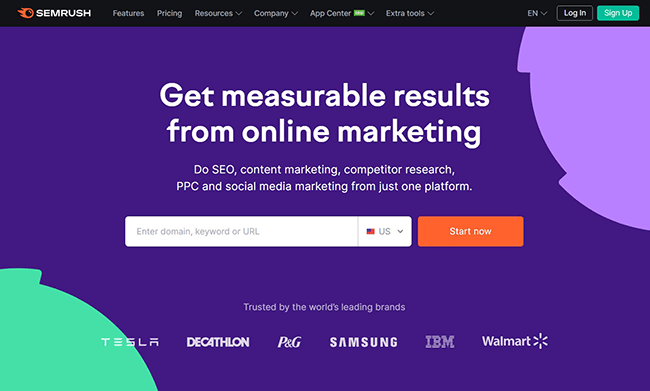 Like SpyFu, it's a well-established platform for SEO. It offers accurate data, useful keyword research tools, competitive insights, and custom reports.
Besides that, it lets you understand your site's health and performance through a detailed site audit feature.
This tool offers on-page and technical SEO checks to help you identify minor to major issues and fix them to improve your rankings in SERPs.
Other than your SEO and PPC strategies, you can use Semrush for social media management, email outreach, content creation, scheduling, and so much more.
That sets Semrush apart from other platforms – its coverage and selection of tools. It's as close to an all-in-one digital marketing tool as you can get!
These features are valuable if you plan to launch a comprehensive marketing campaign.
But like any other platform, it has its own set of drawbacks. It's pricier than SpyFu, and the interface can be overwhelming for beginners.
Key features
On-page SEO checker
Site audit
Keyword gap tool
Position tracking
Competitor analysis tools
Content optimization
Content analysis
SEO writing assistant
Link building
Blogger outreach
Backlink monitoring
Social media tracking
Social media management
Website monetization
Local SEO
Agency tools
CRM
Pricing
The cheapest Semrush plan starts at $129.95/month. You can get a 7-day free trial for the paid plans, then switch to the free plan.
---
#4 – Morningscore
Morningscore makes optimizing your website and improving your keyword rankings fun and exciting.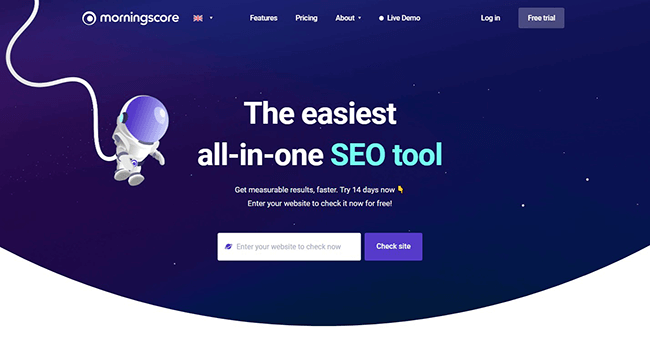 Through its gamified approach, Morningscore helps you stay motivated in doing SEO tasks. It also cuts out unnecessary data so that you can stay focused on the important stuff.
Morningscore is a newbie in the field of SEO compared to SpyFu. It was introduced in 2018, but there are many reasons why it's on this list.
First is its interface. Morningscore takes user experience to a new level. Even those with little knowledge of SEO can use this tool.
Another reason is its data presentation. It provides actionable, specific advice and step-by-step guides instead of giving you just numbers and graphs that you need to interpret.
It also shows more useful metrics besides monthly searches, keyword ranking, CPC, and visits. One of them is the score/month. This data shows the total monthly value of the keyword, which is vital in figuring out whether it's worth targeting.
And if you're wondering how Morningscore adds the 'fun' factor, it does so with its mission feature.
Morningscore suggests missions on top of your screen and shows you their difficulty level and the ROI you'll get.
You can access this tool through keyword research, link building, and site audit features.
So you can boost various aspects of your SEO efforts.
Another thing we like about Morningscore is its SEO analysis tool called the website scanner. This efficient tool lets you check any website's technical, on-page, and content issues.
There's more to this tool than what I can explain here. If you want to know more about it, you can sign up for the free trial below.
Key features
Keyword management
Site scanner
Link building
Backlink checker
Rank tracking
SEO and PPC competitor analysis
SEO suggestions
SEO goals
SEO reports
Project management
Pricing
The base plan starts at $65/month. If you want to try it before subscribing, you can access a 14-day free trial.
---
#5 – Mangools
Mangools is a popular SpyFu alternative for bloggers and small businesses. It's known for its well-designed dashboard, superb SEO tools, and value for money.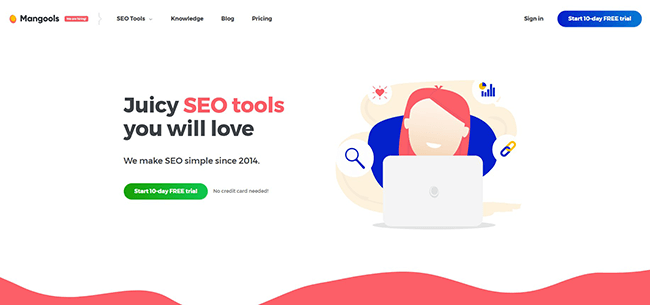 It covers all the basic SEO features in its five tools: KWFinder (organic keyword research and PPC competitor research), LinkMiner (backlink checker), SERPChecker (SERP analysis), SiteProfiler (site audit), and SERPWatcher (position tracking).
Mangools provides accurate and valuable data to improve your SEO strategy despite its lower price tag. It's also user-friendly, so even those without prior knowledge of SEO can use it without problems.
But its keyword research tool is where Mangools really shines. It makes researching keywords a walk in the park. You can use filters to narrow down your search and get more relevant results.
KWFinder provides useful metrics like CPC, PPC, monthly searches, trends, and keyword difficulty. It's not as detailed as SpyFu, but it's still helpful in finding good and relevant keyword ideas.
With Mangools, you can also do basic SEO competitor research with SiteProfiler.
This tool lets you check your competitor's website authority and compare it with yours. It shows you their backlinks, top pages, SERP features, and direct competitors.
Mangools is an excellent tool for a simple SEO boost, but if you need more detailed data, some of the other tools on this list, like SE Ranking might be a better choice.
Key features
Rank tracker
Keyword research
Keyword trends
Backlink analysis
SERP analysis
SERP snippet preview
SERP simulator
Competitor analysis
Volatility checker
Mangools browser extension
Pricing
Free plan available. Paid plans start at €29/month, save 35% with an annual subscription. Mangools offer a 48-hour full refund policy.
---
#6 – WebCEO
WebCEO offers powerful marketing tools to help professionals in their SEO, PPC, and SMM campaigns.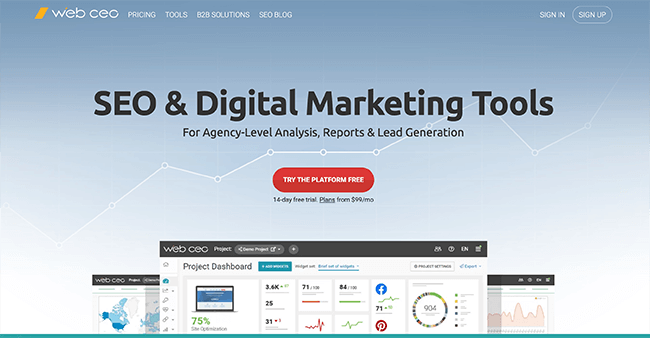 This platform provides all the SEO tools you need to level up your digital marketing process. WebCEO is currently used by over 1,500,000 businesses worldwide. This number simply shows how reliable this tool is.
WebCEO has so much to offer, but let's focus on the most useful ones.
The quick domain analysis tool is designed to help you analyze up to 100 websites at once. With this tool, you can check your competitors at a glance and see which ones you should keep an eye on.
Some important metrics you'll get include backlinks provided by Moz, Alexa, and Majestic, domain age, domain authority, and google index pages.
The keyword research tool of WebCEO is also helpful. It provides you with the best keywords to use for your website so you can rank better.
In addition, you can view your competitor keywords with this tool.
I like that this tool gets data from different sources like Google Ads Keyword Planner, Google Autocomplete, and related searches. These give you better ideas on topics to discuss since the results are close to what your target audience is searching for.
If you want to use the keyword research tool for your PPC campaign, WebCEO also provides specific metrics. These include Average Cost Per Click, Bid Competition, and Global KEI (keyword effectiveness index).
Besides that, WebCEO also provides a top-notch rank tracking tool. It lets you monitor keywords worldwide or even in a particular area. For instance, you can choose a city, state, or country, as this tool covers over 370 search engines.
Other than these tools, WebCEO offers content assistance, white label for SEO teams, and technical analysis.
Key features
Organic and competitor research
Rank tracking
Batch analysis
Technical site audit
Sitemap generator tool
SEO analysis
SEO content assistant
Backlink analysis
Backlink monitoring
Google Search Console integration
White label
SEO reports
Social media analysis
SE and directory submission
Pricing
The pricing plans start at $99/month. WebCEO also offers a 14-day free trial.
---
#7 – RankWatch
RankWatch is one of the most beginner-friendly SEO tools out there. And it includes a significant number of features.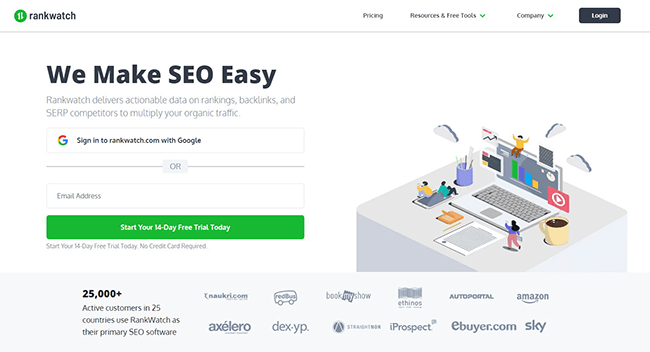 It makes tracking website rankings, backlinks, and competitor info a breeze so you can increase your organic traffic quickly.
It's ideal for anyone just starting with SEO and doesn't want to invest too much money. But if you're already a pro, this may not be the best tool for you since it doesn't have as many features or data as other software.
RankWatch's keyword research tool provides you with ideas with higher search volumes that you can use to boost your site's rankings.
The SEO and PPC competitor research of Rankwatch is also a powerful solution. You can easily view the top organic competitive domains from the SERP. In addition, you get to know about your competitors' successful paid campaigns through Google Ads.
Rankwatch then offers actionable recommendations based on the results, which can help you create a better SEO and PPC strategy.
The only thing lacking with the competitor research feature is the visibility of the exact page. You can't see this information directly. Instead, you need to type your keyword on the search engines and find the page yourself.
It might have its shortcomings. But RankWatch remains a great alternative to SpyFu for small businesses looking for an affordable yet reliable SEO tool.
Key features
Backlink analysis
Keyword suggestions
Rank tracking
Site audit
Website analyzer
Backlink analyzer
SERP analysis
Competitor research
White-label reports
Mobile-friendly checker
Pricing
The paid plans start at $29/month. Like most SEO tools, RankWatch offers a 14-day free trial.
---
#8 – SEO PowerSuite
SEO PowerSuite is a desktop-based alternative to SpyFu, providing a great selection of advanced SEO tools and resources.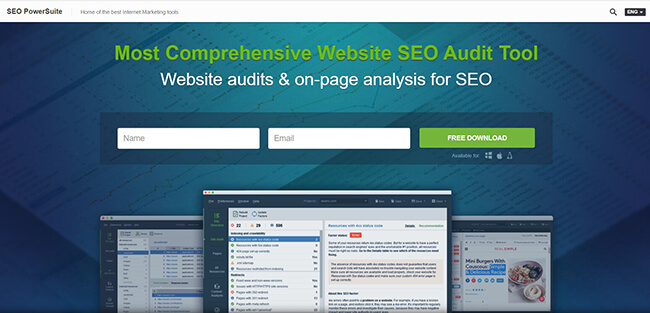 It is composed of four different desktop software tools: Rank Tracker (keyword search and rank tracking), WebSite Auditor (site audit tool), SEO SpyGlass (backlink research), and LinkAssistant (link building).
Each part has flexible functionality to help you maximize your online visibility and rankings. One thing to note, though, is that the features aren't integrated. This can be good or bad, depending on your preference.
Sometimes, it's better to have separate tools for different SEO tasks. So you can focus on the specific task without worrying about other factors.
SEO PowerSuite has a solid set of tools, but Rank Tracker and WebSite Auditor are the most useful for me.
With the Rank Tracker tool, you can easily monitor unlimited keywords and websites.
It helps you to keep track of how well your website is doing in different search engines like Google, Bing, and Yahoo.
You can also use it to find good keyword ideas, optimize for local searches and even compare your site's performance with your competitors.
You can track an unlimited number of websites and keywords and get up-to-date insights on their performance both on desktop and mobile devices.
Meanwhile, the WebSite Auditor lets you check your website for any issues affecting how well it appears in search engine results.
It looks through everything on your site, like URLs, HTML, CSS, JavaScript, Flash, and pictures. Then it finds any problems that could stop people from finding you when they look up something in a search engine.
It also provides Core Web Vitals metrics which can help you check the speed and performance of your website. That way, you can make sure it meets Google's standards and appears higher up in their search results.
You can use this WebSite Auditor to check your competitor's top-ranking pages and see where they are excelling and where you can improve your own.
If you need to do PPC competitor research inside the SEO PowerSuite, you can simply integrate Google services like Google Analytics and Keyword Planner.
Overall, SEO PowerSuite is a great alternative to SpyFu for those who need more flexibility or just don't like the idea of using a cloud-based service.
Key features
SEO analysis tool
PPC analysis
SERP checker
On-page SEO
Site audit
Competitor analysis
Keyword gap tool
Position tracking
Backlink research
Link management
Site structure visualization
Desktop and Mobile SEO
Position tracking
SEO content optimizer
Sitemap generator
Data history
Data export
SEO reports
Pricing
SEO Powersuite doesn't offer monthly plans but only charges $596/year. It also provides a free plan ideal for individuals just starting.
---
#9 – AccuRanker
AccuRanker is ideal for those that primarily need to replace SpyFu's rank tracking functionality. It has one of the best rank trackers on the market and it's well suited to small businesses, agencies, and developers (thanks to its powerful API). It's known for its reliability, speed, and accessibility.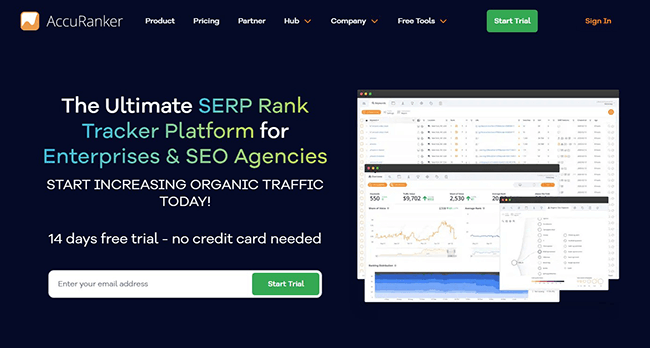 This cloud-based software offers powerful and accurate SERP checks with up-to-date keyword rankings provided daily or on demand.
AccuRanker also has a segmentation tool that makes it easy to look at large amounts of data. It's useful for big companies and agencies needing detailed information to look through.
You can quickly filter and organize the data in various ways to find exactly what you need. Also, you can save your filters for future use to access them anytime.
I also like how you can easily manage the data you gathered through AccuRanker's keyword management tool. It's like a superpower for your SEO strategies!
This tool helps you break down data from search engines like Google, YouTube, Baidu, Yandex, and Bing.
And if you have an eCommerce site, it's even more useful since it can track desktop and mobile rankings too. Plus, its Share of Voice (SoV) feature lets you see which of your top keywords are performing best, and you can even see if they're gaining or losing rank.
In addition, this platform offers a visual presentation of how your website and sub-pages are indexed in various keywords.
AccuRanker can also be useful for competitor analysis. It tells you who you are competing against when it comes to SEO rankings, and it can show you the edge that your competitors have on a per-page level.
Key features
SERP analysis
Keyword research
Keyword discovery
Keyword grouping
Unlimited domain tracking
On-demand data
Site explorer
Competitive analysis
Search volume history
Share of Voice
API
Custom reports
Pixel tracking
Third-party integration
Pricing
AccuRanker is at the higher price point offering the cheapest plan at $129/month. It provides a 14-day free trial.
---
#10 – Nightwatch
Nightwatch is a well-designed SEO tool that you can use to effectively audit your site, track your rankings, and produce detailed reports of your SEO progress.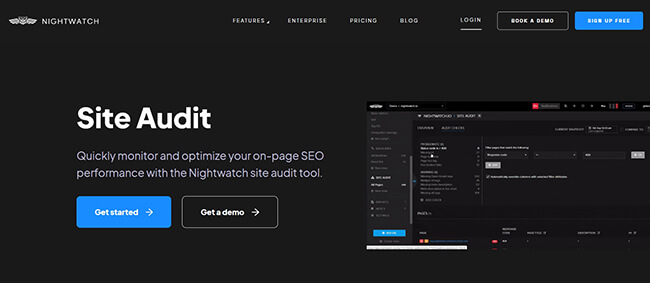 In my opinion, this platform has one of the best interfaces among the SEO tools on this list. I like its dark mode feature and how organized the data is.
With Nightwatch, you can do a thorough site audit to detect broken links, missing metadata, or other issues. It allows you to improve your site's health and take actionable steps to improve its SEO.
Nightwatch also allows you to segment your audit findings by URL. This makes it easy to prioritize issues that require the most attention.
The rank tracking tool is also a solid feature of Nightwatch, especially for local rank tracking. It helps you monitor your website's performance in 107,296 locations worldwide.
With the Nightwatch Rank Tracker, you can create custom segments to help you find opportunities to improve your rankings and content.
This means you can break down your keywords into groups to monitor their status on search engine pages closely.
In addition, Nightwatch allows you to go through different search engine data centers. So, you can get better and more accurate rankings regardless of the location and time.
After gathering all the necessary data, you can create comprehensive and beautiful SEO reports with Nightwatch.
Whether you want to show it to your team or your clients, you can easily customize the report to highlight your key performance metrics. It includes page visibility, keyword rankings, domain authority, and more – all presented in intuitive graphs.
Besides generating automated reports, this platform lets you track your ranking in multiple locations.
This is great if you are running a multi-location business or need to compare SEO performance across different cities.
Other SEO tools only allow one location, so having this tool gives you better ranking and keyword data.
Key features
Custom segmentation
Rank tracking
Backlink monitoring
Site audit
Historical data
SEO reports
Local SEO analysis tool
White-label reports
Automation
Rankwatch Chrome extension
Google Analytics integration
API
Pricing
Nightwatch's starting price is affordable at $49/month. But it can become costly as you track more keywords. It also offers a 14-day free trial.
---
Conclusion
What do you think about these SpyFu alternatives? There's plenty to choose from but it all comes down to which features you need and the cost of the tool.
We recommend trying out each alternative before deciding which one is the most suitable for you. Most tools offer free trials.
We hope this guide helped you find a suitable alternative to SpyFu.
And if you'd like to check out more of our comparisons, these posts should prove useful: