Setting up a blog may seem intimidating, but it's actually quite easy and doesn't require any technical knowledge or experience. The most popular blogging engine is WordPress, which is free to use. In order to use WordPress for your blog you will need a domain name and a web hosting account. The domain name will be the address of your site. For example, this site's domain name is profitblitz.com. You'll also need to sign up for a web hosting service. The hosting account will allow you to store your website on the server of the hosting company, and when a visitor goes to your website they will see the site via your host.
ProfitBlitz is hosted by SiteGround and I highly recommend them for other bloggers. HRANK.com ranks SiteGround a 10 out of 10. If you sign up for hosting with SiteGround you can also register your domain name with them, or you can register it with another company like GoDaddy.
On this page I'll explain the simple process of signing up for a domain name and hosting with SiteGround. I'll also show how you can install WordPress for your site/blog very easily with just a few clicks. To get started, visit SiteGround's website.
Step 1: Pick a Hosting Plan
SiteGround offers a few different hosting plans. If you are just getting started you will probably want to sign up for one of their low-cost shared hosting plans. If you need to upgrade later you can do so very easily. I would start with the StartUp plan unless you will be managing multiple sites on the same account, in which case I would start with the GrowBig plan. Select a plan and click on the"get started" button.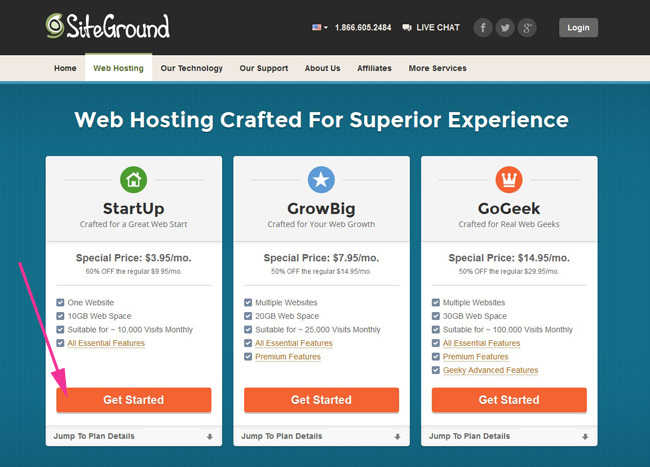 Step 2: Choose a Domain
At this step you will register the domain name that you want to use. If you already own the domain name you can select that option instead.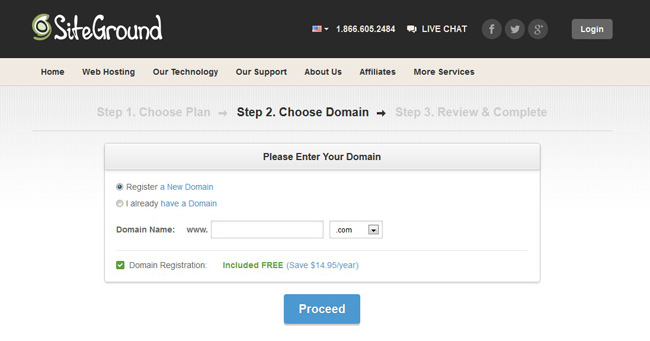 Step 3: Enter Your Info
Next, you'll enter your information to sign up for the hosting account. When you are done, click the "submit order" button that will be at the bottom of the page.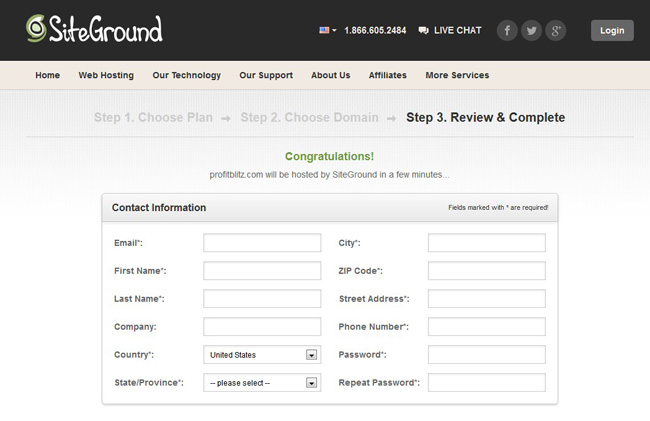 Step 4: Login
You should now see a confirmation page that looks like the screenshot below. Your username will be emailed to you, so check your email. Then return to the page and click on the "login" button.

Step 5: Start a New Website
When you first login to your new account you will be welcomed by a screen like the one below. Leave "start a new website" selected and click on the "proceed" button. If you already have a website and you will be migrating it from another host to SiteGround, select "transfer an existing website" and follow their instructions.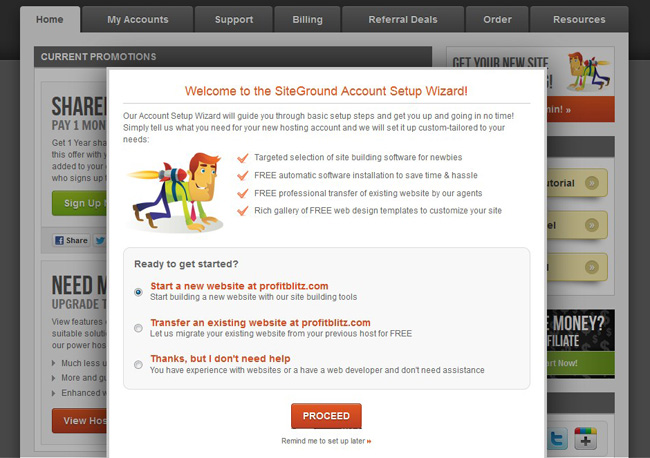 Step 6: Select WordPress
SiteGround will now ask you about what type of website you want to build. Where it asks "do you know which software you are going to use?", select "WordPress" and click "proceed".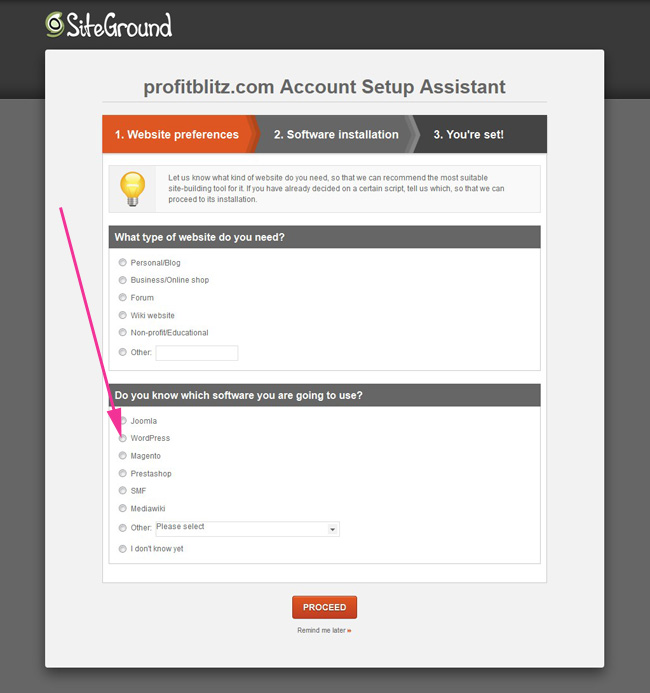 Step 7: Enter Your Details
Next, enter your email and create a username and password. This will be the login info that you will use to manage your blog/website. If you'd like you can also select one of the themes/templates that they offer, but I don't recommend using any of them.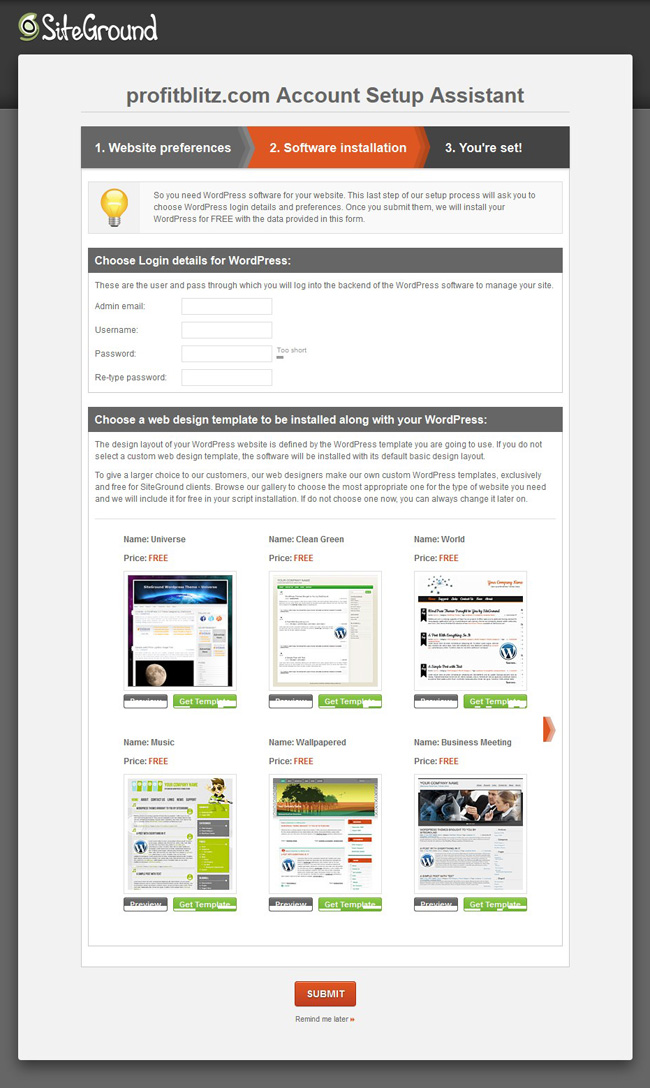 Completed!
That's it! You now have WordPress installed on your hosting account. You'll see a confirmation page like the one below. Please make note of the admin URL as that is the URL that you will use whenever you want to add content or manage your blog. If you registered your domain with SiteGround you should be able to login to WordPress right away. If you already had a domain you will need to change the DNS, SiteGround will email you with simple instructions to do this.